By Michael Kramer
On August 4th, after the close, ACADIA Pharmaceuticals (NASDAQ:ACAD) will release its 2Q results and more importantly likely update us on key developments. Three weeks ago, I wrote about updates I was expecting to hear about and the direction I thought ACAD might take for Nuplazid (pimavanserin).
Alzheimer's Disease Psychosis Update - Lower Enrollment
One thing I have found before tomorrow's release is that we will likely know the status of the Alzheimer's Disease Psychosis (ADP) trial. According to the website clinicatrials.gov, ACAD has stopped recruiting for the ADP Phase II trial. Also from reviewing the site, it would appear that the total enrollment number is now 181 patients and the estimated primary completion date is November 2016. However, this enrollment figure is less than the original target of 212, which the website clincaltrials.gov/archive is showing. The company on previous calls has spoken about the trouble trying to find the right patients to participate in this study. We should know more tomorrow, but my feeling and thought regarding the development are that it likely became more of quality of the patients than quantity. The company noted, on the 2Q'15 call, that this is not an easy indication to enroll and this lower number is likely the result of that.
Nuplazid Launch
Anyone trying to track the launch of Nuplazid has likely been unsuccessful. The company has gone out of its way in a sense to make this impossible. The company said on its May call following Nuplazid's approval, that because of the use of specialty pharma, tracking would not be possible.
So what can one expect? Impossible to say. The one thing I can say is that it is likely that sales or sample distribution will be lumpy and unevenly distributed throughout the country. According to a report from 2010, Geographic and Ethnic Variation in Parkinson Disease: A Population-Based Study of US Medicare Beneficiaries, which mapped the prevalence of Parkinson Disease itself by county, we can see from the map that PD is not distributed evenly.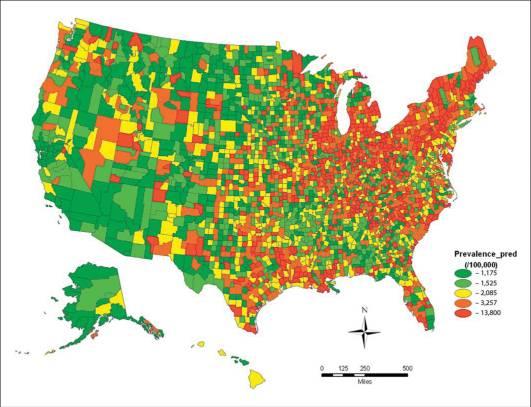 Looking at the map above we can see the majority of PD patients are in the North East and Great Lake's region. I would assume we would see a similar distribution among PDP patients as well, implying that some areas of the country may be left high and dry. So a sales rep in the southwest region may be struggling to get sales, while a sales rep in the NY area could be having a hard time keeping up with demand. It will be interesting to see if ACAD gives us that type of granularity.
Last, I would expect we get an update on the pimavanserin life cycle. On our last article we discussed the likelihood of ACAD targeting schizophrenia and the disease's negative symptoms. I made this conclusion by checking the company's job board and finding research that supported 5HT-2a could help. Reviewing the jobs board again, I now found an open position for a Senior Clinical Director in San Diego, with Depression in the description.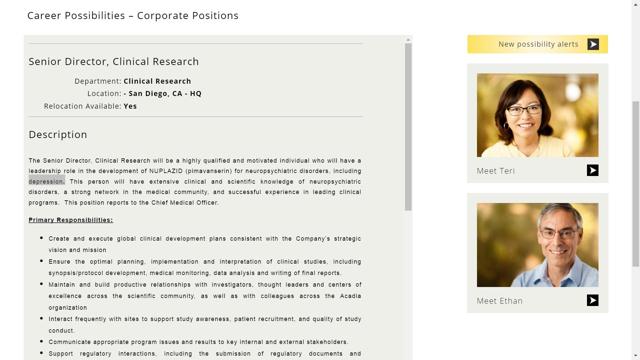 A trial for pimavanserin as adjunctive treatment in depression would obviously be an enormous market. 14.8 million Americans are affected each year by depression and it's estimated nearly 1/3 of those do not respond to first or second line treatments. Additionally, this would likely be the first step in trying to become a first line treatment. A Depression trial would probably take a very long time to conduct and would take multiple trials.
Tomorrow, we should certainly get an earful of information. I for one am not going to be looking at one month's worth of launch data too seriously. I can't say the same for other market participants. However, I will be following the trend over the longer term and see how the drug and future drug programs progress.
Remember to follow us to receive our daily market write-ups and more great research articles.
I am and clients of Mott Capital Management are long shares of ACAD.
Disclosure: I am/we are long ACAD.
I wrote this article myself, and it expresses my own opinions. I am not receiving compensation for it (other than from Seeking Alpha). I have no business relationship with any company whose stock is mentioned in this article.
Additional disclosure: Mott Capital Management, LLC is a registered investment adviser. Information presented is for educational purposes only and does not intend to make an offer or solicitation for the sale or purchase of any specific securities, investments, or investment strategies. Investments involve risk and unless otherwise stated, are not guaranteed. Be sure to first consult with a qualified financial adviser and/or tax professional before implementing any strategy discussed herein. Upon request the advisor will provide a list of all recommendation made during the past twelve months. Past performance is not indicative of future performance