Under the efficient leadership of Satya Nadella, Microsoft (NASDAQ:MSFT) has again my confidence for a strong future providing further development to excellent businesses (for example, Office 365 and Dynamics 365), and ceasing to commit strategic miscalculations. The amazing LinkedIn (LNKD) purchase will have high value especially for its business potential. On the other hand, a very aggressive bet on cloud computing is a very smart move because Microsoft has a real chance of winning the competition in this high-level dispute with Amazon (NASDAQ:AMZN), Alphabet (NASDAQ:GOOG) (NASDAQ:GOOGL) and IBM (NYSE:IBM) - indicated by market share order.
On the 2016 earnings call, those were the final words of Mr. Nadella:
I want to reflect on the opportunity ahead of us. Simply put, businesses will not just use digital technologies, but they will become digital companies. This generates enormous opportunity for Microsoft and our partners. We are the ones who can empower digital transformation across all industries, companies, and geographies with our technology and platforms.
Seeking Alpha Transcript
These are words of confidence and also of professionalism towards a strong and promising future for Microsoft.
Following my last article I will continue to select a portfolio of high-quality companies ("Unbeatable Stocks With Everlasting Dividends") with significant long-term outlook which pay increasing dividends. This is the seventh company selected and I will add three others soon which meet the important factors stated below.
As a great cash flow generator and a secure dividend this historical company reaches the key factors for the components of this portfolio:
Excellent generation of free cash flow
Sound earnings per share and strong valuation
Stock appreciation over the years
Very limited drawdown potential
Dividend yield of around 3% (including dividend growth)
As of June 30, 2016, Microsoft's levered free cash flow [LFCF] was $16.67B and it had 7.79B shares outstanding. LFCF per share was: $16.67/7.79= $2.14 per share.
Taking company's last closing price of $56.58 and dividing that by $2.14, we get 26.44. It means that the company is trading around 26 times its LFCF which is a decent result.
By analyst's estimates, we have EPS of ~$3.20 for full-year 2017. Taking a forward P/E of 18 we arrive at a current value of $57.60 per share. However, it is not included here the company's potential for global digital transformation. We may use a basic discounted cash flow (NYSE:DCF) analysis with conservative assumptions:
Adjusted FCF at 8% CAGR reaching ~$28.65B in 5 years
A 20x multiple against FCF in 5 years gives Terminal Value
WACC (Discount Rate): 8%
Cash minus debt: $59.56B
Thus, with a total market value of ~$547B and supposing that there will be the same number of fully diluted shares outstanding (7.79B), we arrive at a value of $70.23 per share.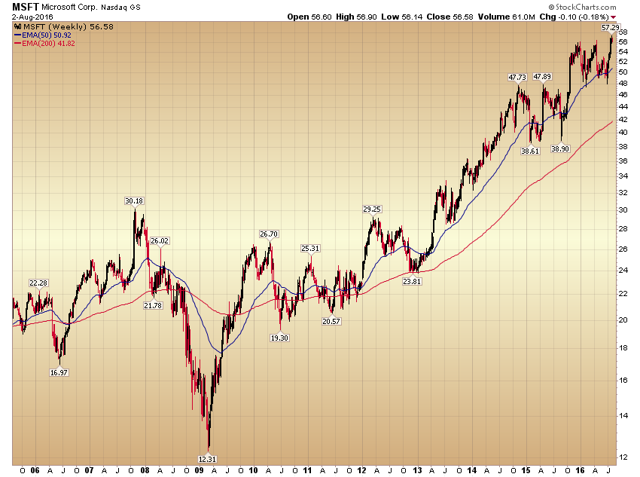 Chart courtesy of StockCharts.com
To evaluate the margin of safety of this stock we are going to analyze the extent of its downfall in market crashes. In the 11-year weekly chart above historical price data was adjusted to remove gaps caused by stock splits, dividends and distributions. Thus, all price movements are caused by pure market forces. Nevertheless, as historical prices are adjusted they aren't exactly the "real" prices at some point in the past. For the present analysis this is the kind of charts we need. However, if someone wants to see the unadjusted chart please click here.
This chart shows an intermediate top in late 2007 at $30.18 followed by a deep decline of 59% to $12.31 in early 2009. It was the time of the Great Recession. From this date - with the exception of the trading range of 2010-2011 - the uptrend has been steady until today.
The company is a dividend growth stock. It currently pays $1.44 per share which represents a dividend yield of 2.5%.
Conclusion
Microsoft seems to have gained new breath with the development put in place this year. It seems to be a company with a very strong and comprehensive strategy that can be a great player in one of the most competitive markets. I have a very positive opinion on the company and it seems to me that its share price has room to rise - especially in the long-term.
Note: This virtual Portfolio is only intended to be a guide for investors.
Disclosure: I/we have no positions in any stocks mentioned, and no plans to initiate any positions within the next 72 hours.
I wrote this article myself, and it expresses my own opinions. I am not receiving compensation for it (other than from Seeking Alpha). I have no business relationship with any company whose stock is mentioned in this article.
Additional disclosure: The author of this article gives only his personal view and opinion, never making any investment advice to buy or sell specific securities. Investors in financial assets must do so at their own responsibility and with due caution as they involve a significant degree of risk. Before investing in financial assets, investors should do their own research and consult a professional investment adviser.