Microsoft (NASDAQ:MSFT) announced its earnings after the market closed on 7/19/2016, beating consensus estimates by a wide margin. Net earnings for the fiscal fourth quarter ending in June 2016 came in at 69 cents vs. consensus estimates of 58 cents, and revenues came in at $22.64 billion vs. consensus estimates of $22.15 billion. Shares rose to an intraday high of 57.29 by July 26, from a close of $53.09 on July 19 prior to earnings, an increase of 7.9%. Prior to earnings, Microsoft shares had been down 4.31% year-to-date from their close of 55.48 on 12/31/2015, and are subsequently up 1.91% as of 8/2/2016.
Given Microsoft's healthy earnings surprise, we believe the stage is set for Microsoft's rebirth, driven by (1) the end of its exit from its disastrous Nokia acquisition, (2) its promising Cloud initiatives and (3) the potential of its LinkedIn (LNKD) acquisition. Such factors could propel Microsoft higher by an additional 15% (for a total of over 20% since July 19) despite choppiness due to macro headwinds.
Unlike other technology shares for which we have opted to favor a short position primarily due to elevated valuations in the face of macro headwinds, such as Apple (NASDAQ:AAPL), Skyworks (NASDAQ:SWKS) and Amazon (NASDAQ:AMZN), we believe that Microsoft is better positioned than most to weather macro headwinds.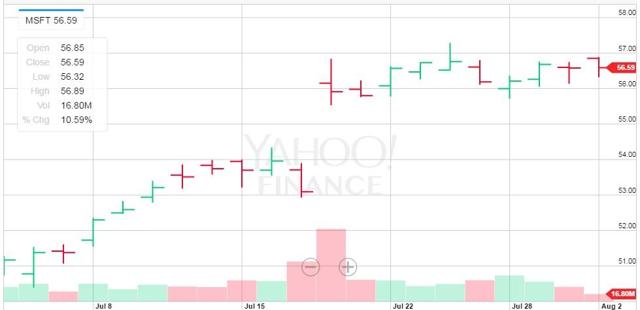 Microsoft stock price 30-day chart - Source: Yahoo Finance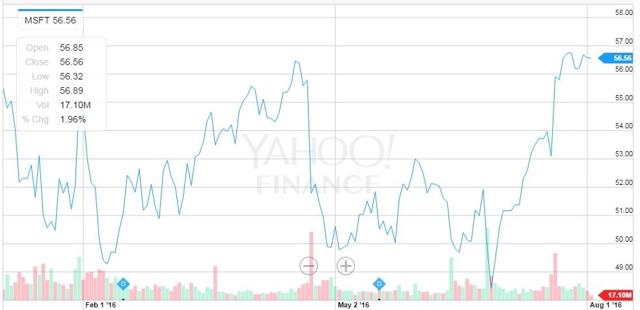 Microsoft stock price year-to-date - Source: Yahoo Finance
Exit from Nokia acquisition
Microsoft acquired Nokia's (NYSE:NOK) phone business in 2014, including a license on Nokia's patent portfolio, for a total of Euros 5.44 billion (about $7.2 billion). Since then, Microsoft has written off as much as $8.55 billion related to the transaction, while the majority of Nokia's original 25,000 employees that were hired by Microsoft are no longer working for Microsoft.
Microsoft also announced in May the sale of its feature phone business to Foxconn for $350 million. Nokia's Lumia phone is expected to be phased out, while Microsoft is concentrating its scaled back efforts on its Surface phone, with an enterprise/consumer driven focus on security, manageability and continuum capability.
The end of the Nokia venture bodes well for Microsoft's future as it has inflicted a cost on Microsoft both from a managerial perspective as well as a profitability perspective.
LinkedIn acquisition
It is no secret that we have been a strong believer in LinkedIn since 2012 when it was trading close to $90 per share, as per our article of 2/24/2012 "LinkedIn: 3 social media advantages that could boost shares." Although during the past several years, we have on occasions temporarily reversed position to take advantage of extreme appreciation in LinkedIn shares, such as when LinkedIn shares traded at over $246 as per our article of 9/30/2013, "Is it time to sell LinkedIn and buy Facebook?" we have also ultimately favored reverting back to owning LinkedIn shares following a pullback.
Ultimately, on June 13, 2016, Microsoft announced it planned to acquire LinkedIn for $26.2 billion, or $196 per share. We view such an acquisition as an extremely intelligent acquisition both from a timing perspective as well as synergy perspective. Prior to the announcement, LinkedIn had struggled in monetizing its massive membership base, whereby although LinkedIn had secured over 433 million members by the end of Q1 2016, yet it was only expecting to generate about $3.72 billion in revenues for this year. Whereby Facebook (NASDAQ:FB) which had secured about 1.6 billion members for the same quarter (about four times LinkedIn members), is expected to generate $27.1 billion in revenues for this year, 7.3 times LinkedIn's revenues.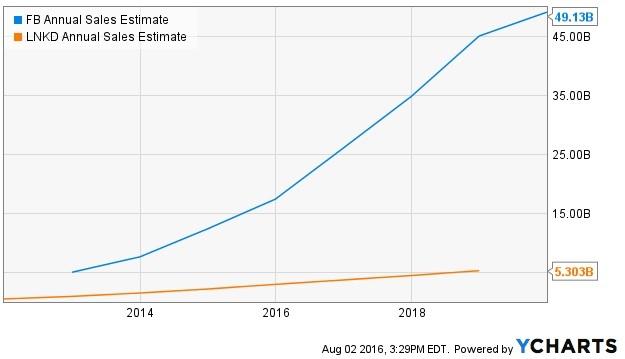 LinkedIn revenue growth vs. Facebook - Source: Y-Charts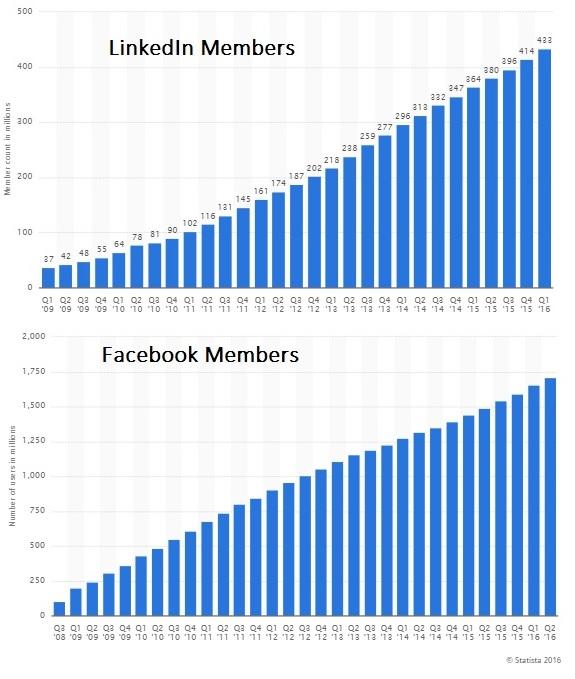 LinkedIn & Facebook number of members - Source: Statista
Such underperformance in monetization caused LinkedIn shares to underperform during the past year and provided Microsoft a unique opportunity to acquire LinkedIn at a price substantially below LinkedIn's all-time high price of about $276 (recorded in February 2015), despite Microsoft offering a premium of over 47% to June 10, 2016 closing price of 131.08. Meanwhile, we do not believe such revenue growth underperformance by LinkedIn was structural as we continue to believe that LinkedIn is the most promising social network company if properly monetized (even more promising than Facebook as per our articles of prior years).
Our conviction that Microsoft had great timing and got a bargain is reinforced by a Business Insider report that Salesforce.com (NYSE:CRM) was willing to pay substantially more than what Microsoft paid for LinkedIn. It has been revealed that Salesforce.com had actually made an offer equivalent to $200 per share, and was willing to go substantially higher while Microsoft got away with paying $196 per share. As Business Insider reported:
After LinkedIn officially announced that it had sold itself to Microsoft for $26.2 billion in cash last month, Salesforce CEO Marc Benioff, a rival bidder, didn't give up right away.

Instead, he sent an email to LinkedIn co-founder and chairman Reid Hoffman and CEO Jeff Weiner that essentially said that he would have been willing to pay much more for LinkedIn - had he been given the chance, according to documents filed with the US Securities and Exchange Commission on Friday.
From a synergy perspective, LinkedIn will further support Microsoft's efforts to re-brand itself in Mobile-Social-Cloud. LinkedIn's vast member base of 433 million users will provide Microsoft valuable data to market its products. As CIO reported:
"They're buying this gold mine of data," says Paul Chapman, CIO of Box, which uses Office 365. Chapman says Microsoft customers will benefit from integration with LinkedIn's massive database for building relationships and tracking professionals. As the CIO of a cloud software maker, Chapman loves the idea of having access to virtually every CIO on the planet and sees opportunities to partner, sell to and track people.
Furthermore, as Microsoft integrates its products into various LinkedIn tools, Microsoft has a good chance to improve participation rates of LinkedIn's subscriber base. It is currently estimated that only about one-fourth of LinekdIn's subscriber base logs into the website each month. As Microsoft CEO Nadella stated:
The LinkedIn team has grown a fantastic business centered on connecting the world's professionals. Together we can accelerate the growth of LinkedIn, as well as Microsoft Office 365 and Dynamics as we seek to empower every person and organization on the planet.
An improvement in such participation rate would provide LinkedIn the opportunity to increase its revenues from additional page impressions, paid services and membership growth. LinkedIn's improved growth prospects through the acquisition were underlined by LinkedIn's Chairman, Reid Hoffman, as he informed CNBC:
To reach a lot more people and to grow much more strongly, especially internationally, Microsoft brings all that... From Microsoft's perspective, we bring a network of individuals that tend to bring productivity to corporations. ... Those two things together make great benefit for the individuals and the corporations, and that reflects into kind of a good economic value.
Cloud Initiatives
In its latest earnings report, Microsoft's revenues were boosted by its cloud initiatives as dynamics products and cloud services revenue grew 6% (7% in constant currency) and Office 365 commercial revenue grew by 54% (59% in constant currency). Revenue in Intelligent Cloud grew 7% (10% in constant currency) to $6.7 billion, while Azure revenue grew 102% (108% in constant currency). Enterprise Mobility customers almost doubled (year over year) to over 33,000. Commercial cloud products on an annualized basis are at over $12.1 billion, while Microsoft is targeting $20 billion by fiscal 2018.
As stated in the previous section, the LinkedIn acquisition is likely to provide further support to Microsoft cloud growth. As a result, we do not believe that Microsoft's 11 cents beat of consensus earnings estimates is one of a kind, as its cloud services and products remain on an accelerated growth path (although it should be noted that about 6 cents of Microsoft's earnings were due to a lower than expected tax rate). We believe there is a good possibility analysts may ultimately revise their future earnings estimates for Microsoft higher than current levels.
With consensus earnings estimates of $2.89/share for this year and $3.22/share for next year, Microsoft currently boasts forward P/E ratios of 19.58 and 17.57, respectively. During the past 13 years, Microsoft's P/E ratio (TTM) has fluctuated between 8.59 and 43.48, with a median of 15.95. However, given that Microsoft now includes a social network of over 433 million members (LinkedIn), as well as the fast growing cloud-based components, such historical comparisons could be misleading. Whereas Microsoft's forward P/E ratio of 17.57 may seem rich compared to the historical median, we believe such factors could justify a forward P/E ratio between 19 and 20 for next year (while most analysts still have not revised earnings estimates for next year).
This would imply that Microsoft shares could appreciate by an additional 8% to 13% from current levels, bringing total gains to between 13% and 21% over Microsoft's closing price prior to the July 19 earnings release. Furthermore, on 8/1/2016, Microsoft completed a bond offering for $19.8 billion including 30-year bonds at a yield of only 3.7%, in order to help finance its LinkedIn acquisition. The yield for such an offering was below its expectations, saving Microsoft as much as $40 million in interest vs. its initial expectations. Demand was quite strong as Microsoft received more than $50 billion in orders for its bonds.
If Microsoft had borrowed the entire LinkedIn acquisition cost of $26 billion at even a higher rate of 4% through 30-year bond issuance, its annual interest payment would be a constant $1.04 billion annually for the next 30 years. Meanwhile, prior to the acquisition and related synergy benefits, LinkedIn was expected to generate over $500 million in net earnings in 2017.
In case LinkedIn grew its profits by a mere 10% annually for the next 30 years, we calculated that such a transaction would result in an internal rate of return (IRR) in excess of 16% (faster than the five-year average annual rate of 7.73% at which analysts had been expecting Microsoft to grow its net earnings). Furthermore, after year 8, Microsoft would generate more in annual net earnings from LinkedIn than it would pay in annual interest payments.
More strikingly, if LinkedIn is able to grow its net earnings by an average of 15% annually for the next 30 years, the transaction would yield an internal rate of return of over 28%. If we were to capitalize the difference between such 28% and Microsoft's 7.73% rate, it would translate to over $25 billion (a boost of 5.7% to Microsoft's current market capitalization of $441 billion). The objective of the whole exercise of this paragraph and the last one is to demonstrate that Microsoft did a very smart transaction, given its ability to borrow money at very low rates (let alone that Microsoft's 10-year bond portion had a lower yield of only about 2.4%).
Macro headwinds
Some readers who have followed our recent articles would notice that we have expressed serious concern lately about macro headwinds, opting to favor a short position for the next several months on other technology stocks including Apple, Skyworks and Amazon. How come we are favoring a long position on Microsoft in light of such headwinds?
Although Microsoft would also be vulnerable to macro headwinds such as a strong dollar, Brexit and political turmoil, its growth prospects (given the prospects for the Cloud and LinkedIn acquisition) relative to its P/E ratio and market capitalization is still favorable. In the case of Apple and Skyworks, their revenues are highly dependent on the smartphone market, which has decelerated substantially, with resulting declining revenues for Apple. Hence, any macro headwinds would further curtail consumer spending, hence further stressing the smartphone market's prospects.
Meanwhile, in the case of Amazon, although it has benefited from Amazon Web Services (AWS), it is vulnerable due to its excessive forward P/E ratio of about 76 for next year, along with its massive market capitalization of $359 billion (although Microsoft's market capitalization is larger than Amazon, its forward P/E ratio of 17.57 for next year is substantially lower than Amazon, even if such a ratio expands to between 19 and 20).
Conclusion
We favor buying Microsoft shares as a result of Microsoft's exit from its Nokia acquisition, the positive prospects of its LinkedIn acquisition, and expected revenue growth from its cloud initiatives. Furthermore, Microsoft's recent ability to borrow almost $20 billion through the issuance of bonds (including 30-year bonds at a yield of only 3.7% and 10-year notes with a yield of only 2.4%) also bodes very well for the company. Despite the possibility of macro headwinds, and potential related volatility, we would still favor establishing such a long position at this time.
Disclosure: I/we have no positions in any stocks mentioned, but may initiate a long position in MSFT over the next 72 hours. I wrote this article myself, and it expresses my own opinions. I am not receiving compensation for it (other than from Seeking Alpha). I have no business relationship with any company whose stock is mentioned in this article.