Notes for the readers
AXA (OTCQX:AXAHF) is primarily traded on the Euronext under the ticker CS:FP. I will be referring to the French symbol for the article. Note: Amounts are in euro (€) unless mentioned otherwise. EUR-USD 1.1163. Price of 1 euro in USD as of August 1, 2016. Furthermore, most of the figures are based on the annual reports of AXA and of its main competitors.
Corporate Profile: A Globally Diversified Financial Services Provider
The origins of AXA go back to the 19th century. AXA was created by the merger of several companies that covered agricultural risks in Normandy. The oldest of them ("The Ancienne Mutuelle") located in Belbeuf, near Rouen, insured companies against fire. In 1955, The Ancienne Mutuelle Group opened the road to international markets by acquiring the Quebecois company Provinces-Unies. But the real revolution happened in 1975 when Claude Bébéar became Chief Executive after having developed life insurance products in the Canadian subsidiary. Claude Bébéar was a visionary leader who developed the French company and created a financial colossus.
In 1977, reinsurance became a business in its own right, with the creation of AMRé (Ancienne Mutuelle de Réassurance). That innovation rapidly thrust the company into a leading role in global financial markets. In 1978, Companie Parisienne de Garantie was acquired and the Ancienne Mutuelle Groupe became Mutuelles Unies. 4 years later, Mutuelles Unies acquired the Drouot Group. Claude Bébéar became CEO of the new Mutuelles Unies/Drouot Group, the first private insurance in France. The AXA name is adopted in 1985.
The takeover of the American insurance company The Equitable came in 1991. A public exchange offer enabled AXA to acquire UAP (Union des Assurances de Paris), which is twice its size. By acquiring UAP, AXA became the largest French company in terms of turnover, and the world's #1 leader in insurance. In 2003, the Group strengthened its role in Asia - in the Philippines, Thailand, Indonesia and China - and consolidated its position in the American market by acquiring MONY (Mutual of New York), a well-known American insurer.
From 2003 to 2015, AXA has accelerated its growth in emerging markets via both internal and external processes (e.g. acquisition of the leading insurance company Winterthur Group from Credit Suisse in 2006, and a joint venture in China with ICBC in 2012)
AXA in 2015
With 2015 revenues of €98.5 billion, AXA is a leading global financial services provider, diversified both geographically and by business line. AXA's presence extends across more than 60 countries, through various lines of business such as life and savings (called thereafter "L/S"), property/casualty (called thereafter "P/C"), asset management (called thereafter "AM"), assistance and banking.
AXA groups its operations into four main business segments:
L/S, which posted €59.2 billion in revenues last year. The group's main contributor markets in this segment are France, the US, Germany, Japan, Switzerland, Belgium, and Italy.
P/C, which generated €31.3 billion in revenues in 2015. AXA is active in France, the U.K., Germany, Belgium, Switzerland, and in various other countries.
International insurance, with total 2015 revenues of €3.6 billion. This segment mainly comprises the commercial lines of AXA Corporate Solutions (€2.3 billion) and assistance (€1.4 billion)
Asset management, with €3.8 billion in revenues and €1.1 trillion assets under management of which 41.8% are third party funds. This makes AXA one of the world's leading asset managers. AllianceBernstein Holding L.P. (NYSE:AB) 62.8% owned by AXA, and AXA Investment Managers S.A. (AXA IM) managed 60% of AUM at year-end 2015.
Banking activities, which are located in Belgium, France and German, constituted a relatively modest €621 million in revenues last year or less than 1% than AXA's total revenue.
All the group subsidiaries, holdings, and service companies are directly or indirectly owned by the group's holding company, Paris listed AXA. A number of entities own the holding's capital, including France-based AXA Mutual with 14.12% and the employees with 6.15%. Individual and institutional investors spread mostly throughout France, the U.S., and the U.K. hold the remainder.
Competitive Position: Sound Presence In Chosen Markets And Strong Diversification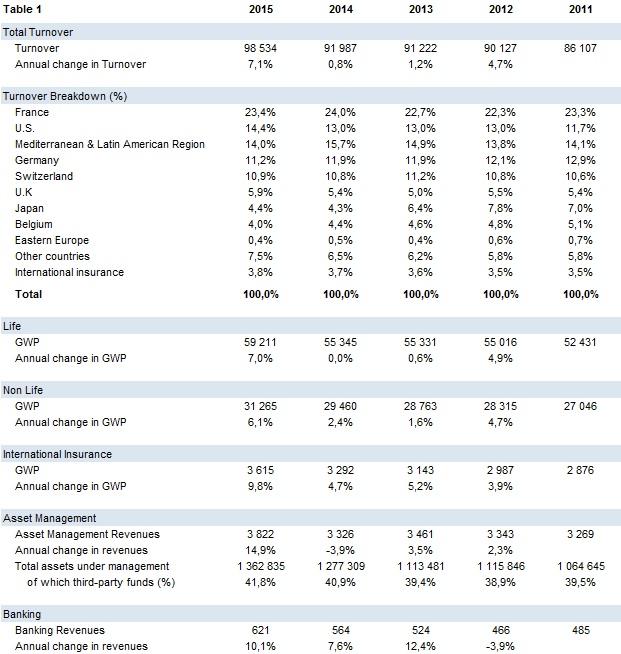 AXA annual reports
Strong positions in most of the countries in which AXA operates underpin its competitive position. In its chosen markets, the group boasts leading positions both in life and P/C. The group's comprehensive distribution capacities range from proprietary channels to bancassurance joint ventures, enabling it to reach out to clients with very diverse profiles. AXA's regional platforms, product innovation, and leading asset management capabilities also enhance its competitiveness.
In France, AXA holds the No. 2 position. It's one of its main traditional markets. Compared to its local peers, we view AXA's business mix and distribution networks as among the most balanced in the market. AXA holds the No. 3 position in L/S. The group holds the No. 2 ranking in P/C and accident and health (A&H) thanks to segmented offers. AXA's wealth of distribution abilities includes the No. 1 tied-agent network in France, dedicated life agents, financial advisors, brokers, direct distribution, and partnerships.
In the U.S., AXA has built a leading presence in the long-standing franchise of AXA Equitable Life Insurance, one of the oldest life companies in the U.S., as well as in the multichannel, multibrand (namely "AXA Equitable" and "MONY") approach that includes distribution through its captive "AXA Advisors," the independent "AXA Distributors," and through the asset manager AB. The group specializes in life and savings including variable annuities (called thereafter "VA"), fixed annuities, individual life, and mutual funds.
In Northern Europe, and in the Central and Eastern Europe region, AXA acts as a composite player with valuable positions in both L/S and P/C and leading positions in Germany, Switzerland, and Belgium, and small positions in CEE countries (Ukraine, Russia). In Germany, AXA enjoys leading positions in life, non-life, and health and carries a balanced business mix. In Belgium, AXA holds the No.3 position in P/C and ranks No.1 in L/S. It also has a second-tier position in retail banking with AXA Bank Europe. In Switzerland, the group is No.1 in P/C and No.2 in L/S.
In Japan, AXA is a second-tier player in one of the most mature life markets, ranking 18th overall in total earned premiums. In the other Asian countries, AXA has a strong positive competitive position in Hong Kong (No. 5 position in L/S and No. 1 position in P/C), in both Indonesian and Thai life insurance market (respectively No 2. And No. 3) but remains a second-tier play in both India and China, due to both high entry barriers and the competition of state-owned companies.
The group displays a mix of good niche positions in profitable segments such as medical and term life. AXA enjoys multichannel distributions such as bancassurance, partnerships with chambers of commerce, and individual agents.
In 2015, AXA remained focused on emerging countries and accelerated its development in the Philippines, Africa, and Poland. Furthermore, the French group has also decided to sell its Portuguese activities to ageas (OTC:AGESF) and has finalized the sale of its pensions business in Hong Kong to the Principal Financial Group (NYSE:PFG). Bank activities in Hungary will be sold in 2016 to OTP Bank PLC, AXA considering the activities are not profitable.
In our view, AXA remains a worldwide leader in the insurance market thanks to a strong presence in the mature markets (France, Belgium, Germany, and Switzerland) and to a development in the emerging markets, which are for AXA the new Eldorado in terms of both growth and profitability. Furthermore, the management had the intelligence to sell the unprofitable activities to consolidate its presence in the more growing and profitable markets.
Operating Performance: Diversification And Management Actions Help Margin Preservation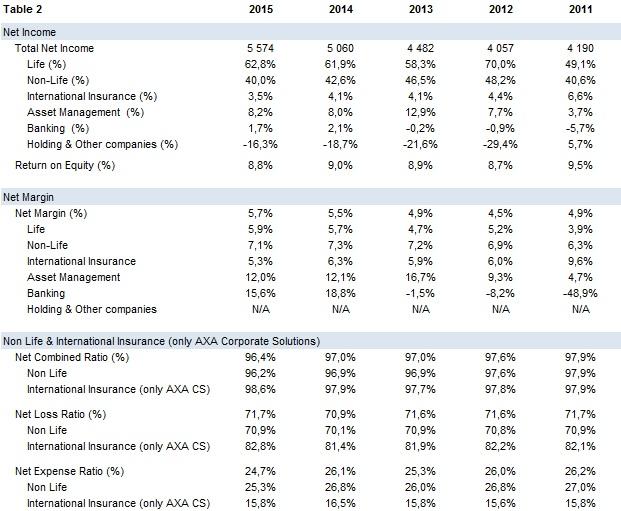 AXA annual reports
The net income increased by 33.0% from 2011 to 2015, mainly driven by the life activities (62.8% of the net income in 2015), while the turnover increased only by 12.9% during the same period. Management actions in both life and non-life activities have resulted in a higher profitability of the different lines of business.
In the P/C Division, AXA has a strong track record of earnings with a 97.2% average net combined ratio over the five past years. In 2015, the net combined ratio improved by 0.6% to 96.4%, thanks to the improvement of the claims situation in the traditional markets, especially in France (95.2% or a 1.9% drop), in Germany (93.6%), in Switzerland (86.0%, down 3.1% year-on-year) and in the Central and Eastern region (from 104.6% to 97.0%). Geographic diversification is a key in P/C.
Difficult markets like the Mediterranean & Latin American Region, with adverse claims situations experienced in Turkey and price decreases witnessed an increasing combined ratio while the more mature countries saw improvements. These developed businesses are the core of AXA's P&C performance. Furthermore, AXA is also helped by its P&C international insurance activities regrouped into one entity specializing in niche insurance products for international companies (e.g. space insurance, parametric insurance, fraud insurance, Directors and Officers liability insurance).
These activities are traditionally more profitable than the business in the developing markets and some mature markets, because there are high barriers to entry (e.g. underwriting robustness, technical and scientific expertise, capital requirement). However AXA Corporate Solutions was negatively impacted in 2015 by the explosion in Tianjin in China (49M net of reinsurance, +2.2 points of combined ratio) and lower prior year reserve developments while the expense ratio decreased by 0.7 points to 15.8% and the gross revenues increased by €133 million (+6%).
In L/S, the mature markets remain the drivers of the profitability of AXA's life activities. In 2015, the mature markets represented 84.4% of the underlying earnings. Furthermore the main part (79.2%) of the earnings comes from 5 countries: France (€824 million or 23.5% of the total net earnings), the U.S. (€854 million or 24.4% of the total net earnings), Japan (€412 million or 11.8% of the total net earnings), Hong Kong (€353 million or 10.1% of the total net earnings) and Switzerland (€328 million or 9.4% of the total net earnings).
In the past three years, the increasing focus on protection and unit-linked products in France, the development of life revenues in the U.S. with the higher sales of protection products and the product redesign operated from 2009 could explain partially the margin preservation of life activities (5.9% at EoY 2015 vs. 5.1% over the last five years). Furthermore, On December 2nd, 2015, AXA announced the completion of the acquisition of Genworth Life Style Protection Insurance.
Genworth LPI is the seventh largest creditor insurance provider in Europe, based on market share, with 4% of the market and reported total revenues of €714m in 2014. Despite the poor performance of Genworth LPI (a combined ratio above 100% and a net operating income decreasing from 2012 to 2014), the acquisition of one of the largest European creditor insurer would complement AXA's credit and lifestyle protection activities presence in key mature markets such as France, Germany and Italy and would provide entry into new markets with strong fundamentals, notably the Nordics and Southern Europe.
Stock Repurchase Program and Dividend: A Company Focused On An Increasing Dividend
As with most European companies, AXA does not know what "Stock Repurchase Program" means. The company is completely focused on the increase of the paid dividend. The dividend yield is currently 6.14%. Since 2010, AXA has increased its paid dividend by 59%. AXA's dividend policy was reevaluated resulting in an increased dividend payout of between 45-55% of its adjusted earnings. The dividend policy set up by AXA is not too aggressive and quite rational.
In 2008, the dividend was reduced by 67%, reflecting a balance between prudent capital management and AXA's long-term guidance. However, the number of outstanding shares increases year after year. From 2006 to 2015, 139 million new shares have been issued or a 6.0% increase of the total outstanding shares. Since 1993, the AXA Group has promoted employee shareholding by offering each year to its employees an opportunity to become shareholders through a special share capital increase reserved exclusively to them ("SharePlan").
The traditional plan allowed employees to subscribe through a personal investment to AXA shares (either through Mutual funds (FCPE) or through direct share ownership, depending on countries) with a 20% discount. The shares are held within the Group Company Savings Plan and are restricted from sale during a period of approximately 5 years (except specific early exit cases allowed by applicable law). In other words, employees could buy 5 AXA shares for the price of 4. Furthermore, the stock options issuance has increased over the years.
Despite the repurchase programs put in place to neutralize the dilutive impact of the issuance of new shares, the outstanding shares have increased over the year. Even if the shareholders are not harshly negatively impacted by the different share plans, both current and potential investors should keep in mind that year after year the total number of shares will increase. At the end of the day, AXA is quite respectful towards its shareholders.
A possible upside due to some would-be catalysts
Even if AXA is not a fast growing company, the insurance company has proved that it has sound ability to convert strategy into account, via successful geographically-diversified acquisitions, efficient integration process and innovative product offerings.
1) The credit insurance business: a niche highly-profitable market
Unlike its historical main competitor, Allianz SE (OTCQX:ALIZF), AXA doesn't hold a credit insurance company. AXA is one of the very small competitors of the three leaders of the credit insurance business:
Atradius, held by a Spanish insurance company Grupo Catalana Occidente (OTC:GCNJF).
Euler Hermes (OTC:EUHMF), the worldwide leader of credit insurance, held by Allianz.
Coface SA, previously held at 100% by Natixis (OTCPK:NTXFF).
We can forget the two first companies. The third one is the most interesting for several reasons:
Coface SA was listed on the French stock market in 2014.
The floating represents 58.51% of the total number of shares.
Even if Coface's revenue will be harshly impacted by a bad claims situation in the emerging markets and the transfer of French state export guarantees to BPIfrance, the company remains a profitable insurer, with a strong position in a niche sector, in which AXA is not very present.
2) Africa: the new Eldorado for the insurance companies
AXA is already present in the African market. As of today, AXA´s presence in Africa consists of operations in 8 countries: Algeria (#11 in P&C; #3 in Life), Cameroon (#4 in P&C), Egypt (#4 in Life), Gabon (#5 in P&C), Ivory Coast (#4 in P&C), Morocco (#3 in P&C; #5 in Life), Nigeria (#3 in P&C; #6 in Life), as well as in Senegal (#1 in P&C). The French group has also decided to strengthen its presence by completing in 2015 the acquisition of a 7.15% stake in African Reinsurance Corporation, which the first reinsurer in Africa, and by purchasing the Commercial International Life Insurance Company ("CIL"), a leading Egyptian Life insurance player.
In 2016, AXA is continuing to expand its operations in Africa with the creation of a venture with Chaucer, a Lloyd's specialty insurance group and the partnership with Africa Internet group, a leading e-commerce group in Africa, whereby AXA will become the exclusive provider of insurance products and services. Regarding the continuous growth of the African continent and the increase of the needs in terms of financial and insurance services, Africa could be a rewarding bet.
3) InsurTech, Digitalization, Innovation Lab: The new AXA's way of life (and making money)?
In 2015, AXA announced the creation of Kamet, a €100 million InsurTech incubator dedicated to conceptualizing, launching and accompanying disruptive products and services for insurance clients. Previously, AXA has also created an innovation lab in 2013, located in San Francisco, near the Silicon Valley, in order to promote digital and customer experience excellence.
More palpably, AXA partnered with Alibaba (NYSE:BABA) to co-innovate and to explore new markets and segments and has worked with Blablacar, a leader of the long-distance ridesharing, to offer to Blablacar's member an additional insurance coverage, adapted to this new mode of consumption. All these actions seem to prove that AXA wants to capture the changes in consumption modes and to design new products in line with the expectations of the consumers.
The Major Risks Facing AXA
Some events could impact AXA's profitability either permanently or temporarily. Every long investor who would like to invest in the French international insurer, should be aware of these major risks.
1) Too big to fail: a thorn in AXA's side?
The Financial Stability Board considers that some insurers are too big to fail; one of them is AXA. Technically, it could impose tighter capital rules, which could penalize the shareholders, since more capital should be allocated to cover insurance or financial risks.
2) The low rate environment
Even if AXA is a multiline insurer, the main part of its business is linked to the life operations. A permanent low rate environment could impact negatively AXA's life business, especially the with-profits policies. That's why AXA decided to increase focus on unit-linked products in the Western European countries in which the with-profits policies are more common than in the U.S. However, AXA places a strong emphasis on bonds, which totaled around 64% of the portfolio at year-end 2015. Hence, AXA could be harshly impacted by a big jump in the interest rate but has huge interest in a progressive rise of rate in order to roll its debt securities portfolio.
Stock Valuation: A Valuable Oversold Company
To assess the intrinsic value of AXA, we used an approach based on the following valuation methods:
Historical Ratios: P/E, Price/Sales and Price/Book
Valuation Multiple: EV/EBITDA, P/E, and Price/Book. As a peer review, we have chosen the following companies: Allianz SE, the main AXA's competitor, Generali (OTC:ARZGF), another Italian competitor, Zurich Insurance Group (OTCQX:ZURVY), a Swiss multiline insurer, Aviva PLC (NYSE:AV) and AIG (NYSE:AIG).
DCF Valuation: We decided to model six scenarios.
1. Based on EPS: three scenarios (Best, Base and Worst):
Best: 5% annual growth for the next fifteen years. In this scenario, we consider that AXA would develop successfully all its digitalization projects, strengthen its presence in Africa and develop its credit insurance activities, either by purchasing Coface or by growing internally. Terminal growth rate is 1%.
Base: A 3% annual growth for the next fifteen years. AXA's objectives shown in its Ambition 2020 strategic plan are to increase the underlying earnings by 3%-7% CAGR from 2015 to 2020. 7% seems to be very ambitious and it's more realistic to consider 3% as a base case. Terminal growth rate is 0%.
Worst: A 1% annual growth for the next fifteen years. Terminal growth rate is 0%.
2. Based on DPS: three scenarios (Best, Base and Worst):
Best: an 8% annual growth.
Base: a 6% annual growth
Worst: a 3% annual growth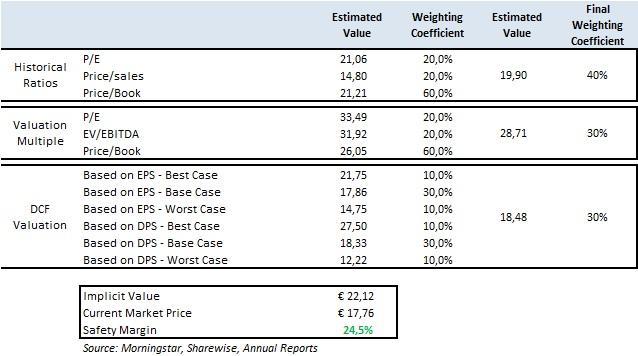 The company traded near its lowest since one year, but seems to be undervalued at the current price (a 25% safety margin). It should not be enough for the most prudent investors with a more conservative approach (i.e. targeting companies with more than 40% safety margin) but AXA is a profitable company with a positive free cash flow over the years (€17.7 billion in 2015) covering the paid dividend and with a competent management with an ambitious strategic plan (earnings increase, RoE improvement, constant increase of the free cash flow, leading position holding on, margin preservation).
Conclusion
AXA seems to have been penalized by the Brexit (while the UK activities represent only 5.9% of AXA's total business) and by the strong resulting investors' distrust of financial services companies. However, AXA remains a major financial actor, with a strong and well-diversified position in non-life and life markets. The company delivers over the years an increasing dividend without affecting its ability to invest in new businesses or to strengthen its position in existing businesses.
With a better capital allocation (no share plans, set up of share repurchase programs), AXA could be an extraordinary firm. At the present time, AXA is only a great company with great assets. Furthermore, Q2 2016 results, which will be shared on 3rd August, could be an excellent way to reemphasize some basic facts of this oversold firm (strong operating performance, worldwide presence, well-diversified activities) and a good opportunity to buy some shares if Mr. Market overreacts negatively after the Q2 results presentation.
Supporting Documents
Disclosure: I am/we are long EUHMF.
I wrote this article myself, and it expresses my own opinions. I am not receiving compensation for it (other than from Seeking Alpha). I have no business relationship with any company whose stock is mentioned in this article.
Additional disclosure: I/we have no positions in AXA, but may initiate a position over the next 72 hours if the safety margin would increase after Q2 results publication.
Editor's Note: This article discusses one or more securities that do not trade on a major U.S. exchange. Please be aware of the risks associated with these stocks.