Vail Resorts (NYSE:MTN) operates ski resorts. The company divides its business into three segments: Mountains (79% of 2015 revenue), Lodging (18%), and Real Estate (3%). MTN's portfolio includes a number of popular ski resorts located primarily in Colorado, Lake Tahoe, California, and Nevada, but the company has expanded into new geographic areas through acquisitions. In September 2014, MTN purchased the Park City resort in Utah for $183 million, and in July 2015, the company bought the Perisher resort in Australia for $136 million.
In addition to growing the top line through acquisitions, MTN has achieved organic growth, thanks to strong visitor demand and new services. We are optimistic about the outlook for visitor growth next year, and believe it will follow trends of recent years. US consumers are spending less on goods and more on experiences, and the company's focus on increasing season pass sales should create customer stickiness and raise switch costs (i.e., make skiers less likely to go to other resorts). Season pass sales for the upcoming ski season are up 29% based on volumes, and 34% after factoring in price. MTN has considerable leverage to raise prices given the popularity of its destinations and relative scarcity of ski-oriented luxury resorts. US travel spending is decelerating, but MTN should benefit from a growing number of out-of-state guests who tend to spend more on ski school, dining and other ancillary services compared to local guests, and who are also less impacted by bad ski weather. We like how MTN has expanded its service offerings to include summer activities for families, which should help offset some of the seasonality inherent to the ski business.
Visitor growth will translate into higher revenues in the Lodging segment, especially if an increasing portion of these visitors comes from out of state. This segment includes a number of owned and operated luxury hotels and condos located near the ski resorts, and revenues are closely tied to the number of guests that visit the resorts. EBITDA margin in this segment expanded 350 basis points last year, and management expects to increase it an additional 3.5 percentage points this year through positive fixed cost leverage. The expectation of increased scale efficiencies implies that management expects strong visitor growth this year.
Vail Resorts trades at a trailing P/E of 37, which is quite high when you consider it in a vacuum, but low by historical standards (five-year average P/E of 80.4). The stock trades at a premium to peers, but we think it's justified given MTN's above-average growth profile and superior performance (Figure 1) relative to the overall leisure sector, as measured by the PowerShares Dynamic Leisure & Entertainment Portfolio ETF (NYSEARCA:PEJ) (Figure 2). Furthermore, the lack of data on comparable publicly-traded companies makes a peer-based valuation less meaningful. We think the long-term risks are skewed to the downside, and we would not recommend MTN for buy-and-hold investors, especially with the stock trading so close to its 52-week high. Resorts are a very cyclical industry and the US economy is slowing. Visits from out-of-state guests are especially sensitive to fluctuating income levels, and MTN has little revenue diversity: when the ski business suffers, the lodging segment does too. That being said, we could see MTN rising higher this year on strong visitor growth and margin expansion.
Figure 1: MTN YTD Stock Chart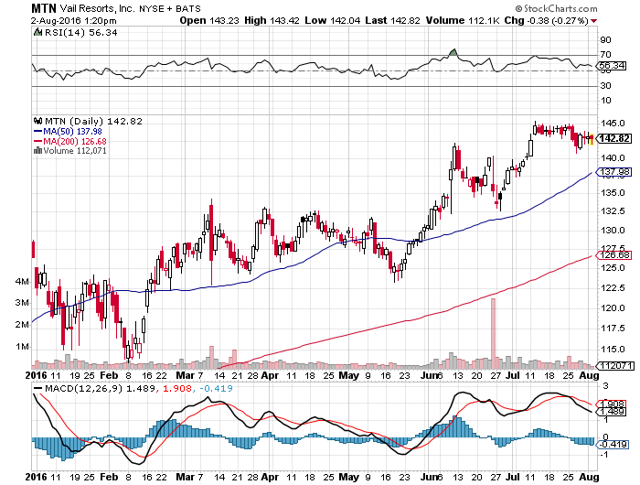 Source: StockCharts.com
Figure 2: PEJ YTD Stock Chart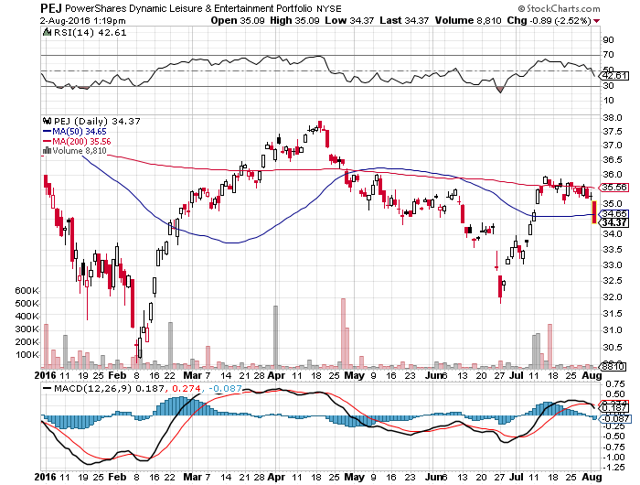 Source: StockCharts.com
Conclusion
Vail Resorts continues to generate impressive top-line growth and the stage is set for another year of strong performance. Consumers are increasingly spending their money on experiences, and the combination of visitor growth and fixed cost leverage should allow margins to expand. While we think the stock can rise higher this year, we would not recommend MTN for long-term investors (investors with a time horizon beyond one year). However, the 2% yield coupled with short-term capital appreciation makes MTN an interesting idea.
Disclosure: I/we have no positions in any stocks mentioned, and no plans to initiate any positions within the next 72 hours.
I wrote this article myself, and it expresses my own opinions. I am not receiving compensation for it (other than from Seeking Alpha). I have no business relationship with any company whose stock is mentioned in this article.