We saw another bearish report this week with crude oil inventory increasing once again, defying analysts' expectation of an inventory draw. For the week ended July 29, oil inventory rose by 1.4 MMbbl, following last week's increase of 1.7 MMbbl.
Prior to the report ,I mentioned that my estimate was still unchanged at -2.3 MMbbl, so the report was even more bearish than my expectation (you can read my pre-release analysis here). Even though the inventory change was within my definition of a normal range of -7 MMbbl to 3 MMbbl, two weeks of consecutive inventory increases did make me raise my eyebrows. There haven't been two positive inventory weeks in July over the past five years, never mind two consecutive weeks. While I am wary to say that we are on the cusp of another major downturn, investors must recognize this possibility, as evidence has been mounting against a miraculous turnaround (see "Oil Could Hit $30/bbl").
The inventory increase was highly usual, but as always, we need to pay attention to the underlying fundamentals.
Domestic production finally snapped its 3-week losing streak, falling by 55 Mbbl/day from 8.515 MMbbl/day to 8.46 MMbbl/day. While this seems to be a positive, if we dig deeper, we will find that this decline comes at a great cost to the bull argument. Alaskan production accounted for all of the decline, meaning that Lower 48 production did not change. For weeks, bulls have been saying that we should ignore Alaska production (I don't think we should) and focus on the bigger piece of the pie (i.e., the Lower 48). But now even that argument no longer holds water.
Of course, we can never rule out randomness (such is life), but given everything that has happened over the last little while (i.e., higher rig counts, calmer capital market, and higher oil prices since February), it's not a stretch to say that domestic production will start to rebound. This will, of course, start another race to the bottom. In fact, imports have already made new highs, coming in at 8.061 MMbbl/day, up 301 Mbbl/day from last week. We have not seen such a level of activity in imports since April 2014; it's the highest import figure that we've seen since oil collapsed.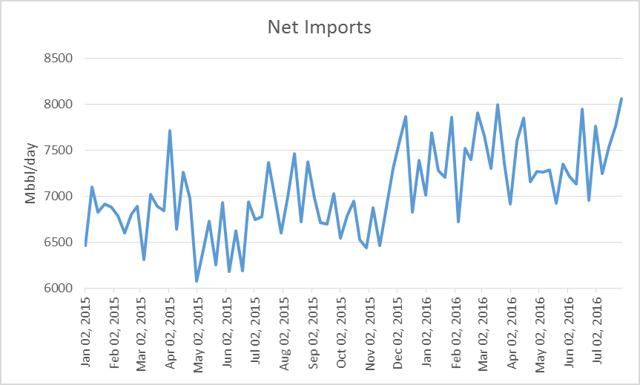 Source: Data taken from the EIA.
Conclusion
As an investor it's always important to keep your mind open to different possibilities, but it's more important to understand what is likely to happen. I believe that given all the bearish indicators over the past couple of weeks, it's clear that the pendulum will not be swinging the other way anytime soon. Bulls will have to be very patient (possibly waiting for two years) before oil makes any significant recovery.
Click the "Follow" button beside my name on the top of the page to be updated with my latest insights. To learn more about the V20 Portfolio, whose goal is to compound capital at 20% over the long term, I encourage you to read the introduction to my investment process. Premium subscribers get full access to the V20 Portfolio.
Disclosure: I/we have no positions in any stocks mentioned, and no plans to initiate any positions within the next 72 hours.
I wrote this article myself, and it expresses my own opinions. I am not receiving compensation for it (other than from Seeking Alpha). I have no business relationship with any company whose stock is mentioned in this article.