July was a muted month for utilities. While the S&P 500 Index posted a notable gain of 3.6% for the previous month, most of the utility stocks remained flat in the absence of any catalyst. The shares of Southern Company (NYSE:SO), third largest electric utility in the U.S., also showed subdued momentum despite better-than-expected earnings last week. Southern Company recorded earnings per share of $0.74 for the second quarter 2016, 5 cents more than the estimates.
Amid lackluster electricity demand and soft prices, Southern Company has taken some steps to accelerate sustainable earnings and dividends growth. Southern Company has recently completed the acquisitions of regulated natural gas and distributed energy assets that will help the company benefit from growing natural gas consumption as power utilities move away from coal. In addition to that, Southern Company's recent purchase of a 50% equity stake in Southern Natural Gas will position the company for future growth opportunities.
The ongoing efforts have the potential to enhance long-term profitability, but the intensity of some risk factors also has increased, which investors should consider carefully.
Subdued Residential Electricity Sales
Southern Company supplies electricity to residential, commercial, industrial and wholesale customers. The volatile kilowatt-hour sales to residential customers negatively impact the revenue stream, which is evident from the 1% decline in operating revenue due to a 4% drop in residential kilowatt-hour sales during the first half of the fiscal year 2016.
According to Energy Information Administration (EIA), retail sales of electricity to the residential sector plunged 5.4% during the first six months of 2016 due to mild temperatures. However, a warmer-than-normal summer will boost kilowatt-hour sales by 2.9% in the second half of 2016. Southern Company's residential sales may rally in the coming quarters, but the long-term story looks somber. The agency estimates that residential electricity consumption will increase at an average growth rate of just 0.3% between 2015 and 2040, significantly less than the historical average of 1.1% between 2000 and 2015.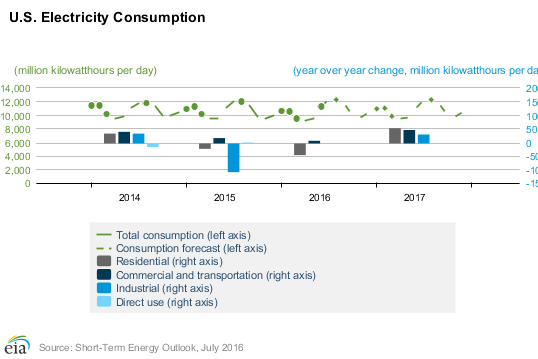 Source: EIA
The efficiency improvements and increasing adoption of distributed solar could disrupt the revenue growth of Southern Company's residential segment, which generates 42% of total retail revenues. The higher expected electricity demand from industrial and commercial sectors will subside negatives while increasing contribution from natural gas distribution operations will accelerate sustainable growth.
Hedging Against Newly Emerging Risks
Southern Company is still optimistic about the future of clean coal despite the fact that it has failed Kemper IGCC. Although Southern Company has achieved an important milestone with the production of syngas, the independent monitoring firm AECOM's report states that the project can face further delays and cost overruns. Nevertheless, the era of coal dominance is on the verge of its end as electricity generation from coal will decline to 18% by 2040 from 33% in 2015.
The positive indication for investors is that Southern Company is executing several initiatives to enhance its renewable footprints. From 2010 to date, Southern Company has added 1,365 MW of renewable capacities. With installation costs at historically low levels, Southern Company is accelerating renewable energy efforts. Over the next four quarters, Southern Company will add 1,520 MW of renewable capacities, which will increase total renewable capacities to 2,885 MW.
The solar revolution is in early stages, but it is also creating new risks for the public utilities. Net energy metering is creating a lot of noise these days. According to a recent report from Fitch Ratings, net metering is a potential long-term threat to electric utilities, which could erode the creditworthiness as increasing adoption of distributed generation will continue to weigh on electricity rates. However, the Solar Energy Industries Association (SEIA), on the other hand, is convinced that:
"Rather than using rates to slow down the solar revolution, utilities and regulators can help bring about a sustainable distributed energy future that aligns customer behavior with system needs."
The rate structure may be in need of reforms, but Southern Company is quickly adopting the new technologies to hedge its future against newly emerging risks. The company has recently completed the acquisition PowerSecure, one of the leading players in distributed generation services. To further strengthen its position, Southern Company has received approvals from Georgia Public Service Commission to install two distributed generation facilities of 150 MW and 100 MW capacities.
According to its Integrated Resource Plan, Georgia Power, a subsidiary of Southern Company, will add 1,600 MW of renewable generation over the next six years, including 1050 MW of utility-scale solar. Currently, renewable generation makes 5% of Southern Company's overall capacity, but it will increase to 12% upon completion of this recently approved Integrated Resource Plan.
Southern Company is complementing its progress in renewables with small investments in newly emerging technologies that will help shape the future. Energy Impact Partners, a strategic relationship between Southern Company and few other utilities, recently announced its first investment in AutoGrid Systems, which provides big data analytics and cloud computing solutions. The focused partnership will help Southern Company explore future growth opportunities, such as smart grid, storage, sensors and the Internet-of-Things. These newly emerging energy services are the future, and Southern Company is making smart moves to secure its future while consistently creating value for the shareholders.
Too Rich To Buy At These Valuation Level
Southern Company has used a lot of debt to finance recent acquisitions. The long-term debt on the balance sheet was $24.7 billion at the end of fiscal year 2015, and Southern Company has raised another $12 billion in debt so far in 2016 to finance Southern Company Gas, PowerSecure and SONAT deals.
While the high debt level will immediately increase the finance cost in the coming quarters, Southern Company needs massive cash flows to make repayments of $13.29 billion between 2016 and 2020. Southern Company's robust profit margins and unused net credit facilities of $7.7 billion will help meet the debt maturities, but substantial cash outflows will restrict the dividend growth rate.

Source: Company Presentation
Nevertheless, Southern Company offers a best-in-class dividend yield of 4.20%, higher than the industry average of 3.49%. The expected annual earnings growth rate of 6% over a three-year period is good enough to continue increasing dividend payments at a five-year historical average of 3.5%.
Investors are currently paying a price 18 times the forward earnings estimate, an expensive valuation given the sector's five-year average of 15.7 times and S&P 500 Index forward price to earnings of 17.2 times. Similarly, the stock is trading at an EV/EBITDA multiple of 11.78 times, slightly higher than the five-year historical average of 10.4 times, though in line with the industry average of 11.8 times. The dividend yield is attractive, and earnings growth potential is convincing due to recent investments in natural gas distribution assets, yet the stock looks fully valued at current price levels. My view on Southern Company is positive, but I would suggest to stick with current position and wait for a better price to add more shares.
Disclosure: I/we have no positions in any stocks mentioned, and no plans to initiate any positions within the next 72 hours.
I wrote this article myself, and it expresses my own opinions. I am not receiving compensation for it (other than from Seeking Alpha). I have no business relationship with any company whose stock is mentioned in this article.