Shares of Tableau Software (NYSE:DATA) are tumbling in trading today, 8/3, following an okay quarter that beat revenue expectations but missed on the bottom line. We think the quarter affirms that Data Visualization remains a high-growth industry, and think the stock presents a promising trading opportunity. We are picking up shares here in the aftermath of this sell-off with hopes of selling considerably higher in roughly a month.
We like the company's topline story as revenue growth continues to be robust. License revenue growth resumed normal high growth rates after an abnormally weak Q1. The International business accelerated, and contributed a record 29% of total revenues. Tableau Online again doubled, representing significant growth potential for the company in the cloud. The company added more new customers in Q2 (3,900) than it did in Q1 (3,500), and some of those new customers include big names like the Utah Jazz, Allegiant Travel, California Department of Public Healthy, and Bank of California. Perhaps most impressively, sales orders are growing in magnitude. The company signed 332 sales orders over $100,000, plus 42% YoY and up from 268 last quarter.
All in all, the impressive topline growth in the quarter continues to support the thesis that Data Visualization remains a high-growth industry. DATA is essentially growing revenues 30% this year while lapping 60-70% topline growth last year. Analysts see those growth rates falling to 25% next year, and we think this is a company that can grow revenues at a mid-to-high teens CAGR over the next 5 years.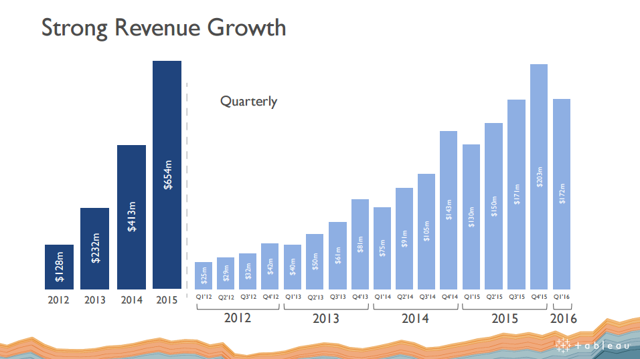 Investors just can't seem to grasp the valuation. The stock is richly valued, so any misses or weak guides always send this stock spiraling down. Post sell-off, the stock is trading around 62x forward earnings on 51% expected EPS growth. The multiple relative to growth remains fairly unattractive (PEG of 1.2 doesn't guarantee much margin of safety). While we agree with analysts that the company can grow earnings almost 30% per year over the next 5 years, paying 62x for that seems too rich for us.
That said, we think traders have an interesting opportunity here with DATA. The stock is acting much like it did last quarter, when a rather good ER resulted in the stock falling 11.3% the day following earnings.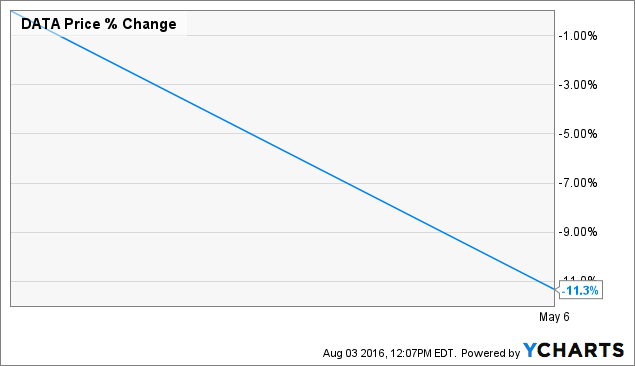 Investors who bought that dip made a handsome profit. Within a month, shares were up more than 23% from the May 6 closing price.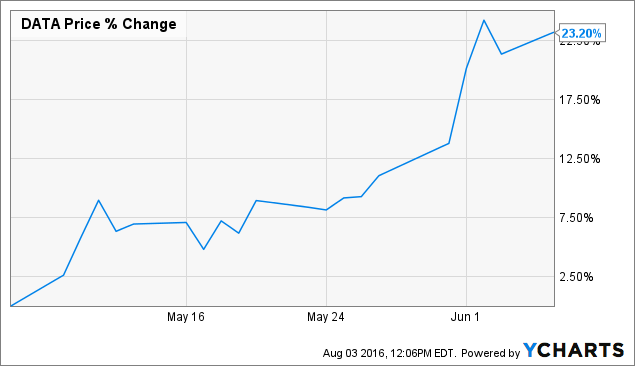 This is a comparable situation in our eyes. The stock has been largely range-bound over the past 6 months. While the chart below makes it look like the stock has more room to fall, we think the robust revenue growth this quarter provides it with a higher near-term bottom than last quarter. After all, what really sent the stock reeling in May was abnormally weak 14% License revenue growth. Management targeted a return to 16-17% this quarter, and exceeded that target with 20% growth.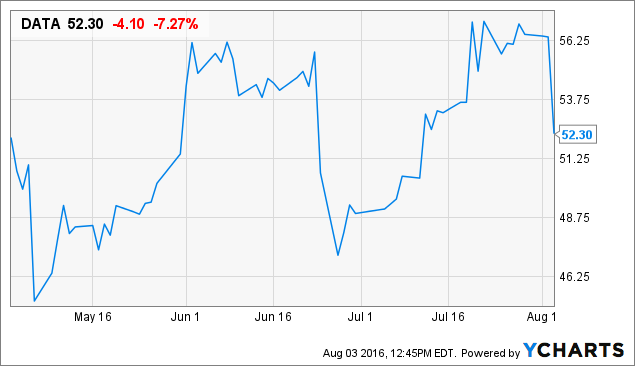 Investors buying here also have a Tableau 10 growth catalyst on the horizon. Management seems very excited about the launch of the Tableau 10 later this year. The update will bring advancements to all current Tableau platforms and will focus on further empowering business users and IT. By many measures, it looks like it is shaping up to be the company's most exciting Tableau update ever. The company had its largest beta test group for a new product with more than 14,000 participants. The new product has also attracted the largest ever virtual user group with 16,000 views. Some early customers are calling it a "paradigm shift advancement in the use of Tableau" and saying that "the additions to the product have the potential to change our business".
If the Tableau 10 can sustain this momentum into its official launch (which will be very soon according to management), this will give investors something to be excited about. This catalyst makes a rebound in the next month look even more likely to us. We are buying shares here on a potential short-term rebound fueled by dip-buyers and excitement around Tableau 10.
Disclosure: I am/we are long DATA.
I wrote this article myself, and it expresses my own opinions. I am not receiving compensation for it (other than from Seeking Alpha). I have no business relationship with any company whose stock is mentioned in this article.