The preferred stock market has been riding high on the insatiable chase for yield by global investors. They appear tightly buttoned and quite stable on most trading days. But its true identity should not be forgotten, as it remains a close brother to the high-yield bond market. More dignified and less dazzling than its headline grabbing and sometimes flawed counterpart, the preferred stock market is still wired in many of the same ways. And with the high-yield bond market coping with a toxic mix of already tight credit spreads, rising default rates and plunging oil prices, preferred stock investors should not expect to go unaffected if the high yield bond market takes a sudden fall.
Sherlock has all of the energy in the family

- Mycroft Holmes, Sherlock, BBC
Just because the high-yield bond market (NYSEARCA:HYG) has all of the energy does not mean that the preferred stock market (NYSEARCA:PFF) should be underestimated. It may seem like the mild mannered alternative, but it is often equally spirited in its moves to the upside and the downside at any given point in time.
To highlight this point, it is worthwhile to consider the returns path that these two have traveled in the post-financial crisis period. Certainly, the high-yield bond market (NYSEARCA:JNK) has been given to its bouts of volatility over the years, but so too has the preferred stock market. And over time, their returns performance has been notably similar.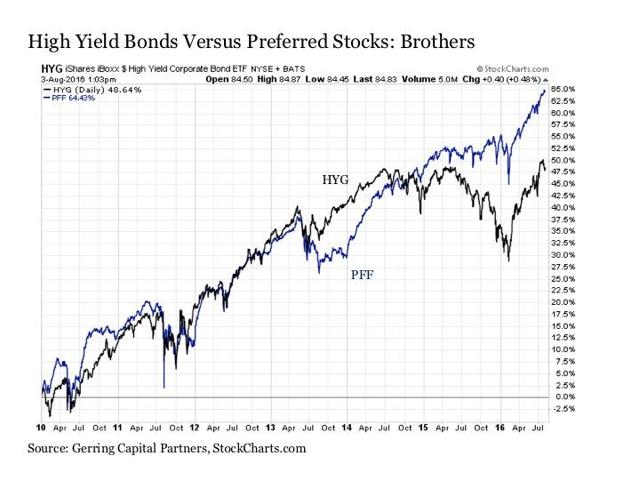 What is notable about these two asset classes is not only the similarities resulting from being in the same lower-down-the-capital-structure, income-generating asset class family, but also the periodic deviations.
During the financial crisis, it was preferred stocks that suffered a particularly difficult time. Why was this the case? Because unlike high-yield bonds that are much more broadly diversified from a sector perspective, more than three-quarters of the entire preferred stock market is concentrated in just one sector in financials (NYSEARCA:XLF). So given that the market underwent a financial crisis from 2007 to 2009, the preferred stock market was disproportionately obliterated.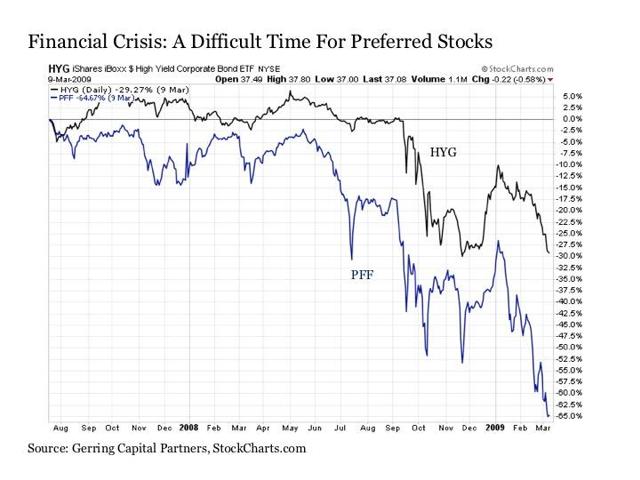 Of course, over the past few years, it has been the high-yield corporate bond market that has been sent reeling while the preferred stock market looks to be holding together quite well. This, of course, has been driven by the fact that roughly one-fifth of the high-yield bond market is directly exposed to the energy (NYSEARCA:XLE) and materials (NYSEARCA:XLB) sectors that have been obliterated in recent years. The preferred stock market, by comparison, only has a 3% allocation to energy and materials names, and it is via investment grade rated companies such as Hess (NYSE:HES), Kinder Morgan (NYSE:KMI) and Alcoa (NYSE:AA).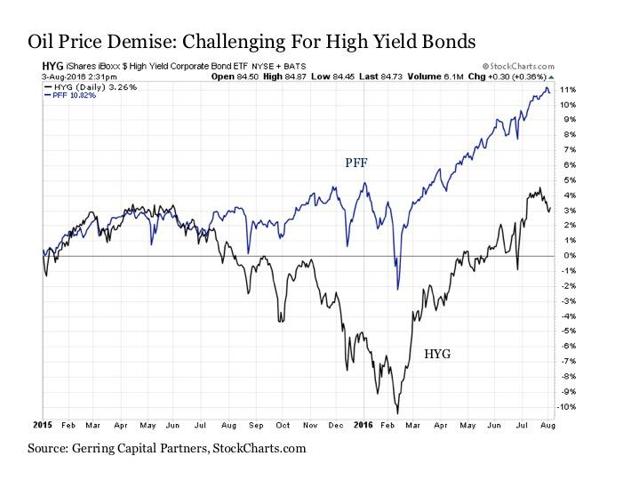 So over the past few years, high-yield corporate bonds continue to perform but appear to be the doped up, wild hair relative to the steady and composed preferred stock market. But despite their differences at any given point in time, they maintain a strange but still close relationship and always seem to find their way back to each other from a long-term trend perspective.
Why Preferred Stocks Might Fall Today
"Brother mine, don't appall me when I'm high"

- Sherlock Holmes, Sherlock, BBC
Sure, the often erratic high-yield bond market has its share of challenges in the current market environment, but what could possibly go wrong for preferred stocks? Interest rates remain low around the world, and although the Fed tries to talk tough about raising the Fed Funds rate, the market has gotten to the point where it simply does not believe in the possibility anymore. And despite its heavy exposure to the financial sector, policy makers in the U.S. have made it clear that they will defend the major financial institutions at all costs. It is the iShares U.S. Preferred Stock ETF after all, so as long as financial conditions are OK in the U.S., the preferred stock investor should be protected, right? Maybe, but then again, maybe not.
The following are some of the most notable risks facing the preferred stock market today that could bring it back to high-yield bond earth if not beyond.
Illiquidity
First, the preferred stock market is notoriously illiquid. While they are exchange traded, which is a plus from a price transparency standpoint, it does not mean that you will get the price that you expect, particularly when you may need it most. Unlike the common stock market where its most actively traded companies trade in the millions of shares per day, the most actively traded preferred stocks trade in the tens of thousands of shares per day. Others might trade fewer than 10,000 shares or even a 1,000 shares on any given trading session.
This lack of trading volume is problematic for the following reason. If a shock event strikes financial markets that results in mass liquidation pressures, the preferred stock market is likely to get taken down sharply and relentlessly. Working to exit a preferred stock position with the right price on a normal trading day is often an exercise in limit orders and extended patience.
Trying to exit a preferred stock position under duress when the rest of the market is doing the same can result in prices that may suddenly be -20%, -30%, -40% or more below what they originally cost. It does not necessarily mean that bankruptcy is suddenly imminent for these preferred stock issuers. Instead, it means that sellers flooded into the preferred stock markets and the buyers were simply not there to absorb the increased selling volume. A glance back to last summer with the PFF highlights this point on a broader asset class basis.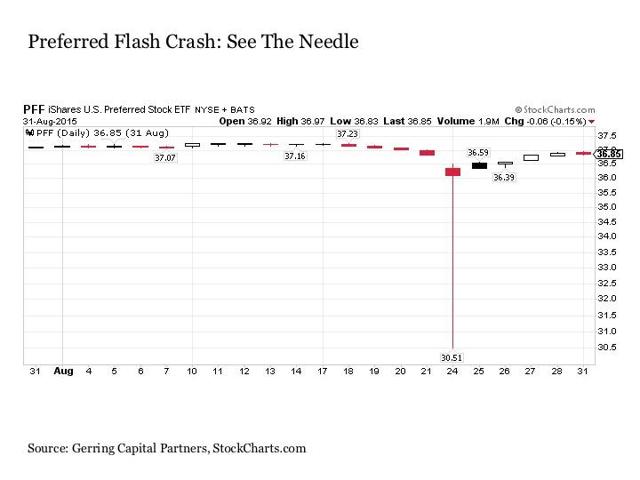 Of course, this was just one trading day, so no big deal. Many investors might have been on the beach that late August day and missed the whole thing. But consider instead the post Lehman period back in 2008-09 when the hits just kept coming and coming for months, with several preferred issues tumbling into default along the way. This is much harder to endure.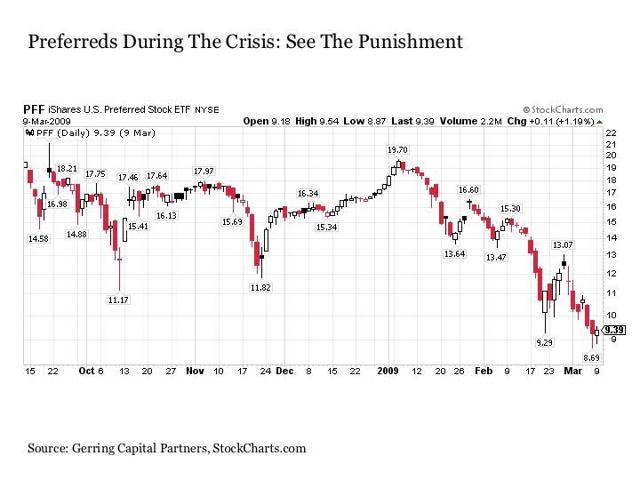 Impossible in the post crisis period, you might say. But one should then reference the so-called "taper tantrum" period in May and June 2013 when preferred investors had to sweat it out for nearly two months before the situation started to stabilize.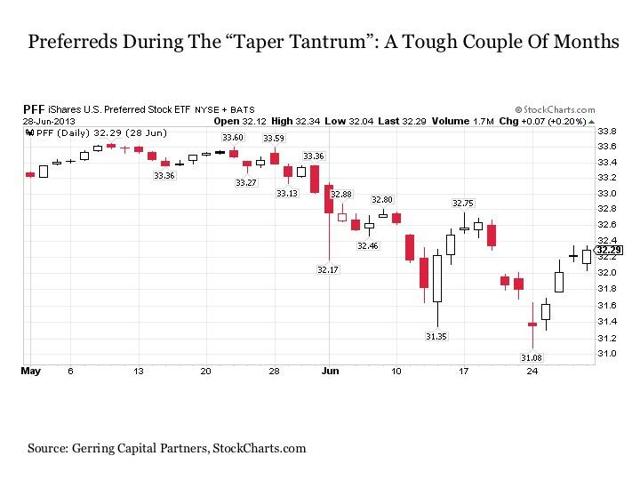 Interest Rate Sensitivity
Of course, this latter episode in 2013 highlights the interest rate sensitivity associated with these names. Just fine in a world where interest rates are falling as they were in April 2013 as represented by a steadily climbing iShares 7-10 Year Treasury Bond (NYSEARCA:IEF), but suddenly more unsettled and challenging in an environment where interest rates are on the rise as represented by a falling IEF in May and June 2013.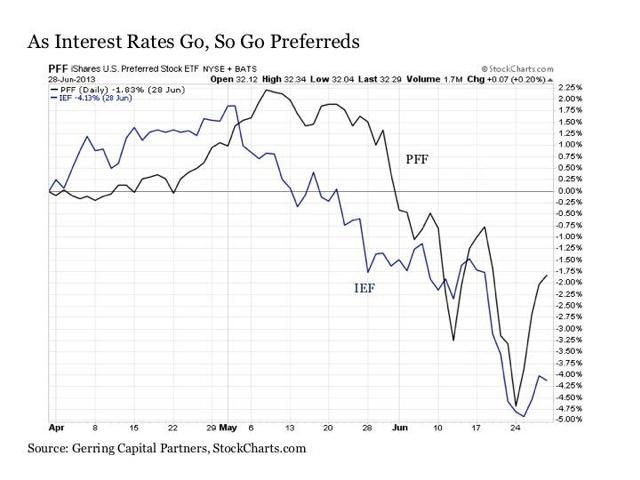 So for all of those investors that like to bash the bond market while staying fully allocated to other categories such as preferred stocks and common stocks (NYSEARCA:SPY) for that matter, do not assume that stocks will go unscathed if the high flying bond market suddenly relents.
Elementary
Another risk facing preferred stock investors utilizing exchange traded products such as the PFF is the companies to which they unwittingly have a meaningful allocation. It is the iShares U.S. Preferred Stock ETF, after all, so what if anything would be unexpected here. It's a basket of preferred stocks from companies based in the U.S., right? Indeed, not.
Let's take Deutsche Bank (NYSE:DB) for example. This is a German bank that is currently the poster child for systemic risk to the global financial system with its gargantuan sized derivatives portfolio and stock price that is now down -90% from its 2007 highs and is on the brink of a break to fresh new lows. And once again, it is based in Germany, not the U.S. Yet preferreds issued by DB make up roughly 2.6% of your entire investment in PFF.
But it's just one bank at 2.6%, so this isn't too much to worry about, right? Once again, unfortunately not, as Deutsche Bank is not alone as a European bank with a heavy slug of preferred stocks in PFF. For example, Barclays (NYSE:BCS), whose stock price is down -83% from its 2007 highs, -55% in the past year, and is in the epicenter of the unfolding 'Brexit' uncertainty, makes up an even larger 2.9% of the PFF. Another British bank is HSBC (NYSE:HSBC), which is still down by half since the crisis and nearly -30% over the past year, makes up an even greater 4.7% of PFF.
Altogether, European financial institutions that may end up potentially sitting in the heart of the next global financial crisis make up more than one-sixth of the entire "U.S." preferred stock market according to PFF. And while PFF is by far the largest preferred stock issuer with $17 billion in total assets, it is not alone in its heavy European bank allocation, as most of the other major ETF alternatives such as the PowerShares Preferred Portfolio (NYSEARCA:PGX), the First Trust Preferred Securities (NYSEARCA:FPE) and the SPDR Wells Fargo Preferred Stock (NYSEARCA:PSK) also have big allocation slugs in European financials.
Stay Rational, Find The Hidden Truths
"All lives end. All hearts are broken. Caring is not an advantage, Sherlock"

- Mycroft Holmes, Sherlock, BBC
The preferred stock market may be at risk to the downside today, perhaps meaningfully so if the recent path of its high yield bond brother is any indication. Does this mean one should simply evacuate the asset class and hide in cash? Absolutely not, for getting emotional in emotional markets does little good. The preferred stock market remains filled with opportunity, but the key today as it has been always is to stay rational, carefully manage risk, and find the hidden truths when they present themselves.
Instead of assuming a broadly diversified ETF exposure with its associated risks, investors may be better served to take the extra step in the investigation by looking deeper into individual preferreds instead.
I have favored selected non-financial preferreds for years, for these came through the financial crisis largely unscathed and are not as directly exposed to any future global banking instability. And a number of financial preferreds are also likely to hold up well today. In short, security selection is key when it comes to preferred stocks.
I also continue to seek to be opportunistic in buying preferred stocks amid any future liquidity shocks that might affect the market. Back during the financial crisis, windows of opportunity arose where investors had the ability to purchase the preferred stocks of high quality, financially sound companies at a discount to par of -25% or more for a limited time as short-term liquidity issues sorted themselves out. If any future correction in preferred stocks resulted in another such episode even for a limited amount of time, it is at these moments when it is time to back up the truck and buy vigorously.
So as the preferred stock market continues to advance to new highs, know its true identity and the future paths to the downside it may travel. Corrections eventually come to all asset classes whether we want them to or not, and sometimes they are dramatic. And one is now arguably overdue for the preferred stock market as a whole. But when it comes to the preferred stock market also see the opportunity that may present itself along with any such future challenges. For in the end, capitalizing on such opportunities in preferred stocks can go a long way in solving the case of achieving long-term investment success.
Disclosure: This article is for information purposes only. There are risks involved with investing including loss of principal. Gerring Capital Partners makes no explicit or implicit guarantee with respect to performance or the outcome of any investment or projections made. There is no guarantee that the goals of the strategies discussed by Gerring Capital Partners will be met.
Disclosure: I am/we are long IEF.
I wrote this article myself, and it expresses my own opinions. I am not receiving compensation for it (other than from Seeking Alpha). I have no business relationship with any company whose stock is mentioned in this article.