By Paul Price
(Dr. Paul Price is a regular contributor to Lowenthal Capital Partners. Read more about our newsletter, and take a free trial, here.)
All three major publicly traded cruise ship operators took it on the chin during Tuesday's general market selloff. Carnival (NYSE:CCL) dropped 3.1%, Royal Caribbean (NYSE:RCL) fell by 5.9% and Norwegian Cruise Line Holdings (NASDAQ:NCLH) plunged by 6.1%.
The good news? When a whole industry group declines, it's not a sign of company specific problems.
NCLH came public on January 13, 2013, priced at $19. The shares opened higher, never trading below $24.20 on the open market. The stock looked expensive initially as its 2013's EPS came in at just $0.49. No worries, though, profits ramped up quickly and steadily. Norwegian earned $1.62 in 2014, $1.86 in 2015 and may post $3.40 or better this year.
Investor enthusiasm for NCLH peaked last fall when the stock touched north of $64. That price didn't hold as it represented almost 35x trailing earnings.
Following Tuesday's dip, NCLH fetches a much more reasonable 11.7x Value Line current year's estimate.
Management bought middle to high-end Oceania Cruise Lines to fill out it offerings. They already owned luxury-minded Regent Seven Seas and their namesake Norwegian brand. They now cover all price ranges. I like that idea. Channeling cash flow into expansion and debt service, rather than dividends, seems like a prudent decision.
Norwegian's relatively short trading history makes it hard to know what a normalized P/E might be. Value Line says that RCL 10-yr. median multiple has been 16x while CCL's figure is 17x. Value Line's analyst assumes NCLH will end up trading for about 16 times profits over the longer term.
That modest regression could easily justify a rebound to the mid $50s by year-end, a 30%-40% increase. The goal is far from crazy. NCLH exceeded $58 already in 2016, and was $64 during 2015.
Trading around $70 by the end of 2017 doesn't appear to be farfetched if the business remains robust.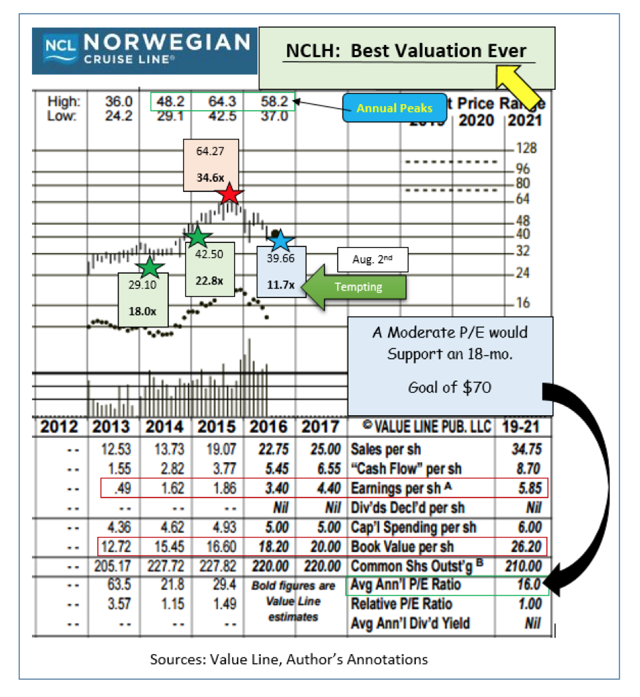 Analysts at independent research firm Morningstar seem to agree. They assign the company a 4-star (out of 5) Buy rating. Their present day fair value assessment runs to $66.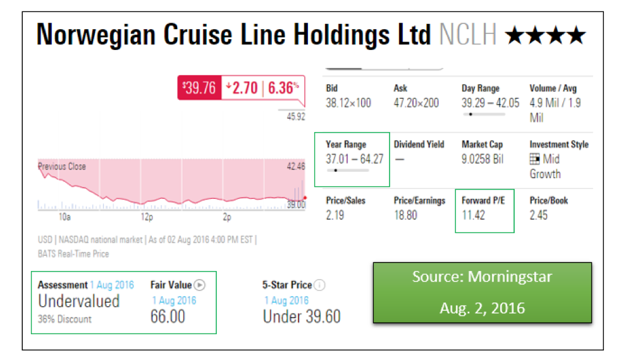 Option savvy individuals can collect generous premiums by extending out seven months to March of 2017. Selling $37.50 or $40 strike put options only commits to potentially forced purchase at either $34.30 or $35.65 respectively.
Both those break-even points are lower than NCLH has actually changed hands for since 2014. Keep in mind that EPS has approximately doubled since then.
I chose personally to short the more aggressive, $40 strike puts.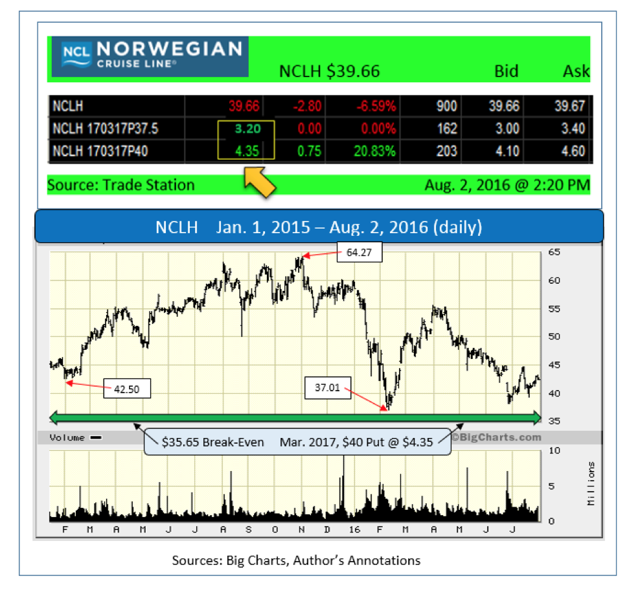 Maximum profit on option sales always equals 100% of the money collected upfront. In these examples, the worst-case scenario would be buying shares at even better prices than the panic bottoms touched briefly last February 11th, or during the Brexit vote fiasco that turned out to be a gross overreaction.
Norwegian Cruise Line Holdings is a well-managed, market leader in a growth industry. Buy the shares, sells some puts or consider doing both.
Disclosure: Short NCLH Mar. 2017, $40 puts. Long RCL shares. Short RCL Jan. 2018, $67.50 puts.
Disclosure: I am/we are long NCLH, RCL.
I wrote this article myself, and it expresses my own opinions. I am not receiving compensation for it (other than from Seeking Alpha). I have no business relationship with any company whose stock is mentioned in this article.