Barrick Gold (NYSE:ABX) has been one of the biggest beneficiaries of the surge in gold prices. The world's largest bullion producer has seen its shares rise more than 200% on a year-to-date basis in New York. Based on what we've seen from the company's latest quarterly results, it looks like Barrick Gold stock will likely continue moving higher.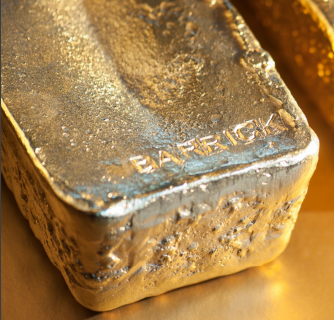 Image: Barrick Gold
At first glance, Barrick Gold's second quarter results don't look that great. During the three months ended June, the company produced 1.34 million ounces of gold, down from 1.45 million ounces in the same quarter last year. The company, however, benefited from the 5.8% increase in realized price to $1,259 per ounce. Revenues, however, dropped by 9.8% to $2 billion, missing analysts' consensus estimate by $60 million. The company's earnings, excluding the impact of one-off items, climbed significantly from $0.05 to $0.14 per share, but that was also below analysts' expectation of $0.15 per share.
However, Barrick Gold is making progress where it really matters. Currently, the Toronto-based miner's biggest problem is its poor financial health. The company expanded aggressively, through debt powered acquisitions, just before gold prices collapsed. Though it has sold interest in a number of mines to pay-off some of its loans, it still carried a debt of a little less than $10 billion at the end of last year. That's lofty for a company with shareholder's equity of $7.18 billion and a debt-to-equity ratio of 139% - more than 3.5 times as large as the industry's average. The high level of debt has weighed heavily on Barrick Gold stock, dragging its valuation. But the company has managed to cut down its debt load.
So far, in 2016, Barrick Gold has repaid $968 million of debt. The company ended the second quarter with a debt of $9 billion, which translated into a debt to equity ratio of 123% - an improvement of 16 percentage points in six months. Moreover, the company also said that it is eyeing additional reduction of $1 billion this year. That should bring the company's debt to equity ratio down to 109%. Although that would be 2.9 times as large as the current industry's average, the leverage metric would still be significantly lower as compared to the last few years.
Moreover, I believe Barrick Gold can bring its leverage, measured in terms of debt to equity ratio, down to less than 100% in 2017. That's because firstly, the company has done an impressive job of reigning in its production cost. In the latest quarter, the company posted 7.4% decline in cash costs to $578 per ounce and 49.3% drop in capital expenditure to $253 million. Its gold all-in sustaining cost dropped by 12.6% from last year to $782 per ounce. Thanks to the cost cutting efforts, Barrick Gold is now generating more free cash flows, or cash flow in excess of capital spending, than ever before. In the second quarter, the company generated $527 million as operating cash flows, which was more than enough to cover the capital expenditure, leading to free cash flow of $274 million. The company has now reported a total of $926 million of free cash flows for five consecutive quarters.
Barrick Gold's cost profile is getting better, which means that the company might report even higher levels of free cash flows in the coming quarters. The company has recently reduced the current year's sustaining capital guidance by $125 million to the range to $1.1 billion to $1.2 billion, cash cost guidance by $5 per ounce to the range of $540 to $570 per ounce, exploration expense guidance by $10 million to between $115 million and $145 million and AISC by $15 per ounce to $750 to $790 per ounce. I believe the company will likely generate higher levels of free cash flows in the second half of 2016 as compared to the first half. These strong levels of excess cash flows will become a major source of debt reduction, leading to meaningful improvement in Barrick Gold's financial health.
The company, however, also needs continued support from gold prices in order to grow free cash flows, and it looks like it will be forthcoming. The recent strength in gold prices has been fueled partly by the Federal Reserve's inability to increase interest rates this year, and this is unlikely to change in the short term. At the recent July meeting, the Fed gave no major clues around the future of interest rates, but we know that some policymakers, such as New York Fed President William Dudley, believe that the US economy isn't doing that great. The Fed might only raise rates once this year, and that too by the end of the year. For now, I believe gold is not facing any major threat from interest rates.
In addition to this, Barrick Gold also intends to use its cash reserves of $2.4 billion and proceeds from asset sales to reduce its debt. It is working to sell its 50% interest Kalgoorlie mine in Australia, which represents 4.15 million ounces of proven and probable reserves for the Canadian company. Analysts believe that Barrick Gold's stake in Kalgoorlie is worth around $1 billion. Barrick Gold's joint venture partner and the mine's operator Newmont Mining (NYSE:NEM) has shown interest in buying the rest of Kalgoorlie. In addition to this, Barrick Gold has other assets as well, including copper mines in Chile and Zambia and 64% interest in Acacia Mining, which it can monetize in the coming years. For Barrick Gold stock, these asset sales can act as a catalyst for upside in the near term.
Conclusion
Barrick Gold failed to meet analysts' consensus estimate in the latest quarter, but it has managed to improve its financial health by reducing debt. The company is well positioned to cut down its debt in the coming quarters on the back of strong levels of free cash flows, cash reserves and asset sales. That should lift Barrick Gold's valuation. Its shares will likely continue moving higher on shrinking debt load.
Note from author: Thank you for reading. If you like this article, then please follow me by clicking the " Follow" link at the top of this page.
Disclosure: I/we have no positions in any stocks mentioned, and no plans to initiate any positions within the next 72 hours.
I wrote this article myself, and it expresses my own opinions. I am not receiving compensation for it (other than from Seeking Alpha). I have no business relationship with any company whose stock is mentioned in this article.