Acacia Research Corp. (NASDAQ:ACTG) reported earnings on July 28, 2016, after the close. Results easily beat analyst consensus estimates of $23m/$.03 with actual results coming in at $41m/$.23. Actual results beat my own estimates of $32m/$.15. I was pretty confident the Samsung agreement in Q2 was at least $25m with upside up to $35m. It came in right at my upside estimate at ($41.3m x 85% per the 8K).
ACTG puts out a press release or files an 8-K with every revenue generating agreement during the quarter. Using historical data and tracking the litigation cycle, investors can reasonably estimate every deal signed during the quarter. With the company's focus shifting to their marquee portfolios it's important to track prior agreements in order to estimate/model the remaining portion of the portfolios.
Q2 estimates for each announced license: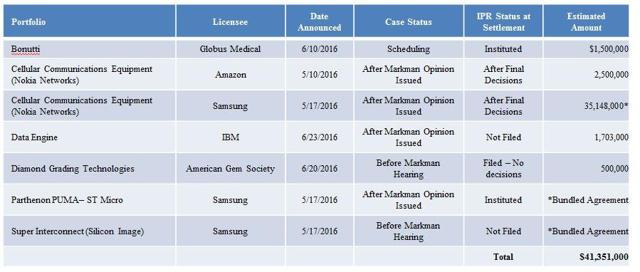 Bonutti - This agreement was signed in the fairly early stages of litigation. Based on Acacia's actions they look to be winding down the medical portfolios.
Cellular Communication Equipment (Nokia Siemens) - Amazon (NASDAQ:AMZN) signed a license in this portfolio, which should help benchmark the portfolio for future licenses. The company lists on their website they are looking for $.85 per unit. The portfolio had a license in Q4 2015 with Kyocera, that I estimate to be the 19% agreement disclosed in the financials, which translates to $7.125m. I estimate $1m was allocated to Adaptix in the Kyocera deal. The agreement with Amazon should be very similar to the deals with Kyocera and Sony.
The Samsung license included the CCE (Nokia Siemens & Nokia Networks) portfolios along with a PUMA (ST Micro) and Super Interconnect (Silicon Image). The license should cover several hundred million units shipped in three marquee portfolios. To get the hundreds of millions in damages/licensing it would include a jury trial and winning the subsequent appeals. Getting cash on the balance sheet is always the preferred option. The CCE portfolios specifically have been doing very well at the PTAB, winning three final decisions and numerous challenges that were not instituted. The district court cases have also been going very well in this portfolio with three Markman Opinions issued with nearly all claim terms being adopted as Acacia proposed.
Data Engine - Signed an agreement with IBM that resolved three outstanding cases. No IPRs were filed by IBM and the case resolved shortly before the scheduled trial was to start in late May 2016.
Diamond Grading - Signed agreements with American Gem Society and American Gem Society Laboratories. This is a non-marquee portfolio before a Markman Hearing was held.
Note: All legal and IPR information was sourced from public databases. All estimate amounts are my own and based on educated personal opinions. Actual results could be materially higher or lower. To estimate perfect results would require being exposed to confidential information, which I do not have.
What to look for in 2H 2016
Acacia has a number of Markman hearings and trial dates scheduled in the second half of 2016. These two events and success at the USPTO continues to drive settlements for Acacia.
The notable 2H 2016 trial will be the Nokia Siemens portfolio versus Apple. Acacia holds a strong legal position in District Court and also winning at the patent office in the Inter Partes Review proceedings. The case for Apple is set for September 6, 2016 in East Texas. I believe there is a strong likelihood for the case to settle pretrial as both sides have been much willing negotiators as of late. Acacia has opted to resolve more of their high profile cases for low/mid eight figure agreements while Apple has already settled with two NPE's this year beginning with a $24.9m settlement with Marathon Patent Group (NASDAQ:MARA) in late April and most recently with Network 1's (NYSEMKT:NTIP) Mirror Worlds portfolio for $25m in early July. I could easily see another $25m-$40m deal with Apple in the Nokia Siemens portfolio announced in early September. If not it will go to trial where I estimate the damages could reach over $200m.
The other trials include:
- Apple and HTC in the PUMA (ST Micro) portfolio starting on October 3rd, 2016.
- HTC, Motorola, and ZTE in the Saint Lawrence (VoiceAge) portfolio starting on December 5th, 2016.
- LG in the Delaware Display (Rambus) also starting on December 5th, 2016 in Delaware.
There are also stays pending settlement on the court docket that has not been announced yet with ZTE in the PUMA docket. The company has already disclosed an agreement with Vodafone in the VoiceAge portfolio in Q3 2016 and LG in the Nokia Siemens/PUMA dockets. Based on the prior agreements in the respective portfolios I estimate Acacia has already generated $20m to $30m in Q3 already and could very likely generate $70m to $100m in revenue during the 2nd half of 2016.
Refilling the pipeline
It is not a secret that the company needs to refill their pipeline of assets. In the conference calls prepared remarks and during the question and answer session the pipeline was extensively discussed. The company should be looking for patent assets that can be bought for $500k up to $10m. Gone are the days when patents commanded premium prices such as Acacia's $160m outlay to purchase Adaptix back in 2012. The new portfolios will not be looking for hundreds of millions in damages that require an expensive monetization campaign and high risk trials/appeals. Instead the target portfolios will likely have a $50m to $80m damages model, which can be parlayed into $20m to $30m settlements with a quicker turnaround and less amount of litigation risk. Replicating this model across the new portfolios and increasing the amount of portfolios brought in is how revenue/earnings will grow and a premium on the business will be established. The target number of portfolios should be 2 to 4 being brought in per quarter. I would like to see the next one announced in Q3 2016.
Additional comments
While the numbers were very good, I thought the best indicator for investors the new strategy is working is they signed their largest deal early in the quarter. In the past seven or eight quarters the larger deals were signed and announced in the last two weeks of the quarter. With agreements signed and announced in Q3 it shows me the new strategy is working well.
There were also a lot of questions on the company's increasing cash balance most specifically with putting a dividend back in place or authorizing a share buyback. I would recommend the company to put a share buyback in place and used during periods of extreme volatility, such as during December 2015 after the Adaptix trial loss when shares traded right near cash. Having a strong increasing cash balance is a very useful tool in licensing negotiations as defendants are sent a message that the company will be around to defend their IP against any holdouts and there is no pressure to sign a below market deal due to the company's cash position. I believe this is one of the problems the company previously had when they were paying out $6m per quarter. Defendants were holding out, watching the cash balance being reduced quarter after quarter, which moved leverage over to the defendants. Activists looking to use the cash in other means should be refused.
After two very good quarters with the new licensing strategy Acacia needs to reengage the street by conducting a non-deal roadshow and meeting with large investors. The company needs to also present at investor and patent conferences to renew interest in the company and communicate their new strategy. It is very clear from listening to the quarterly conference calls and the emails that pile up in my inbox, that no one has any idea what is going on or the ability to evaluate the current portfolios and estimating the future value of potential licenses. This is a very obvious problem and pounding the pavement with investors and potential investors will pay off down the road as more licenses are signed and acquisitions are announced.
Lastly, the company wrote down their patent assets in Q2 by another $40m after taking a $74m impairment in Q4 2015. I expect this to again be related to the Adaptix portfolio. The portfolio will never likely generate the numbers that were once expected and the company will benefit in the quarters to come as they will reduce their GAAP large depreciation expense. Acacia and nearly every patent entity does not get and should not get any credit for their patent line item on their balance sheets. With the company not spending significant dollars on new portfolios and writing down the old assets the spread between GAAP earnings and Non-GAAP earnings should close.
Conclusion
Acacia easily beat Q2 analyst estimates and the rest of the year is full of potential milestones both in court and at the patent office. Acacia needs to start refilling their patent portfolios and communicating again with wall street. The company is certainly not dead as some people think and there are tangible signs their business is turning a corner in a better more consistent direction.
Disclosure: I am/we are long ACTG.
I wrote this article myself, and it expresses my own opinions. I am not receiving compensation for it (other than from Seeking Alpha). I have no business relationship with any company whose stock is mentioned in this article.