Last week was a busy one for Eli Lilly (NYSE:LLY). It reported earnings, announced that CEO John Lechleiter will retire at the end of the year, and named Senior VP David Ricks the next CEO beginning January 1st, 2017. Lechleiter currently serves as Chairman of the Eli Lilly board and Ricks will take over that position as well. Ricks comes from leading Lilly's largest business area, Lilly Bio-Medicines.
I reported on a few Eli Lilly governance trends a few weeks ago, but with the recent developments, both to Eli Lilly and to our platform through added features, I wanted to take an even wider look at the company's governance analytics.
Ricks will take over in a changing pharmaceutical world. Remember from my July article that, despite pressure by media, legislators, insurers, regulators, and the public, the Wall Street Journal concluded that pharmaceutical companies' power to raise prices was "firmly intact." Rising prices and expensive new medicines have fueled an increase in U.S. drug spending, but not without its critics. For now, the critics have not seen much success, but it is a brewing issue.
At the same time there is an increasing push to focus the healthcare industry on paying for results, rather than for medicines. This recent trend will likely be even more pronounced by the time he officially takes over at the beginning of 2017. Ricks is no stranger to leading through difficulty. Bloomberg noted Ricks' experience navigating the company through patent expirations to key drugs.
In comparatively examining corporate governance analytics, I used the peer group from Eli Lilly's 2016 Proxy Statement and Enlight Research's real-time monitoring platform. The peers listed this year were AbbVie Inc. (NYSE:ABBV); Abbott Laboratories (NYSE:ABT); Allergan plc (NYSE:AGN); Amgen Inc. (NASDAQ:AMGN); AstraZeneca PLC (NYSE:AZN); Baxter International Inc. (NYSE:BAX) Bristol-Myers Squibb Company (NYSE:BMY); Celgene Corporation (NASDAQ:CELG); Gilead Sciences, Inc. (NASDAQ:GILD); Johnson & Johnson (NYSE:JNJ); Medtronic, Inc. (NYSE:MDT); Merck & Co., Inc. (NYSE:MRK); and Pfizer Inc. (NYSE:PFE). Our platform is currently limited to US-based equities, so F. Hoffman-La Roche AG, GlaxoSmithKline plc, Novartis AG, and Sanofi SA, all part of the proxy peer set, were excluded from the data.
Eli Lilly noted in the proxy that it determined this peer set from direct competition and similar business model. Notably, Johnson & Johnson, Novartis, and Pfizer were the only companies with more than three times the market capitalization or revenues of Eli Lilly - they were included despite this gap because of similarities in competition and business model.
Total Shareholder Return
Before diving into governance trends I like to take a look at shareholder return to ground the rest of the discussion. It has been a strong couple of weeks for the companies. When I last covered them, based on market close on July 18th, Eli Lilly was at 123.38% and the peer set was a bit higher at 130.40%. Using market close of August 2nd, Eli Lilly was at 133% and the peer set was at 147%. Below are two views, one of the overall comparison and another broken down by individual peer.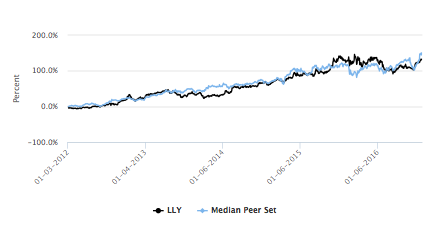 Exhibit 1: Total Shareholder Return
Source: Enlight Research, LLC
Note: Total shareholder return assumes dividend reinvestment.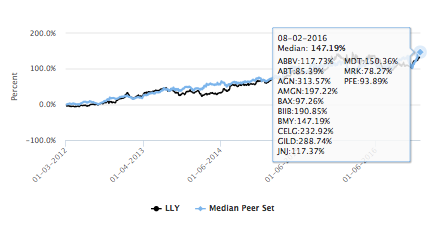 Exhibit 2: Total Shareholder Return Broken Out By Individual Peer
Source: Enlight Research, LLC
Note: Total shareholder return assumes dividend reinvestment.
Board Tenure
Eli Lilly has an exceptionally high range of board tenures compared to the peer set with directors serving from less than a year to nearly 30 years. The median is only 7.6 years, more middle of the pack. Retaining institutional knowledge through a wider range of tenures can certainly be a positive when combined with some fresh, relevant perspectives and skills on the board. I feel that this kind of board refreshment is key in a shifting marketplace, as acquisitions, consumer trends, and other developments potentially change the strategy and scope of a company tremendously. The balance between a higher range and lower median offers the opportunity for the best of both of these considerations.

Exhibit 3: Board Tenure
Source: Enlight Research, LLC
Board Equity
In my last article I covered board and CEO compensation, breaking down the payment structures and focusing on the proportion of long-term incentives. Within our new Executive ID feature I can take this a step further and look at the board's equity positions, both relative and absolute. Relative value can provide insight into board control and absolute value is especially helpful for comparing peers with widely divergent market capitalizations. I like to a see a board substantially vested in a company - that way their financial success at least partially aligns with that of the shareholders.
The Eli Lilly board owns .099% of the common stock of the company for a value of over $87 million. It is fifth out of fourteen in the peer set in both respects.

Exhibit 4: Total Common Stock Held by the Board of Directors ($USD)
Source: Enlight Research, LLC

Exhibit 5: Percent of the Common Stock Held by the Board of Directors
Source: Enlight Research, LLC
Board Skills Matrix
Our newest offering, now rolled out on our platform, is the Executive ID feature. Executive ID allows you and us to take a deeper dive into learning about the individuals that make up corporate boards of directors. Although activist and institutional investors have had the benefit of increasing their face-to-face interactions with corporate directors, it is extremely challenging as a retail investor to really analyze the directors who represent us in the boardroom. To mitigate this asymmetry, the feature includes board biographies, the Board Skills Matrix, and board equity positions. It is very rare for a company to disclose such a matrix - and when they do disclose it, it is often in response to an activist slate of nominees. With it, investors can determine if the board is staying relevant with the skills and experiences needed in a shifting competitive space. Below is the Board Skills Matrix for the peer set.
Based on board biographies and our proprietary algorithm, Eli Lilly is a leader in industry, international, and academic and research expertise. Among its lower proficiencies, notably, is transactions expertise in an industry typically heavy on acquisitions. Merck stands out on the matrix for expertise in the 75th percentile across a majority of the skills.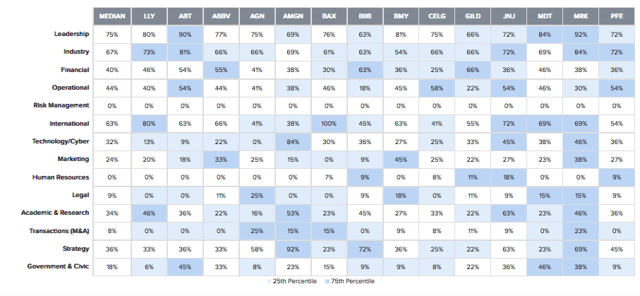 Exhibit 6: Board Skills Matrix
Source: Enlight Research, LLC
What Does This Mean?
Rick takes over in a shifting marketplace that has been buoyed by recent investor optimism. The analytics covered mostly seem favorable, but of course only tell a small part of the overall story. I like to see the significant board equity position and the balance between retaining institutional knowledge and board refreshment in board tenure.
Even Lilly's potential shortcomings, such as transactional skills on the board, seem shored up by the promotion of Ricks. Ricks comes in with a deals background and described mergers and acquisitions as a "passion" of his in the Bloomberg article. Neither Morningstar nor Ricks see major deals on the horizon for Eli Lilly, but do expect smaller acquisitions. With these developments and the changes brewing in the industry as a whole, this should be an interesting peer set to keep an eye on in the future.
Interested in seeing similar metrics done with another company and peer set? Drop us a comment, send us a private message, or check out our profile to access our free real-time monitoring platform.
Disclosure: I/we have no positions in any stocks mentioned, and no plans to initiate any positions within the next 72 hours.
I wrote this article myself, and it expresses my own opinions. I am not receiving compensation for it (other than from Seeking Alpha). I have no business relationship with any company whose stock is mentioned in this article.