After being on a downward trajectory for some time, Vale S.A. (NYSE:VALE) has successfully stopped the fall. The company benefited from tailwinds from the commodity markets in a year when it truly needed them. Most importantly, iron ore recovering from its decade low helped Vale to report rather strong results for the second quarter. The company's main target for 2016 still is to generate as much cash as possible to finalize the S11D expansion project and to deleverage to the extent possible.
EBITDA is the key metric for me when looking at Vale as it determines the company's capability to generate cash. Vale's net results have been severely impacted by foreign exchange rate effects which led to substantial non-cash losses during 2015 and gains in 2016. Basically, they are arbitrary figures without any real meaning.
The group's adjusted EBITDA in Q2 grew to $2,383M, an improvement of $378M versus the first quarter, and year-over-year, it represents an increase of 8%. In the first half of the year, EBITDA grew by $803M to $4,388M versus 2015.
Capex of $1,368M was lower compared to first quarter ($1,449M) and significantly less than in 2Q15 ($2,119M) which led to a substantial cash flow improvement. Another positive sign is that for the first time since several quarters, Vale's net debt declined, although the $153M reduction is only a first step and leaves a long way to go.
The Outlook for the Rest of the Year
I believe that Vale's second quarter results are a good indicator for the company's performance in the second half of the year, assuming that iron ore will continue to trade between $50 and $60 per dmt (dry metric ton) for the rest of 2016.
Comparable iron ore production costs should enable Vale to realize similar cash margins as in Q2. Moderate tailwinds also can be expected for Vale's Base Metals business which is primarily nickel and copper. Consequently, Vale's EBITDA for 2016 could come in around $9B which would be an increase of almost 30% from last year's $7,081M.
In an article in March I already discussed the most important factors for Vale going forward. At that time, the biggest uncertainty was the development of the iron price. Despite the fluctuations of the recent months, I do not expect unpleasant surprises for the rest of the year. The reason why I remain rather optimistic about iron ore is despite overcapacity and many bear calls the price did not drop, but increased constantly since the beginning of the year.
Chinese demand has been surprisingly strong and despite more capacity additions, the sea borne iron ore market remains in pretty good shape. Actually, the low-cost suppliers from Australia and Brazil increased their market share constantly over the last years, mainly at the expense of the smaller high-cost Chinese miners. The combined global market share of Australia and Brazil is forecast to increase from 80% in 2015 to 86% in 2017 according to Australian government figures. At the current rate, imports could reach one billion tons for the first time in 2016.
Only recently, the Metallurgical Miners' Association of China recently asked for an investigation into the leading producers of iron ore from Australia and Brazil. This translates into a cry for help, since many of the small Chinese miners struggling with low grade and high costs have been forced to halt operations according to the association.
Iron ore prices remain the biggest tailwind for Vale with respect to the other key drivers for Vale which I mentioned in March, there have not been many surprises.
The strongest headwind for Vale has been the recovery of the Brazilian currency. The real recovered from levels above 4 BRL/USD and gained around 15% since the beginning of the year. The regained strength of the real has an impact on production costs and also on capex. Vale's C1 cash cost FOB port per wet metric ton for iron ore fines ex-royalties increased to $13.2 in 2Q16, $0.9 higher than in 1Q16 and $1.3 more than in 4Q15 when Vale reported C1 cash costs of $11.9. The company's efficiency improvement measures partly helped to counter the negative currency trend, and costs in real fell from R$47.5 in 1Q16 to R$46.1 in 2Q16.
Brazilian Real / US Dollar Exchange Rate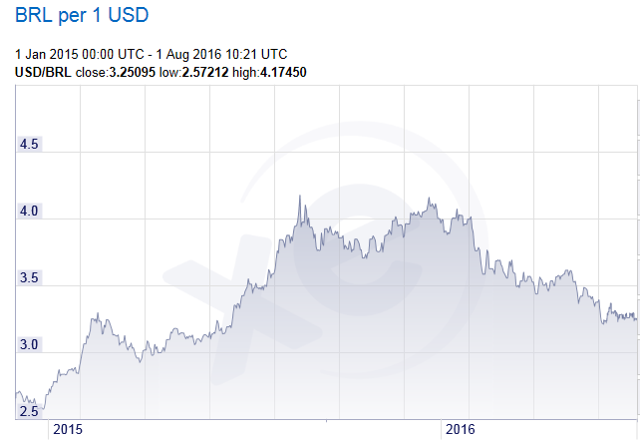 Source: xe.com
The USD/BRL exchange rate has an impact on capex, primarily the costs related to Vale's S11D project which stands for the larger share of the company's capital expenditures. As the company reports in dollars, but costs are mainly denominated in reals, Vale suffers from a more unfavorable exchange rate. In the Q2 conference call, Vale's management estimated that due to FX effects capital expenditure in 2016 will more likely be in the $5.7B to $5.8B range, up from the earlier guidance of $5.5B.
As expected, Vale's unit maritime freight cost per iron ore metric ton were lower in the first half of 2016. Although the costs increased to $11.8/ton in the second quarter from only $11.3/ton in 1Q16 (a result of higher bunker oil prices), it is still a clear improvement over last year when Vale's average freight rate stood at $14.1/ton in Q4/15. The main reason for the progress is the expiration of bunker oil contracts, and by the end of 2016, hedging will no longer have an impact on freight rates nor negatively impact the financial result.
All in all, Vale's iron ore fines C1 cash costs landed in China including expenses and royalties stood at $29.0/ton in 2Q16. This compares to $27.6/ton in 1Q16, $30.1/ton in 4Q15 and $37.0/ton in 2Q15. The average price realization in Q2 was $48.3/ton, an increase of $1.8/ton versus the first quarter.
Vale ended Q2 with $27.5B net debt, a reduction of $153M. Higher commodity prices have helped Vale to successfully close the cash flow gap in the recent quarter, and the company's operational cash flow has been strong enough so that the enormous debt pile was reduced for the first time in several quarters.
The following slide was part of Vale's Investor Day presentation in New York in December 2015. At that time, average EBITDA estimates were $7.6B, resulting in a negative free cash flow of $1.5B. Now assuming $9B EBITDA and a $0.5B capex reduction compared to December paints a much friendlier picture and leads to a positive free cash flow even without divestments.
Vale Cash Flow Outlook, December 2015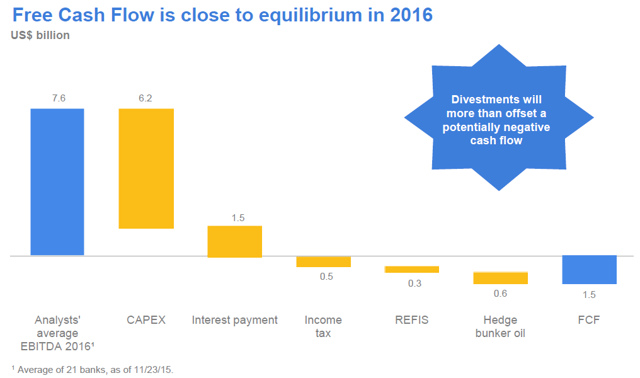 Source: Vale investor presentation
Nevertheless, in order to deleverage substantially and to come closer to the company's $15B target that was announced at the beginning of the year, a lot more needs to be done. Vale has not been successful in raising cash through asset sales so far, but in the conference call its management indicated progress in the Mozambique coal and project finance deal in Q2 after reaching an agreement with the Mozambique government. Furthermore, two important transactions are said to be in the pipeline and are expected to be announced in the current quarter.
Outlook for 2017
Given the current state of the commodity markets and assuming that iron ore will remain in the $50 to $60 range, Vale's performance should continue to improve next year.
Vale's S11D project will be completed by the end of 2016 and the first ore is expected to be shipped in January. This will have two positive effects. First, average cash production costs will decrease due to fact that the S11D operations will have the lowest costs in the world. Secondly, production and shipment volumes will grow. Although the new mine will add more capacity to an already oversupply market, I'm not too concerned that the additional volumes from S11D will put iron ore prices significantly under pressure. First of all, the ramp-up will happen gradually, and the new mine will not reach full capacity before 2018, but more importantly, I expect that Vale will be careful not to flood the market and reduce output at some of its higher cost operations to keep volumes under control.
Peter Poppinga, Ferrous Minerals in the Q2 conference call: "…we will have a mature eye on the market and balance everything as much as possible to maximize our margins and also our cash flow."
With higher revenues and slightly improving cash margins from the Ferrous minerals business and a higher contribution from the Base Metals segment, I'm quite confident that Vale can generate more than $10B EBITDA next year. Particularly nickel looks encouraging with prices approaching $10,000/ton again.
Declining capex will bring the much needed relief to further reduce net debt. Vale has not updated capex guidance reflecting the stronger real, but the best assumption today is that expenditures will decline to the $4B region, mainly because of lower than expected sustaining capex. This will increase free cash flow substantially and could even enable Vale to reinstate the dividend payment after the complete suspension in 2016.
Conclusion
The situation for Vale has improved significantly over the last months, and the company is on track to close its cash flow gap. Of course, everything still depends on the commodity markets, but the overly pessimistic sentiment which persisted during the second half of 2015 and at the beginning of this year has disappeared. This also means that the best time to buy Vale already lies behind us. A share price close to $2 which was marked briefly in early 2016 probably was an exceptional occasion to buy the stock. Nevertheless, I believe that there is still substantial long-term potential for Vale and the whole sector and that the stock remains an attractive opportunity on dips.
Disclaimer: Opinions expressed herein by the author are not an investment recommendation, any material in this article should be considered general information, and not relied on as a formal investment recommendation. Before making any investment decisions, investors should also use other sources of information, draw their own conclusions, and consider seeking advice from a broker or financial advisor.
Disclosure: I am/we are long VALE.
I wrote this article myself, and it expresses my own opinions. I am not receiving compensation for it (other than from Seeking Alpha). I have no business relationship with any company whose stock is mentioned in this article.