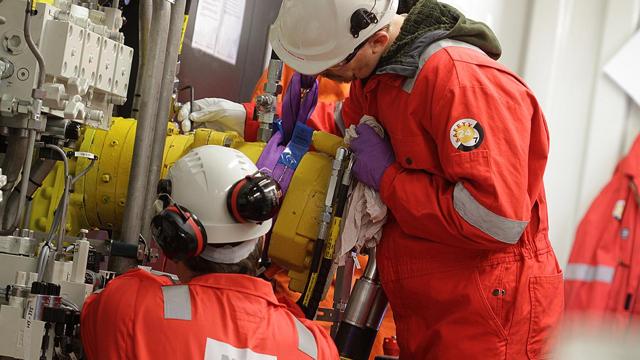 National Oilwell Varco's (NYSE:NOV) Q2 earnings were mixed. Revenue of $1.72 billion missed estimates by about $70 million, while EPS of -$0.30 beat by $0.02. Parts of the quarter were good, bad and ugly.
The Good - Backlog Was Steady
NOV bulls have pointed to its strong backlog as key to the stock. Regardless of falling E&P, the backlog would sustain the company; at least, that's how narrative went. That might no longer be the case. In Q1, the company wrote off $2.1 billion of its Petrobras (NYSE:PBR)-related backlog. That contributed to the backlog falling over 40% Q/Q to $4.3 billion. I thought there was an outside chance the backlog could fall sharply again this quarter; it did not. The backlog came in at $3.9 billion, down only 9% sequentially.
The backlog for Rig Systems was $2.94 billion. New orders were $66 million versus $441 million in shipments. The book-to-bill ratio of 15% was the lowest in a decade. The $947 million backlog for Completion & Productions was down 5% sequentially. New orders during the quarter were $269 million versus shipments of $333 million - an 81% book-to-bill ratio; this segment sells services and equipment needed for hydraulic fracturing. It implies that drilling activity in North America could pick up in the near term.
The Bad - Paltry EBITDA Margins
Revenue fell 21% sequentially as expected, with Rig Systems leading the decline.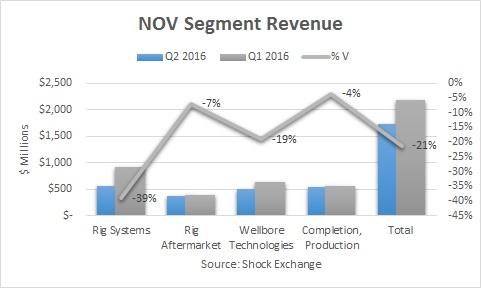 As revenue falls, the company loses the benefit of scale. Q1 EBITDA margins were 6%, down from 12% in Q4 2015. I predicted margins would turn negative this quarter.
Q2 EBITDA of $25 million at a 1% margin was not as bad as I expected, but it was still awful. If revenue continues to decline by double digits, then EBITDA will likely turn negative in the second half of the year. Of the four operating segments, Rig Aftermarket has the highest EBITDA margins at 20%; Completion & Production is next at 11%. Stemming the decline in Rig Aftermarket will be key to preserving margins.
The Ugly - Decline In Cash
National Oilwell's liquidity has been ravaged by nearly $3 billion in share buybacks from 2014 to 2015. It is paramount that the company preserve capital to help survive the downturn in the oil patch. With operations in decline, National Oilwell should be a cash flow generating machine. However, cash flow from operations fell from $621 million in Q1 to $128 million this quarter - a decline of over $490 million. The company's cash balance also fell from $1.8 billion in Q1 to $1.7 billion this quarter.
Given its fortress balance sheet and working capital of over $6 billion, I expect National Oilwell to grow cash by a few hundred million each quarter. In my opinion, this was the most disappointing part of earnings report. If it doesn't improve next quarter, it could call into question the quality of the company's stated assets. That said, there are no near-term catalysts to drive earnings or spur NOV. Avoid the stock.
Disclosure: I am/we are short NOV.
I wrote this article myself, and it expresses my own opinions. I am not receiving compensation for it. I have no business relationship with any company whose stock is mentioned in this article.