Add Time Warner to the Hulu Mix
Count Time Warner (NYSE:TWX) as one of the new holders in Hulu, a streaming service currently owned by Disney (NYSE:DIS), Fox (NASDAQ:FOXA), and Comcast's (NASDAQ:CMCSA) NBCUniversal.
Time Warner took a 10% stake in the property when it invested $583 million. Time Warner, as many investors know, relies on cable subscriptions as one of its several sources of income. So the move could be viewed as a hedge, or at least as a way to benefit from the rising popularity of cord-cutting.
This is an interesting development. Back in September, I suggested that Disney had an ace up its sleeve, because of its ability to offer a skinny bundle via Hulu, given its ABC, ESPN, A&E and Disney content.
Aside from announcing its investment in Hulu, Time Warner also reported earnings Wednesday morning. The company beat earnings, and raised its full-year earnings guidance to $5.35 to $5.45 per share.
"This investment fits our strategy like a glove," chairman and CEO Jeffrey Bewkes said of the Hulu investment on the company's conference call.
Time Warner isn't wasting any time either, saying it expects to have a streaming service launched in early 2017. The skinny bundle could include TNT, TBS, CNN, Cartoon Network and others. In particular, Adult Swim is apparently quite popular with Millennials, which "attracts 60% more 18- to 34-year-olds than its nearest competitor, 60% more," Bewkes said.
While this move undoubtedly seems beneficial to both Hulu (increased relevancy via more content) and Time Warner (future growth), questions linger on the impact to Netflix (NASDAQ:NFLX). One could argue that the growing industry bodes well for the streaming leader. However, it could also be argued that increased competition, especially after Netflix vastly disappointed investors with its subscriber results, is certainly not a good thing.
Will Twitter Be Bought Out?
Those are once again the rumors circling the struggling social media platform. Twitter's (NYSE:TWTR) shares climbed 7.25% Wednesday on news that the company could be taken private by former Microsoft (NASDAQ:MSFT) CEO Steve Ballmer and Saudi Prince Alwaleed Bin Talal.
There's not a lot of news here, obviously, as it is still based on rumors. But here's what we're working with so far:
Rumors surfaced shortly after the open Wednesday that the duo may be mulling a takeover somewhere in the $20 to $25 per share price range.
Sources have reached out to Ballmer and received the standard "no comment" response. One could argue that if nothing was in place, Ballmer would simply say as much. According to a previous disclosure, Ballmer owns 4% of Twitter. From the time of his tweet though, his stake was down ~45% before Wednesday's rally.
At last check, Prince Alwaleed Bin Talal and his holding company, Kingdom Holding (of which he owns 95%), had more than a 5% stake in Twitter.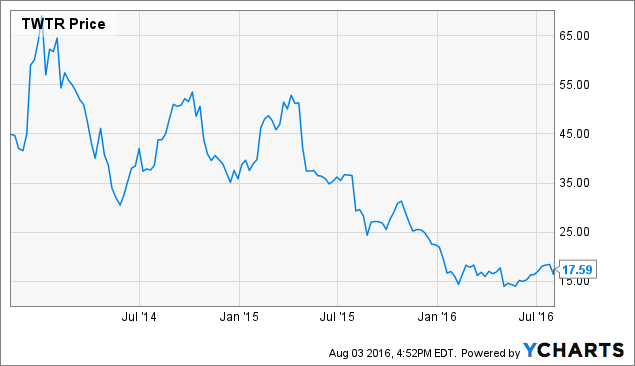 This has some obvious flaws. For starters, Twitter priced its IPO at $26 in November of 2013 and closed higher by 73% near $45 on its first day of trading. It seems doubtful that management would want to sell out at this point. CEO Jack Dorsey hasn't even been at the helm for a year and had the company sought a sale back in June 2015 (when former CEO Dick Costolo stepped down), it could have happened at a much higher price, when the stock was trading in the mid-$30s. Why not sell then as opposed to recruit a new CEO, gut out the management team and then sell when the stock is down almost 50% from those levels?
Conversely, given the company's struggle to grow its user base or retain its management team, and the fact that Dorsey is also CEO of Square (NYSE:SQ), maybe a buyout isn't the worst idea. The fact that the rumored buyers hold almost a 10% combined stake and have a combined net worth of some $45 billion to $50 billion also increases the odds.
Throw in the fact that Twitter has basically been an M&A rumor since it went public and it's easy to see why this story has legs.
For what it's worth, noted SunTrust analyst Bob Peck has also said the deal seems unlikely.
Wal-Mart Desperately Wants to Dethrone Amazon
Wal-Mart (NYSE:WMT) and every other bricks-and-motor retailer in the U.S. have collectively suffered from their biggest competitor: Amazon (NASDAQ:AMZN).
The e-commerce juggernaut has defied the doubters, shrugged off valuation concerns and seen both its business and stock price soar as a result. Wal-Mart has tried to fight back with various e-commerce efforts with mixed results.
On a side note, Target (NYSE:TGT) has actually seen solid growth in its online initiatives.
Still, Wal-Mart has largely struggled to loosen Amazon's grip. Given its sizable and beloved Prime service, there's serious doubts that WMT - or anyone - will ever really be able to break it.
But never say never. Especially if Wal-Mart made as bold a move as buying Jet.com (Private:JET) in order to do so. Given that Jet is private, it makes the deal hard to value, but according to the Wall Street Journal, it could be valued at around $3 billion.
While Jet has failed to dethrone Amazon so far, the outcome wouldn't happen overnight. Jet is still quite a young company, having launched in July 2015. Not only is it young, but it's also still small. With a $3 billion valuation, it's more than 100 times smaller than Amazon's $355 billion market cap.
Although some investors may laugh at the idea of Wal-Mart or Jet taking on Amazon and winning, the combination may give it some potential, even if the likelihood is still minute.
Wal-Mart has an excellent logistics system and could quickly act as the "gasoline on the fire" for Jet, given its resources. I still think it's unlikely anyone dethrones Amazon, at least in the foreseeable future. But even just taking some market share, and hopefully doing so profitably, could be a big win for Wal-Mart and the future of its business.
Tesla Reports Earnings, Trades Higher in After-Hours
The headline numbers look like such: Revenues of $1.56 billion missed estimates of $1.62 billion while Tesla (NASDAQ:TSLA) generated non-GAAP losses per share of $1.06 versus expectations for the company to lose 52 cents per share in the quarter.
Deliveries, another important stat with Tesla, came in at 14,402, pretty close and ahead of the company's estimate for 14,370. Production is up 18% sequentially and over 40% year over year. The company believes it can hit 50,000 vehicles for the second half of 2016.
And while production at the end of the quarter came in at ~2,000 vehicles per week, with management expectations for it to climb to 2,200 and 2,400 vehicles per week by the end of Q3 and Q4, respectively, costs continue to rise.
The company expects operating expenses to rise 30% for the year versus its previous expectations for an increase of 20% to 25%. Margins in the quarter also saw a YOY decline.
That's been the story with Tesla. There's not many people that shoot against the cars, purely from a product standpoint. Tesla doesn't even draw that much criticism around Musk's vision either. But where investors get locked in debate is valuation.
The company spends money - a lot of money. This bleed has led to concerns over its balance sheet and the stock's valuation. As if its business operations - including the incredibly high expectations of the Model 3 - weren't capital intensive enough, Tesla took on the cash-burning, debt-laden entity known as SolarCity (SCTY).
CEO Elon Musk says it's a natural fit, and to some extent, I agree. But it's not the vision that startles investors, it's who's paying for it. And that's where the real concern lies with Tesla. As always, the question remains: Is this stock headed for a devastating ending? Or are Musk and Tesla the next Bezos and Amazon?
For now, positive news on deliveries has the stock moving higher in after-hours trading, up roughly 1%.
Disclosure: I am/we are long DIS.
I wrote this article myself, and it expresses my own opinions. I am not receiving compensation for it (other than from Seeking Alpha). I have no business relationship with any company whose stock is mentioned in this article.