New York Mortgage Trust (NASDAQ:NYMT) imploded (down 5.5%) on disappointing earnings. The problem goes deeper than just reporting weak earnings, though. When investors are treating book value as a major part of the equation, they have to recognize that book value was still falling. The second quarter was generally favorable to credit risk, so the decline in book value is even more shocking. When I was analyzing New York Mortgage Trust prior to earnings, I had to point out that the relative strength in credit related assets was the biggest challenge to my bearish thesis.
Earnings
The easiest way to go over their performance is to simply look at the table that rolls book value forward from Q1 2016 to Q2 2016: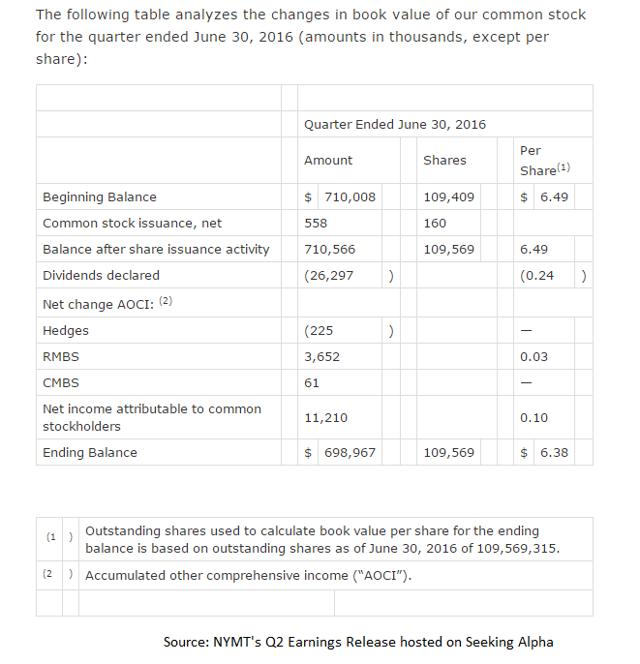 Book value starts at $6.49 per share, they declare $.24 in dividends, they report income of $.10 and they have gains recorded in AOCI (accumulated other comprehensive income) for $.03. The income and AOCI combine to $.13, which doesn't cover the dividend of $.24. Therefore, book value declines. If the company had been actively repurchasing shares during the times when they were trading at a huge discount, this would be a more complicated situation.
Instead, the share count increased ever so slightly.
There was an opportunity to repurchase shares. In early April, they were trading under $5. Share prices were recorded for at least a few days in the range of $4.65 to $4.80. In the absence of a change in the share count, the AOCI account catches values that are excluded from net income.
Tangible Book Value
Will we start using tangible book value at some point when discussing price to book ratios? After the acquisition of the external manager, over $24 million was recorded to Goodwill. Adjusted for shares outstanding, that means each common share now owns about $.226 in Goodwill.
Operating Expenses
The "Other General and Administrative expenses" category ran $4,217 (in thousands) for the quarter. The buyout was completed during the quarter, so the view on normal expenses is still unclear. Based on the second quarter, those general expenses would annualize to about $.15 per share. Compared to a BV of $6.38, they would eat 2.41% of equity over the course of a year. That is a fairly reasonable expense ratio for a mortgage REIT, but base management and incentive fees also ran $2,979 (in thousands) and the expenses related to distressed residential mortgages are not included in either of those numbers. They ran another $2,740 (thousands).
Return Comparison
I called for investors to buy American Capital Mortgage Investment (NASDAQ:MTGE) on 06/20/2016 and suggested in the same piece that investors sell New York Mortgage Trust. The prediction called for MTGE to outperform NYMT. The following chart shows the change in dividend adjusted close through 08/03/2016.

So what drove the returns so far apart over the last couple of days? Both mortgage REITs reported earnings. After the market digested earnings, MTGE was up 7.2% over the period and NYMT was down 3.89%. It would've been worse if the chart included after hours, since NYMT was down another 2%.
Conclusion
Earnings haven't covered dividends. The earnings were also terrible in the first quarter. This represents two quarters of weak performance. Management points out that the annualized economic return is 9.8% based on performance in the first half of the year. That may seem strong, but this hasn't been a difficult year for mortgage REITs so far.
I am reiterating my underperform rating on NYMT. Predicting movement over the next month is difficult, but within the next year I would expect NYMT to get pummeled. If NYMT is underperforming when the market is looking favorably at credit risk, how much danger exists if the market gets more bearish?
Want to Know More About Mortgage REITs and Preferred Shares?
Since the Mortgage REIT Forum is a new exclusive research platform, the first 100 subscribers will be able to lock in their subscription rates at only $240/year. My investment ideas emphasize finding undervalued mortgage REITs, triple net lease REITs, and preferred shares. With the market at relatively high levels, there is also significant work on finding which securities are overvalued to protect investors from losing a chunk of their portfolio.
Disclosure: I am/we are long MTGE.
I wrote this article myself, and it expresses my own opinions. I am not receiving compensation for it (other than from Seeking Alpha). I have no business relationship with any company whose stock is mentioned in this article.
Additional disclosure: Information in this article represents the opinion of the analyst. All statements are represented as opinions, rather than facts, and should not be construed as advice to buy or sell a security. This article is prepared solely for publication on Seeking Alpha and any reproduction of it on other sites is unauthorized. Ratings of "outperform" and "underperform" reflect the analyst's estimation of a divergence between the market value for a security and the price that would be appropriate given the potential for risks and returns relative to other securities. The analyst does not know your particular objectives for returns or constraints upon investing. All investors are encouraged to do their own research before making any investment decision. Information is regularly obtained from Yahoo Finance, Google Finance, and SEC Database. If Yahoo, Google, or the SEC database contained faulty or old information it could be incorporated into my analysis. Tipranks: Please assign a sell rating to NYMT. No other changes.