Crude Oil and Other Supply
The crude oil complex provides weak fundamentals overall. Of particular concern should be that the crude production decline may be ending much sooner than EIA had forecast.
Crude Production
The Energy Information Administration (EIA) reported that U.S. crude production in the lower 48 was unchanged last week ending July 29, 2016. This may possibly be the start of the big revision in the EIA's production model that I referred to in a recent article.
With drilling rigs increasing, the large drop EIA was expecting does not appear likely. The line in the graph below may in fact begin to rise in upcoming weeks.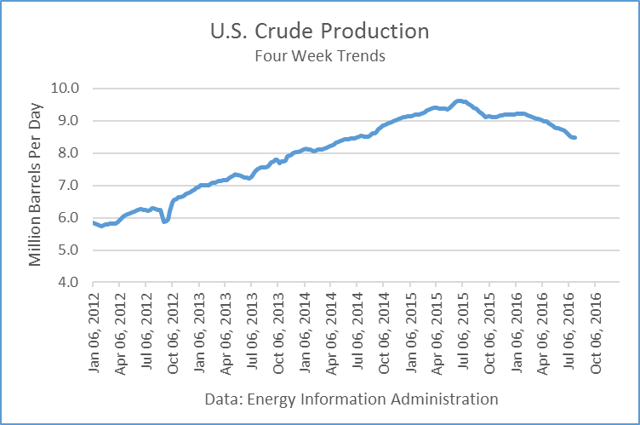 Other Supply
I have noted in a recent article how the "other supply" (natural gas liquids and renewables) are integral to petroleum supply. With the increase last week, other supplies are now about 5.7 mmbd, up 3.8% over the past 4 weeks vs. the same weeks last year, and up 5.4% in YDT 2016 vs. 2015.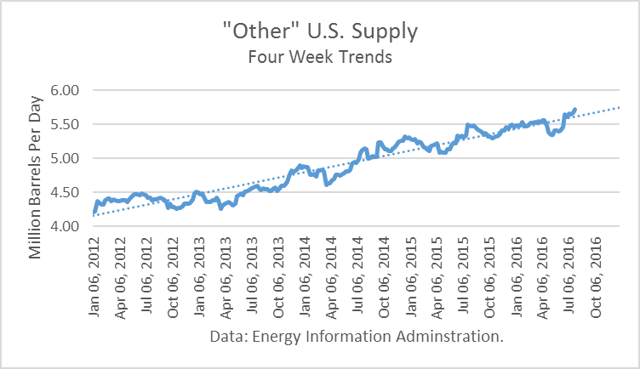 Crude Imports
Net crude imports strengthened further, topping 8 mmbd last week. Over the past 4 weeks, they averaged 7.650 mmbd over the past 4 weeks, up 10.3% vs. the same weeks last year.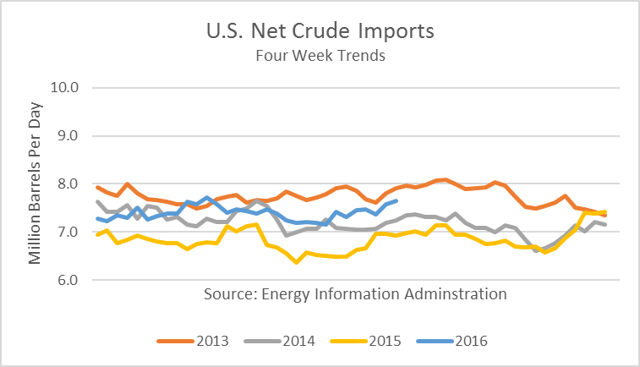 Crude Inputs to Refineries
Demand for crude at refineries rebounded by more than 250,000 b/d last week. But the 4-week trend is now 1.0% lower over the past 4 weeks vs. the same weeks last year.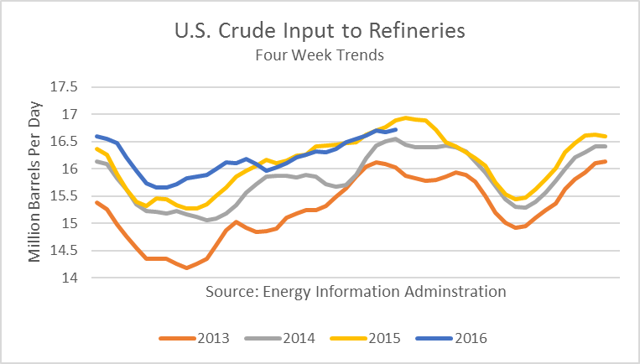 Crude Stocks
Because of high crude imports, crude stocks built by 1.4 million barrels (mmb) to end at 522.5 mmb, up 67.3 mmb higher than a year ago.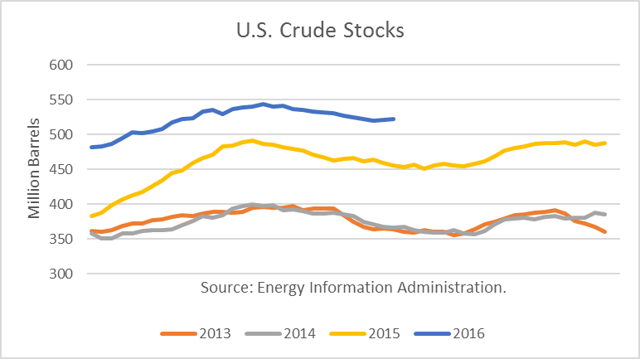 With refinery runs likely to begin dropping in the weeks just ahead, crude supplies are likely to exceed demand, resulting in a seasonal stock build.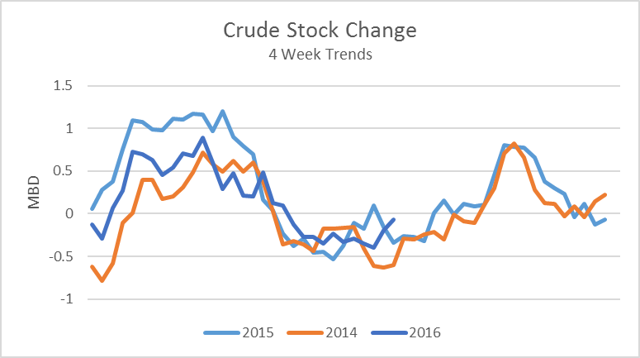 Petroleum Products
A build in gas stocks may have surprised to the upside, but the overall trends remain negative, given the oversupply trend.
Demand
Total petroleum demand averaged 20.950 mmbd last week and 20.463 mmbd over the past 4 weeks, up just 0.6% vs. the same weeks last year. This represents a slowdown in the growth rate compared to 1.8% for the YTD.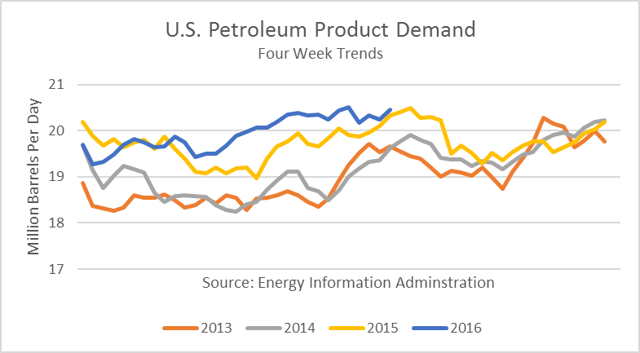 The main reason is less robust gasoline demand, which was up 2.2% over the past 4 weeks. That gain was slower than the 3.6% rise in the YTD.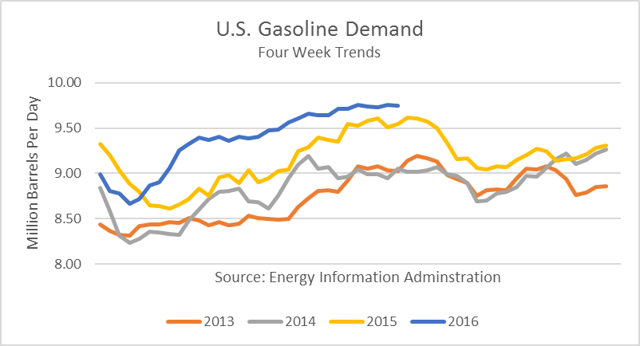 Distillate fuel demand, which includes diesel fuel and heating oil, was off 1.9% over the past 4 weeks vs. the same weeks last year. In the YTD, demand is down 5.6% due to the warmest North American winter on record.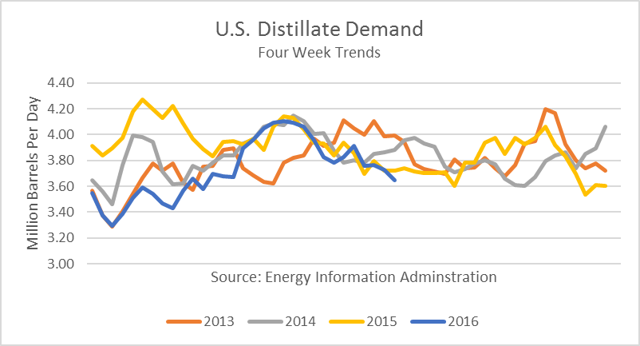 Jet fuel demand was up 2.9% over the past 4 weeks vs. the same weeks in 2015. In the YTD, demand was up 3.6% vs. 2015.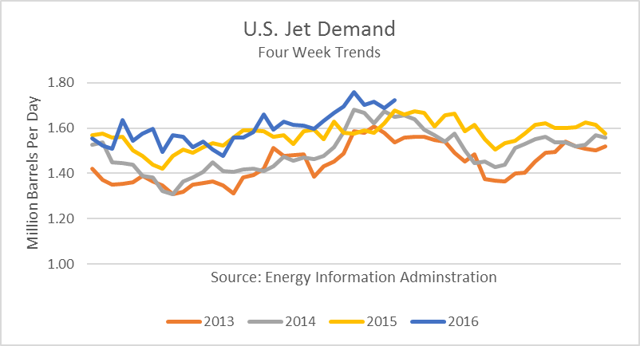 Product Stocks
Total product stocks set a new record at 867 million barrels, 49 million barrels higher than last year at this time.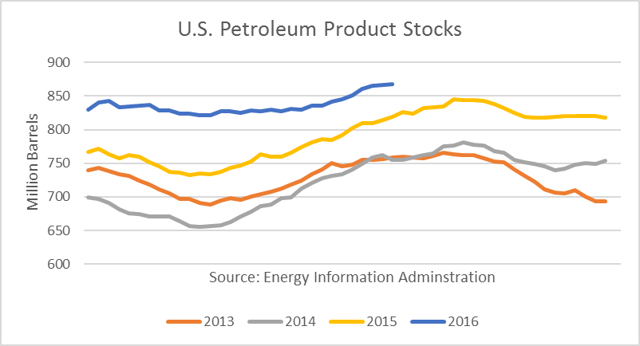 The supply/demand balance is currently in oversupply by over 750,000 b/d.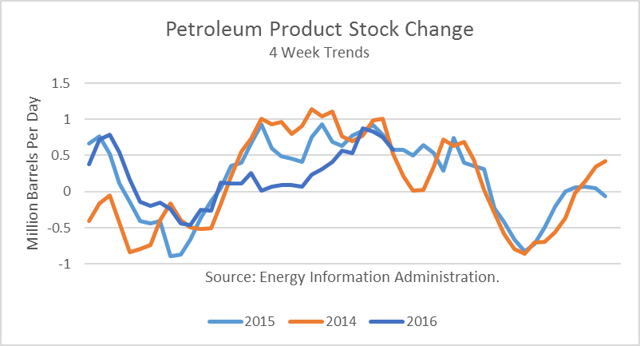 Gasoline stocks dropped by 3.3 mmb. This was mainly due to lower production. However, the stock surplus vs. last year remained high at 21.5 mmb.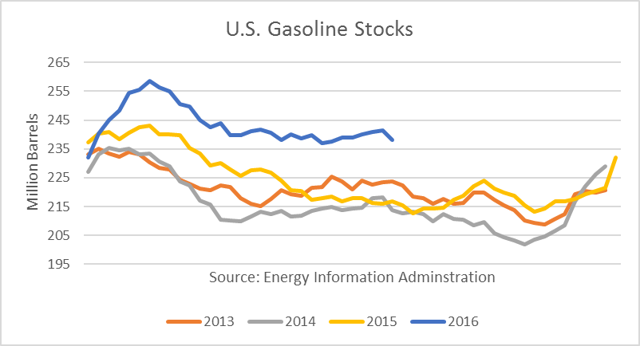 Distillate stocks rose by 1.2 mmb to end at 153.2 mmb. However, the relative surplus has been declining and now stands at 8.3 mmb.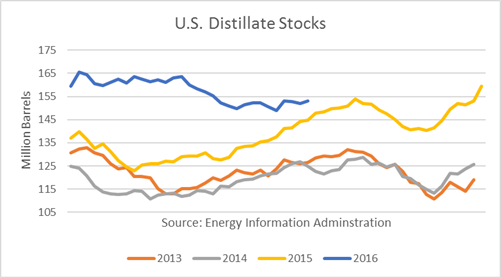 Conclusions
In total, inventories of crude oil and petroleum products stand at a record high of 1,390 million barrels, 110 million barrels higher than a year ago. Objectively speaking, this proves that the state of the U.S. market has continued to deteriorate.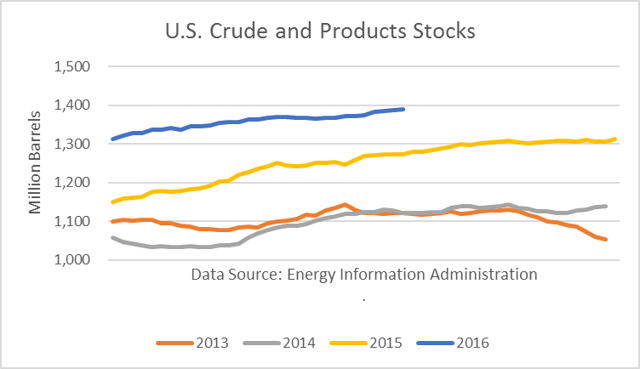 IF U.S. crude oil production declines flatten or reverse, we will enter a new phase of the market with downward spikes once again likely.
Disclosure: I/we have no positions in any stocks mentioned, and no plans to initiate any positions within the next 72 hours.
I wrote this article myself, and it expresses my own opinions. I am not receiving compensation for it (other than from Seeking Alpha). I have no business relationship with any company whose stock is mentioned in this article.