On July 21, I wrote an article entitled, What To Expect When You're Expecting (Record Tesla Losses). In it, I said we could isolate three items from the Q2 financial results to give us valuable clues about where the Tesla (NASDAQ:TSLA) enterprise is headed:
Loss Per Delivery
Capital Expenditures
Delivery Guidance
I also made predictions about all three items.
We now have our Q2 results, so let's see how I did.
1. Tesla's loss per car sets a new record
In the July 21 article, I criticized the method Seeking Alpha contributor Anton Wahlman uses to calculate the per-car profit or loss that Tesla realizes. I said Wahlman's method exaggerated the losses.
I proposed, as a more realistic and fair approach, the method used by Seeking Alpha member notasmidgeon (NAS).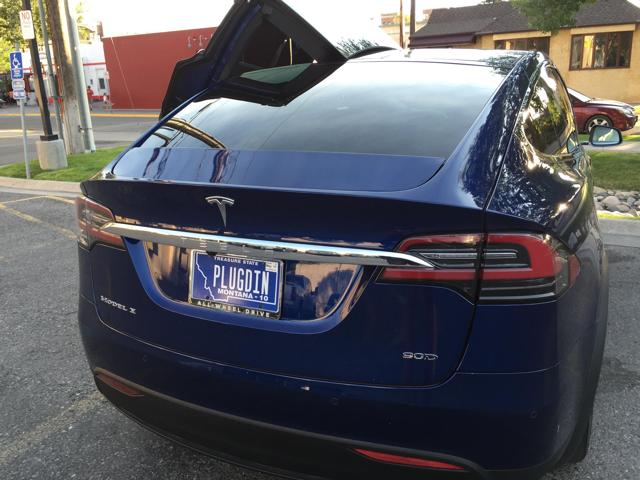 (Tesla Model X waves hello from Montana.)
For each quarter, NAS begins with a simple fraction whose numerator is the GAAP earnings and whose denominator is the number of cars delivered.
Taking cues from Bryce_in_Texas (whose masterful explanation of Tesla's RVG accounting remains the definitive piece on that subject), NAS then adjusts the numerator by adding the quarterly gross margin that was deferred because of resale and residual value guarantee accounting.
NAS also adjusts the denominator by subtracting from the number of delivered those directly leased by Tesla Finance each quarter.
Several commenters (happily, including Bryce) agreed NAS's method is preferable to any of the others that have been employed, by Anton Wahlman or by anyone else.
Using NAS's methodology, I graphed quarterly net income per car over time. It wasn't a pretty picture; there has been an almost continuous increase in loss per car.
I wrote:
Anyone care to guess whether this trend continues in Q2?

I'll go first. Yes, the loss per car will be a record high in Q2.
Here's your updated chart: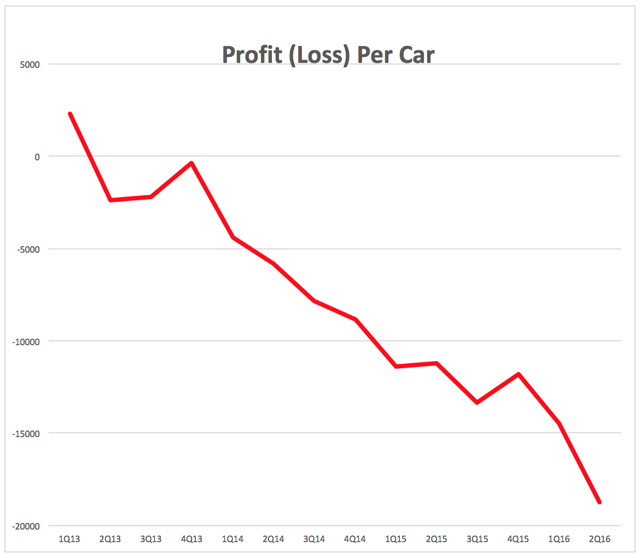 Note that the Q2 loss per car increased by $4,280 over Q1 - the largest quarterly increase ever.
As a reminder, I predicted that Q3 will be another new record because it's in Q3 that the effects of the recent price cuts for the Model S and Model S will first be felt.
2. Is Tesla telling the truth about capital expenditures?
As I explained in the July 21 piece, Tesla would need to average $678 million over the last three quarters of 2016 to meet its $2.25 billion of capital expenditure guidance.
So, what was the Q2 number? Was it, as guided:

No, it was:

In other words, 42% of what Tesla needed to spend to meet guidance.
Here's Tesla's only mention of capital expenditures in its Shareholder Letter:
During Q2, we invested $295 million in capital expenditures to increase production capacity, accelerate Gigafactory construction, and expand customer support infrastructure. Capital expenditures remain on plan to help us reach our goal of producing 500,000 vehicles in 2018.
Reading this, you might easily get the impression that Tesla is way ahead of the game instead of way behind.
Memo to Tesla shareholders: Elon Musk is playing you for giant suckers. He is conserving cash that is badly needed for capital expenditures for two reasons (both explained here):
First, in case SolarCity (SCTY) runs out of cash before the merger can be consummated, necessitating a bridge loan from Tesla; and
Second, to avoid triggering the Fixed Charge Coverage Ratio test in Tesla's Asset Based Lending Agreement.
Let's review the CapEx chronology:
In its February 10 letter to customers and shareholders, Tesla guided for $1.5 billion of 2016 capital expenditures. That works out to $375 million per quarter.
Three months later, in conjunction with its Q1 quarterly report, Tesla announced its accelerated Model 3 production schedule, and consequently increased its 2016 guidance to $2.25 billion.
At the same time, though, Tesla revealed it had spent only $217 million on CapEx during Q1 - in other words, $158 million less than it needed to meet the earlier, lower guidance.
To meet the revised annual guidance, Tesla would have needed to average $678 million of CapEx over each of the final three quarters.
Instead, in Q2, Tesla spent only $295 million, which is less than even the $375 million quarterly average it would have needed to meet the original $1.5 billion of CapEx guidance.
It's not as if Tesla does not badly need the CapEx spending. Tesla's Supercharger network will need a rapid and vast expansion to absorb those 100,000 to 200,000 Model 3 cars it promises for next year.
Its service centers are already strained to the limit. Tesla car owners report wait times becoming even longer and more exasperating. More service centers are urgently needed.
Yes, we remember Tesla's promise in February that during 2016 it would build 80 new Sales/Service Centers and 300 new Superchargers.
But that was then. This is now.
Now, the imperative is to keep dry powder for a "bridge loan" to SolarCity. And if that means Tesla car owners must continue to suffer, well, eggs, omelettes, etc.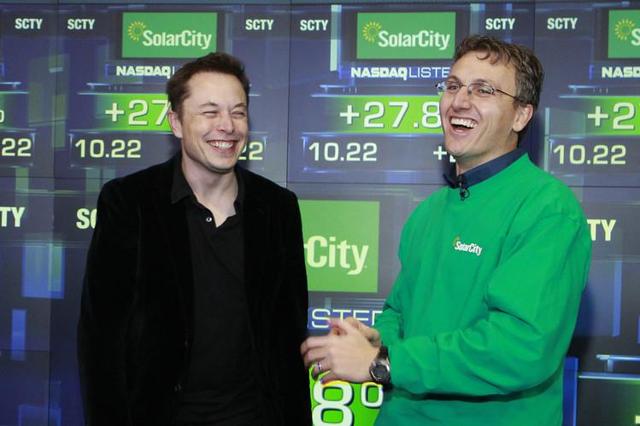 (Dear Tesla Car Owners, so sorry you won't have those Service Centers, but it's for a good cause.)
Here's what I wrote about that on July 21:
That is why, Mr. Tesla Owner and Mr. Tesla Shareholder, I believe Tesla is just playing games with you. Jason Wheeler is doing everything he can to conserve cash. He will make sure Tesla falls far short of the $678 million capital expenditures target for each of Q2 and Q3.

In time, of course, there will be a price to pay. Without the CapEx now, the chances become even more slender that Tesla will produce the promised 100,000 to 200,000 Model 3 cars next year, or even in 2018.

But Tesla will think of that tomorrow. After all, tomorrow is another day.
To meet its $2.25 billion CapEx guidance for 2016, Tesla will need to spend $1.74 billion over the second half of the year ($869 million per quarter).
Does anyone seriously believe that will happen?
No.
So why didn't Tesla candidly admit that its (revised, upward) 2016 CapEx guidance is deeply flawed, and slash the number to be more in line with reality?
Because it's not in Tesla's DNA to be honest.
3. Tesla holds steady with 2016 delivery guidance
As I pointed out in the July 21 article, Tesla already has revised 2016 guidance, even if it cleverly disguised the announcement.
In February, Tesla guided for between 80,000 to 90,000 deliveries this year. When it announced its Q2 delivery numbers though, it stated:
In total, Tesla expects to produce and deliver about 50,000 vehicles during the second half of 2016, approximately equal to all of 2015.
So, 29,192 delivered in the first half of 2016 plus "about 50,000" in the second half brings us to "about" 79,192. In other words, high-end guidance is no longer 90,000 and low end is the new high end.
I wrote that, were it inclined to be fully candid with investors, Tesla would guide even lower in the upcoming Shareholder Letter. But, I said, I doubted it would.
It didn't. Instead, Tesla advised its investors:
Production and demand are on track to support deliveries of approximately 50,000 new Model S and Model X vehicles during the second half of 2016.
Does anyone believe Tesla will achieve 80,000 deliveries in 2016?
My forecast, made last November, was for 66,400.
For now, I'm still sticking with that number.
Tesla Bears Club, Anyone?
With the demise of the Yahoo TSLA message board, some of us are looking for another forum at which to share ideas.
Seeking Alpha member andersponders has put up a website called Tesla Bears Club.
I'm not sure what his rules will be, though I understand (A) even Tesla bulls can participate, provided they're truly interested in an exchange of ideas and information, and (B) he will reserve the right to boot members off the island.
Will it catch on? Stop by and take a look.
A Note about My Contributors
Great help this time from notasmidgeon.
Where To Find Me
I'm @MontanaSkeptic1 at twitter and, if a private message here doesn't suit, my email is montana.skeptic@gmail.com.
Disclosure: I am/we are short TSLA VIA LONG-DATED PUTS.
I wrote this article myself, and it expresses my own opinions. I am not receiving compensation for it (other than from Seeking Alpha). I have no business relationship with any company whose stock is mentioned in this article.