Everyone is aware of the asset price distortions and market disequilibria brought on by eight years of the Federal Reserve's zero interest rate policy (ZIRP) during the current economic expansion. Bond investors, traditionally content with yields provided by government and investment grade corporate bonds, have been force into riskier asset classes, notably stocks and junk bonds, to earn the yield they require. As yield-seeking investors ventured unwittingly into the stock market over the past several years, they came with only one objective: high dividends. In a previous Commentary (May 20, 2016), 'Looking Ahead to the Recession Phase", we showed the historical asset class performance through each phase of a typical business cycle. The five tables at the end of the Commentary sort our 40 assets classes, from historical winners to historical losers, during the five phases (Slowing Into Recession; Recession; Recovery; Early Expansion; Late Expansion).
We will focus in this missive on the sectors containing companies which tend to have the highest dividend yields, the targets of yield-starved investors. These include Utilities, Consumer Staples, and Real Estate Investment Trusts (REITs). Utilities (NYSEARCA:XLU) enjoy extremely consistent revenue streams (even in a recession, households consume electricity, gas, and water), face much less uncertainty than normal companies, and therefore, offer sizable and steady dividends for their shareholders. Consumer Staples (NYSEARCA:XLP), such as Procter & Gamble (NYSE:PG), Coca-Cola (NYSE:KO), and Colgate-Palmolive (NYSE:CL), also sell goods whose sales fluctuate relatively less over an economic cycle. These firms are typically in the mature phase of the company life cycle, the proverbial "Cash Cows" who have less need for cash to fund their slowing company growth (the opposite of tech companies). As such, Consumer Staples tend to distribute their cash to shareholders in the form of dividends instead of reinvesting retained earnings. Finally, REITs (NYSEARCA:IYR) also have a stable business model and, importantly, by law, must pay out 90% of their earnings in dividends. In sum, these are considered among the three most defensive sectors within the stock market.
We reproduce below the two of the tables from our May 20 Commentary showing the performance rankings during the early and late expansion phases of business cycles since 1990.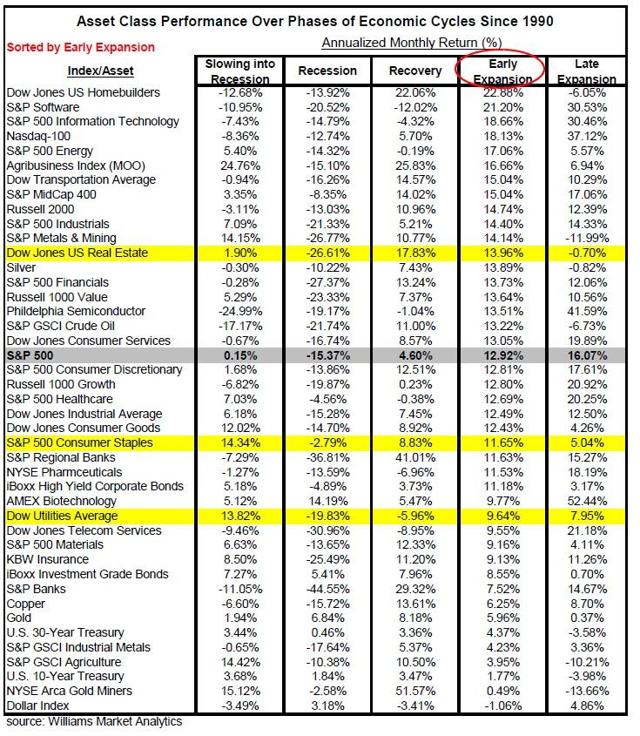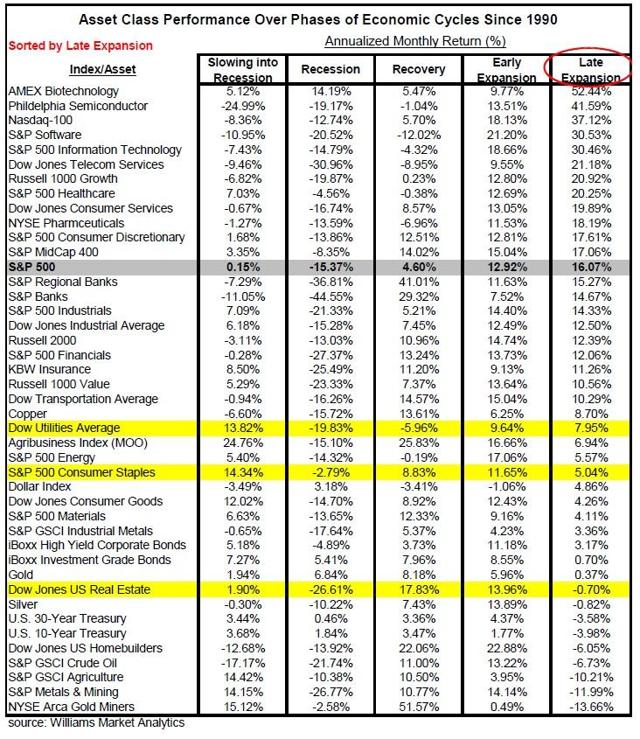 As we demonstrated in another Commentary, "'Late Expansion' or 'Slowing Into Recession' Trade?", it is at the end of the business cycle (Slowing into Recession and Recession phases) when defensive sectors have tended to relatively outperform. And as shown above, these sectors tend lag when the economy is rolling (Early and Late Expansion). As readers know, the current cycle is completely distorted, and historical trends over this business cycle won't reflect the past. So the important and obvious question is, "As the U.S. economy slows into recession, what sectors and asset classes should investors look to for portfolio outperformance?"
While the traditional "go-to" sectors for portfolio safety have been Utilities, Staples, and REITs, as with everything else in this upside down world, we are doubtful of the "safety aspect" of these traditional defensives. Our concern stems from the relative price run-up of these sectors early in this cycle and the valuations of Utilities, Staples, and REITs. We look at each of these in turn below. We've also added two more rather defensive sectors to the analysis, Pharmaceuticals and Telecoms. Drugs and telecom services tend to be among the last items households cut from the monthly budget during hard times. In general, companies in these two sectors tend to pay lower dividends than Utilities, Staples, and REITs due to the need for retained earnings for research & development (R&D). As such, Pharmas and Telecoms have been less targeted by yield-starved investors.
At Williams Market Analytics, we have been voicing our strong conviction that current expansion entered the "Slowing into Recession" phase in the second half of 2015 (for those debating this supposition, look again at the GDP growth rate). We can now tentatively piece together the phases of the current cycle.
| | | |
| --- | --- | --- |
| Cycle Phase | Begin | End |
| Recovery | Late Q1 2009 | Q3/Q4 2009 |
| Early Expansion | Q1 2010 | Mid-2012 |
| Late Expansion | Late 2012 | Mid-2015 |
| Slowing into Recession | H2 2015 | Late 2016? |
| Recession | Late 2016/Q1 2017? | ? |
We then looked at how our defensive sectors fared relative to the market (S&P 500 (NYSEARCA:SPY)) this cycle, compared to historical performances in the tables above. To measure returns, we picked out prominent peaks and troughs for each index within the beginning and end time frames for the cycle phases. We also added several cyclical sectors for comparison.
The first table below shows sector performance during the Early Expansion phase. The second column shows the average performance during cycles from 1990 to 2009 (as shown in the tables above). The third column gives sector performance in this cycle during our defined Early Expansion phase. The final column gives our "Difference Ratio", showing to what degree each sector has relatively outperformed (ratio above 1.0) or underperformed (ratio below 1.0) in the current expansion. The degree to which the defensive sectors outperformed during the recent Early Expansion phase - a period of the cycle when defensives typically underperform - is rather striking. Note also the relative lack of interest from investors between 2010 and 2012 for the cyclical sectors in general.
Early Expansion Phase Performance Comparison

Index

Average Cycles 1990-2009

Cycle 2009-Present

Difference Ratio

S&P 500

12.92%

24.6%

S&P 500 Utilities

9.64%

37.0%

2.016

S&P 500 Consumer Staples

11.65%

38.1%

1.718

DJ U.S. Real Estate

13.96%

54.3%

2.043

NYSE Pharmaceuticals (NYSEARCA:IHE)

11.53%

41.1%

1.872

DJ Telecom Services (BATS:IYZ)

9.55%

42.5%

2.337

S&P 500 Consumer Discretionary (NYSEARCA:XLY)

12.81%

31.7%

1.300

S&P 500 Industrials (NYSEARCA:XLI)

14.40%

22.7%

0.828

S&P 500 Technology (NYSEARCA:XLK)

18.66%

31.4%

0.884

Dow Transportation (BATS:IYT)

15.04%

20.7%

0.723

S&P 500 Energy (NYSEARCA:XLE)

17.06 %

40.8%

1.256

S&P 500 Banks (NYSEARCA:KBE)

7.52%

10.9%

0.761

S&P 500 Materials (NYSEARCA:XLB)

9.16%

19.6%

1.124

Russell 2000 (NYSEARCA:IWM)

14.74%

21.1%

0.752

S&P 400 Mid Cap (NYSEARCA:MDY)

15.04%

24.4%

0.852
The next table repeats the analysis during our Late Expansion period. As investors started believing in the bull market and, more specifically, the power of the Fed to inflation asset prices, they began piling into all sectors from 2012. Our table shows that almost all sectors had relatively strong returns relative to the average "Late Expansion" period in the current cycle. And importantly, investors continued bidding up the defensive sectors. Utilities, Pharma, and Staples all performed just as well as cyclicals relative to the past, while REITs outperformed all sectors on a relative historical basis (note that the 17.8 Difference Ratio is artificially high due to the exceptionally weak performance of REITs during the Late Expansion period of 1998-2000, reflected in the -0.70% prior cycle average).
Late Expansion Phase Performance Comparison

Index

Average Cycles 1990-2009

Cycle 2009-Present

Difference Ratio

S&P 500

16.07%

47.8%

S&P 500 Utilities

7.95%

38.2%

1.615

S&P 500 Consumer Staples

5.04%

41.8%

2.788

DJ U.S. Real Estate

-0.70%

37.1%

17.818

NYSE Pharmaceuticals

18.19%

63.9%

1.181

DJ Telecom Services

21.18%

34.6%

0.549

S&P 500 Consumer Discretionary

17.61%

79.2%

1.512

S&P 500 Industrials

14.33%

61.7%

1.448

S&P 500 Technology

30.46%

56.9%

0.628

Dow Transportation

10.29%

70.9%

2.316

S&P 500 Energy

5.57%

26.2%

1.581

S&P Banks

14.67%

52.9%

1.212

S&P 500 Materials

4.11%

36.5%

2.986

Russell 2000

12.39%

51.47%

1.397

S&P 400 Mid Cap

17.06%

53.3%

1.050
Thus far in 2016, as the economy entered the Slowing into Recession phase, defensive sector outperformance has continued unabated.
2016 Performance Year to Date (August 2, 2016)

Index

Average Cycles 1990-2009

S&P 500

5.53%

S&P 500 Utilities

19.61%

S&P 500 Consumer Staples

8.04%

DJ U.S. Real Estate

12.82%

NYSE Pharmaceuticals

1.81%

DJ Telecom Services

16.06%

S&P 500 Consumer Discretionary

2.92%

S&P 500 Industrials

7.57%

S&P 500 Technology

6.09%

Dow Transportation

1.86%

S&P 500 Energy

9.23%

S&P Banks

-7.90%

S&P 500 Materials

10.59%

Russell 2000

5.85%

S&P 400 Mid Cap

9.92%
So our three defensive sectors par excellence, Utilities, Staples, and REITs, have managed to outperform thus far over each phase of the current business cycle. As U.S. economic growth continues to slow, and likely tips into contraction in the coming quarters, is it reasonable to bet on the defensive sector outperformance even longer. Will Utilities, Staples, and REITs be the safest place to hide in during the next recession?
Given the run-up in prices within the Utilities, Staples, and REITs sectors, we looked at trailing 12-month price-to-earnings (P/E) ratios to better see how inflated prices have become.
The chart below plots the Utility sector P/E going all the way back to 1990. In the 25 years shown, Utilities have never been more expensive. With a historical average of 15.25x, we wonder how "defensive" Utilities trading near 20x earnings will be in a recession.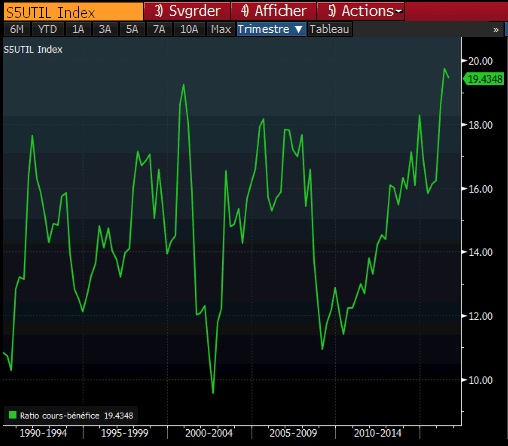 The next chart shows the P/E of the Consumer Staples sector. At 23x earnings, Staples have not traded at such a valuation multiple since 2000. Remember 2000? The good 'ole days when valuations didn't matter... until they mattered.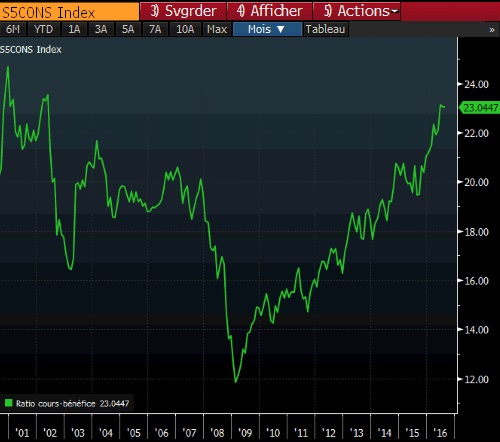 While REITs do trade at higher multiples than the broad market, the 45x earnings for the Dow Jones U.S. Real Estate index (below) would nonetheless suggest the sector is close to fully valued (ignoring the 2010 spike in P/E caused by Financial Crisis distortions).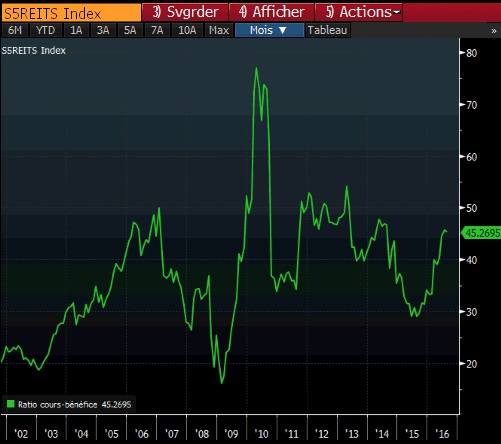 To complete the tableau, we have posted below the historical P/E charts for Telecom and Pharma. The S&P 500 Telecom Services index has not enjoy the oversized price run-up of other sectors, and as such, the sector P/E at 16.8x is about at the median level post Tech Bubble.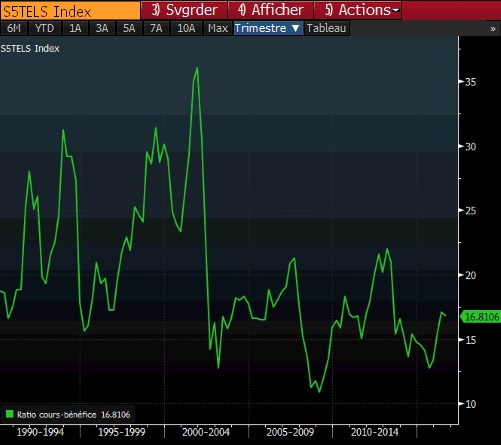 The NYSE Pharmaceuticals Index also seems to be fully valued. With the trailing 12-month P/E already at 26.7x, do investors really want to push pharma company stocks back to 2000 levels?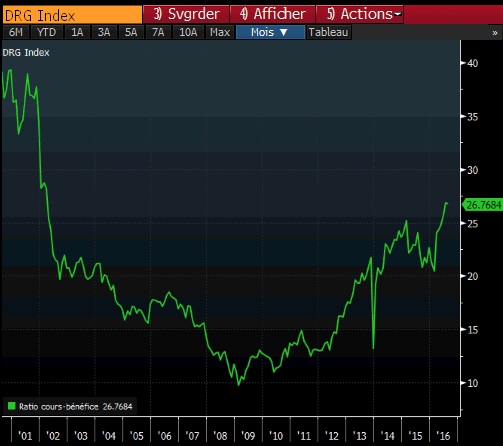 In the second part of this Commentary, continued on our website, we offer our shortlist of asset classes that we'll look to hide in when valuations again matter and the rush out of U.S. equities begins.
Conclusion
"May you live in interesting times" - a Chinese curse. Unfortunately, investors today do live in interesting times... and not in the good sense. The next years will be difficult to navigate, as years of equity returns have been "pulled forward" by the Fed's ZIRP. Unstable markets and poor returns await investors. Our investment idea shortlist should be a useful start to get investors through the next quarters. As always, we won't be dogmatic in holding any position, and will follow our Sector Allocation Model and exit positions when warranted.
Disclosure: I/we have no positions in any stocks mentioned, and no plans to initiate any positions within the next 72 hours.
I wrote this article myself, and it expresses my own opinions. I am not receiving compensation for it (other than from Seeking Alpha). I have no business relationship with any company whose stock is mentioned in this article.