This Friday is the publication of the July nonfarm payrolls. An event where traders around the world pretend like the world is depending on a coincident indicator that can be revised even months after publication.
I always look at both the ISM manufacturing employment index and the NMI employment index. Manufacturing jobs have a higher multiplier when it comes to economic relevance. Service jobs on the other hand are a way bigger part of total payrolls.
Both these indicators are leading. They tell us what is going to happen. Are they able to tell us the exact NFP value? No. But they show important trends and strength which is all we need to get a better understanding of the economy.
Both the ISM and NMI employment index formed a top in early 2015. Both predicted the job growth slowdown. June's print was much, much better than expected but showed a slow year-on-year growth number.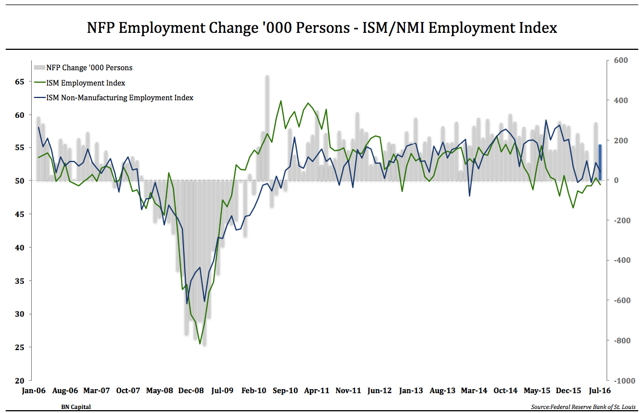 This month's NFP number is expected to come in at 175K new jobs. I don't think the numbers are going to be higher. Even if they come in at 175K you should know that 175K new jobs means 1.65% year-on-year employment growth. One of the lowest growth rates since 2013 and a typical move when it comes to late-cycle growth.
The graph below shows the labor market conditions index. This index looks at nineteen different labor market indicators. The index has been contracting since 2015.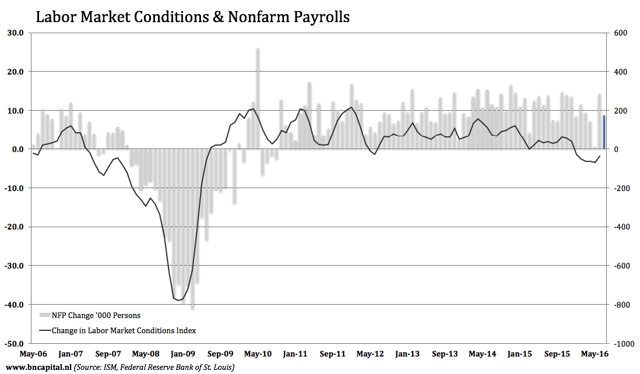 I don't think the NFP number is going to beat the 175K expected jobs. However, it could be that it is much higher. Markets will react with a ton of volatility (either way). After the fuss is over, markets will follow the path of leading indicators again.
Thank you for reading my article, feel free to leave a comment if you have any questions or remarks.
Disclosure: I/we have no positions in any stocks mentioned, and no plans to initiate any positions within the next 72 hours.
I wrote this article myself, and it expresses my own opinions. I am not receiving compensation for it (other than from Seeking Alpha). I have no business relationship with any company whose stock is mentioned in this article.