In the August edition of the Forbes Real Estate Investor, we provided a monthly update on our Durable Income Portfolio along with the other customized REIT portfolios. It should come as no surprise that all of our portfolios have generated impressive results because of our tactical investment strategies.
To be honest, we find stock picking to be easy since our strategies are rooted in a long-term horizon, the opposite of market timing. We spend hours and hours researching individual REITs that we believe will deliver the best bang for the buck.
As you know, we publish an incredible amount of research on individual securities but we find this to be a competitive advantage. The more we learn of a particular stock, the better insight we have into the company; in turn, this provides us with a tremendous advantage that allows our investment strategies to pay off in spades.
I'm going to give you a textbook example today.
This particular REIT is held in each of our core portfolios: The Small Cap REIT Portfolio (+20.5% YTD), the Average Joe Portfolio (+21% YTD), the Durable Income Portfolio (+26.5% YTD), and our Month Dividend Portfolio (+30.99% YTD). As you can see below, this particular stock has been our third best REIT in the Durable Income Portfolio YTD:

As you can see, STAG Industrial (NYSE:STAG) stands out as a textbook example of how selecting sound securities with a margin of safety can produce outsized returns. On February 3rd, we recommended STAG as a STRONG BUY and the bet has paid off handsomely since then.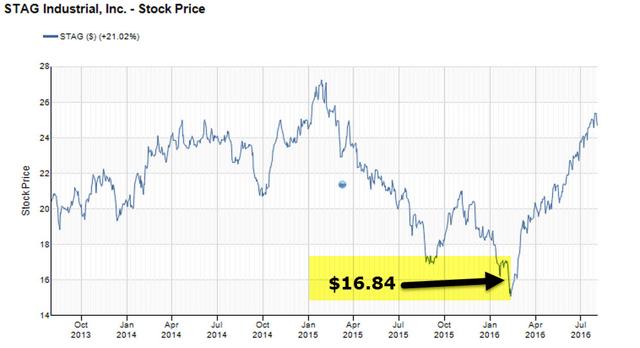 Year to date, STAG has been the best REIT in its sector as evidenced by the chart below:

For Long investors, it's time for a victory lap!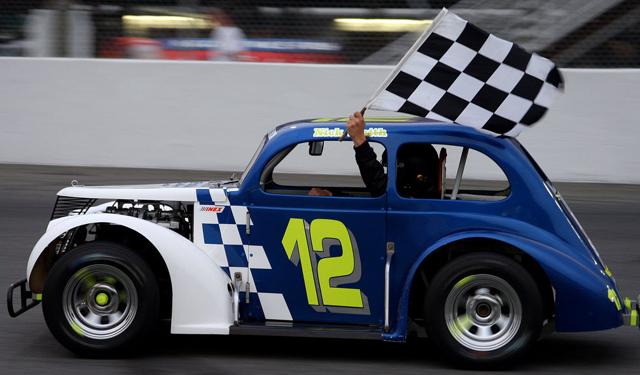 A Quick Overview
STAG is an industrial REIT that went public in 2011 (the predecessor was STAG Capital Partners that formed in 2004), and since that time, the company has grown from 105 buildings to 290 (as of Q2-16).

STAG owns standalone (or free-standing) buildings and the company's average building size is around 188,000 square feet. That's important because STAG ranks 2nd in terms of the largest industrial REITs based on average building size. Around 87% of STAG's buildings are warehouse or distribution properties. Here's a snapshot of property stats:

STAG has grown rapidly since the IPO. The company's stated goal of acquisitions is 25 percent annual portfolio growth, and the company recently states that its pipeline of potential acquisitions exceeds $1.9 billion.
STAG has found that primary and secondary markets have similar occupancy and rent growth experiences. Furthermore, secondary industrial property markets generally provide less rent volatility and equivalent occupancy, compared to primary industrial property markets.

STAG defines secondary markets as "net rentable square footage ranging between approximately 25 million and 200 million square feet, and located outside the 29 largest industrial metropolitan areas."
Because of STAG's Class B (secondary markets) Industrial investment rationale, the company enjoys low capital expenditures and lower tenant improvement costs (relative to other property types). Also, STAG's Class B tenants tend to stay longer since moving costs and business interruption costs are expensive relative to relocating a "critical function" facility.
STAG also has a diversified geographic platform as evidenced below: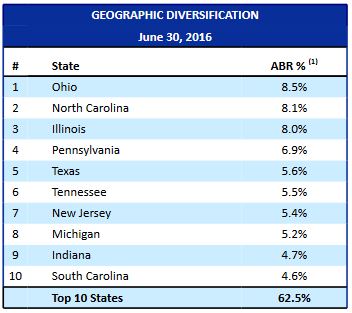 Here is a snapshot of STAG's top tenants: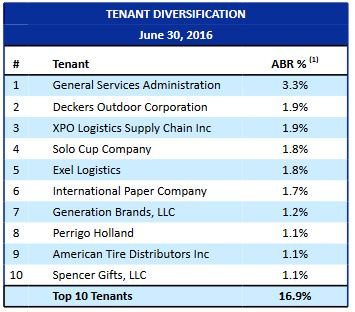 Here is a snapshot of STAG's top industries: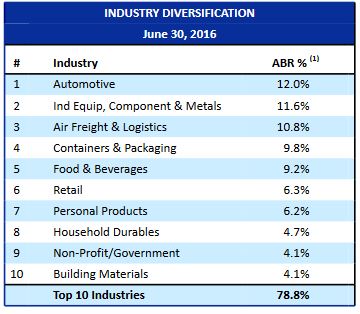 As you can see below. Around 30.8% of STAG's tenants are rated investment grade:

STAG's Balance Sheet
STAG's balance sheet continues to improve and is in line with its BBB (Fitch) investment grade rating. At quarter end, the company's debt to run rate EBITDA was 5.5x and the fixed charge coverage ratio was 2.8x. STAG continues to operate in a promulgated leverage range of 5 to 6x debt to run rate EBITDA and greater than 2.5x on its fixed charge coverage ratio.

As of Q2-16, STAG had $64 million outstanding on its revolver and $438 million of immediately available liquidity, which includes cash on hand of $8 million and an unfunded $150 million 5-year term loan. This unfunded term loan is fully swapped for an all-in interest rate of 2.69% and will be drawn by December 2016.
Additionally, there is a Series A preferred, with a coupon of 9%, and a balance of $69 million callable at par on November 2, 2016. At quarter end, STAG had approximately $963 million of debt outstanding with the weighted average maturity of 6.1 years and a weighted average interest rate of 4%. All of our debt is either fixed rate or has been swapped to a fixed rate with the exception of our revolver.

Subsequent to quarter end, STAG sold 3.2 million shares under its ATM program for a weighted average share price of $23.77 raising gross proceeds of $76 million. The net proceeds were used to repay amounts under the revolver (which had increased as a result of acquisition activity).
Factoring in the reported subsequent acquisition and equity activity, the resultant debt to EBITDA is 5.2x, which is on the low end of the promulgated leverage range. STAG is in much better shape now to fund acquisitions.
The Latest Results
In Q2-16, STAG significantly increased its acquisition volume during and subsequent to the quarter. During the quarter, the company acquired five buildings for a purchase price of $58 million with a weighted average cap rate of 7.9%.

As part of these acquisitions, STAG acquired its second California asset, which has a 10.5-year lease term to a strong credit. This acquisition was completed in large part due to STAG's investment in G&A.
STAG also has currently 23 buildings for $284 million that are closed subsequent to quarter end, are under LOI or under contract. The company expects that these LOI and under contract properties will close. This year-to-date activity has enabled STAG to raise its acquisition guidance for the year to between $350 million and $415 million.

STAG also continues to execute on its disposition plan. During the second quarter, the company disposed of 7 buildings for $18 million. These dispositions were a combination of individual opportunistic transactions and the disposition of non-core underperforming assets. The opportunistic dispositions resulted in unlevered IRR of 14%.

STAG's Q2 rent change results included the effect of one lease for 465,000 square feet to an investment grade tenant with a below market TI package. Excluding this one lease, the remaining 1.4 million square feet had cash and GAAP rent increases of 14% and 20% respectively.
STAG also had a retention rate of 75% on the 900,000 square feet expiring in the quarter. The cash in GAAP rent change for the retained tenants was 6% and 10% respectively. STAG continues to expect the full-year retention to be approximately 70%.

From an operation standpoint, STAG's cash NOI for the quarter grew by 13%. Same-store cash NOI grew by approximately 1% over the same period. Core FFO grew by 10% compared to the second quarter of 2015. On a per-share basis, core FFO was $0.38 per share, an increase of approximately 6% compared to the prior year.
You Reap What You Sow
STAG's Q2-16 results were solid and the company appears to be on track to continue to deliver impressive results for the remaining of the year. The pipeline for new investments is as strong as ever, as explained by STAG's CEO, Ben Butcher, on the earnings call yesterday:
We continue to see widespread opportunities for accretive acquisitions, which were reflected in our current pipeline of $1.8 billion.
Butcher went on to reflect on the industrial real estate market:
…industrial real estate fundamentals are very strong. This is due in no small part to the continued growth of e-commerce and the significant incremental demand this generates. The strength in industrial fundamentals benefits STAG much as it benefits our industrial peers. We're seeing strong tenant demand for our buildings, declining vacancy and rising rents across the markets we operate in.
STAG appears to have its G&S costs under control now after ramping up last year to invest in a national platform.
We have forecasted below STAG's earnings for 2016:

As you can see, we are not expecting a robust year as the company has been focused on building out its platform for future growth. However, our 2017 forecast looks a little better:

We expect that STAG will continue to grow its dividend as illustrated by the chart below:

STAG's dividend is safe as evidenced by the payout model below:

In terms of valuation, STAG is no longer the bargain (that we called out in February) but the dividend is acceptable as illustrated below:

Comparatively speaking, STAG's dividend is much more attractive that the big bad bond look-a-like Realty Income (NYSE:O).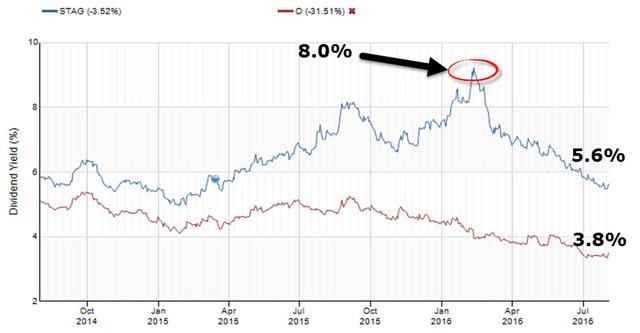 Here's how STAG compares based on P/FFO:

STAG is now trading at sound value and we believe there's more room to run. We don't expect to see 40% returns over the next six months, but we do believe that the company will continue to prosper as it builds out its national footprint with no real competition in the public REIT space.
STAG is still somewhat of a "kid in the candy shop" as the company can continue to flex its muscle by focusing on markets where there is limited competition - STAG is the only large scale consolidator of secondary market industrial buildings.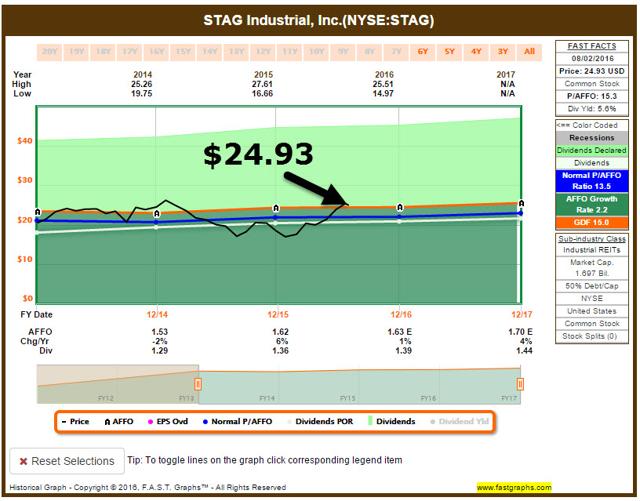 More importantly, STAG now has a cost of capital advantage so it can use its currency to grow and make quality investments that generate steady profits. We're glad we stepped in the gas, when others stepped on the brakes. All green lights for STAG!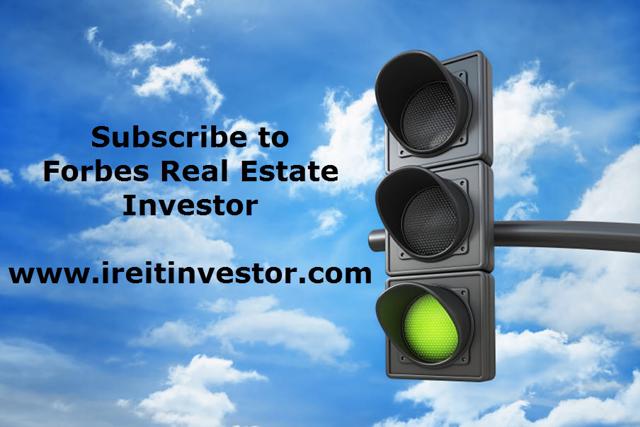 Author's Note: Brad Thomas is a Wall Street writer and that means that he is not always right with his predictions or recommendations. That also applies to his grammar. Please excuse any typos, and I assure you that he will do his best to correct any errors if they are overlooked.
Finally, this article is free, and the sole purpose for writing it is to assist with research (Thomas is the editor of a newsletter, Forbes Real Estate Investor), while also providing a forum for second-level thinking. If you have not followed him, please take 5 seconds and click his name above (top of the page).
Sources: SNL Financial, FAST Graphs, and Q2 STAG Supplemental.
Disclaimer: This article is intended to provide information to interested parties. As I have no knowledge of individual investor circumstances, goals, and/or portfolio concentration or diversification, readers are expected to complete their own due diligence before purchasing any stocks mentioned or recommended.
Disclosure: I am/we are long O, DLR, VTR, HTA , STAG, GPT, ROIC, HCN, OHI, LXP, KIM, WPC, DOC, EXR, MYCC, TCO, SKT, UBA, STWD, CONE, BRX, CLDT, HST, APTS, FPI, CORR, NHI, CCP, CTRE, WPG, KRG, SNR, LADR, PEB, BXMT, IRM, CIO.
I wrote this article myself, and it expresses my own opinions. I am not receiving compensation for it (other than from Seeking Alpha). I have no business relationship with any company whose stock is mentioned in this article.