I've been bearish on Procter & Gamble (NYSE:PG) for years now, and for a while, anyway, the market seemed to come around to my way of thinking. I'd argued that fair value was maaayybe in the mid-70s, if things went reasonably well; PG fell under $70 in September. With a massive cost-cutting program - instituted under former CEO Bob McDonald, who was forced out soon after - mostly lapped, and top-line growth stagnant, PG's outlook didn't look particularly compelling.
Since then, however, market sentiment has markedly changed: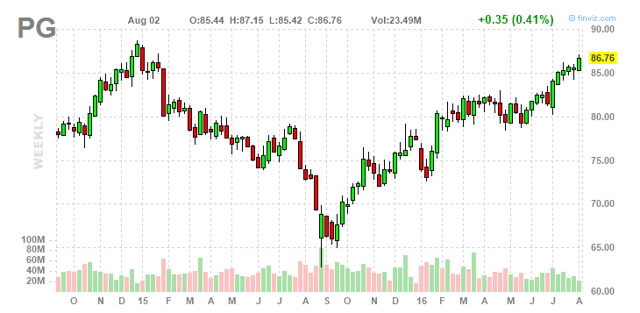 source: finviz.com
Honestly, I don't get it - at all. To be sure, the zero-interest-rate environment likely is a factor. With the ten-year Treasury at 1.55%, investors are looking for yield wherever they can find it; it doesn't seem a coincidence that PG - and the largest dividend ETF, Vanguard Dividend Appreciation (NYSEARCA:VIG) - both have seen demand rise as yields have tightened once again this summer. If investors have to overpay for yield, they might as well do so with PG's 3.1% yield, which ~doubles Treasuries at the moment.
But there are other options out there, and relative to PG, I simply don't understand the resilience. Much of the benefit from a huge cost-cutting program has been realized; once the split-off of beauty brands to a Coty (NYSE:COTY) JV is complete, the largest part of P&G's recent transformation will be complete. But organic sales growth is weak - the company is targeting sales that keep pace with its markets - and P&G is guiding for essentially zero profit growth next year, with apparent margin compression.
Fundamentally, there's simply a huge disconnect here, one that can't be simply explained away by yield-chasing or the argument that "well, P&G has been around for 179 years, it'll be fine". P&G is underperforming, yet the stock is outperforming, at least relative to the past ten months or so. At some point, one of those two things needs to change - and from here, for a number of reasons it looks like the latter is far more likely:
1. The 'turnaround' plan is largely complete.
On the Q4 conference call, CFO Jon Moeller detailed P&G's success relative to the cost-cutting targets laid out five years ago. P&G exceeded a $6 billion cost of sales target by $1.2 billion; reduced manufacturing headcount by 22%; and cut overhead enrollment by one-quarter.
One key problem for PG is that the stronger dollar, particularly over the last 20 months or so, has offset much of those gains. But, at this point, that's largely irrelevant; the issue going forward is that there aren't those types of cost savings lying around. Moeller has detailed a plan to save as much as another $10 billion over the next five years, through initiatives such as consolidating ad agency spend, but even if PG hits those targets it plans to reinvest those savings in the business.
This is a huge missed opportunity for PG, which at the end of FY12 estimated 6-11% EPS growth annually from the cost cutting alone; around the same time, Bill Ackman of Pershing Square reportedly forecast EPS of $6 by the end of fiscal 2015. Fiscal 2017 'Core' EPS guidance is in the range of $3.85 (mid-single-digit growth year-over-year); FY12 EPS was...$3.85. Again, currency was an issue, but PG also underdelivered beyond its cost-cutting plan - and the larger point is that the opportunities available in 2012 and 2013 to lower headcount simply aren't there anymore. PG is going to have to create growth from a business that on its own, hasn't driven any real profit increases for years.
The argument going forward is that P&G has shed some operational complexity that will make it more nimble, and that its decision to shed low-growth brands will boost reported growth and drive investor demand. The first claim strikes me as somewhat overwrought, if admittedly logical; it's not as if PG now is some lean decentralized cutting-edge company with an entrepreneurial bent. The second argument never made much sense to me from a theoretical standpoint. Discontinuing negative-margin products in Mexico and India is fine as it goes but improving overall margins by shedding low-margin business shouldn't, in theory, drive any real value. Yes, PG can drive a higher growth rate - but off a lower base. Whether equity value is 20x $10 billion in profits or 21x ~$9.5 billion in higher-growth profits, the end result is the same - unless PG somehow suckered Warren Buffett (through the Duracell deal) and Coty (through the Beauty JV).
Even if a 'nimbler' PG is a better competitor, the point is that PG has nowhere near the margin opportunities it did five years ago. That puts a lot of pressure on top-line growth.
2. Sales growth is anemic.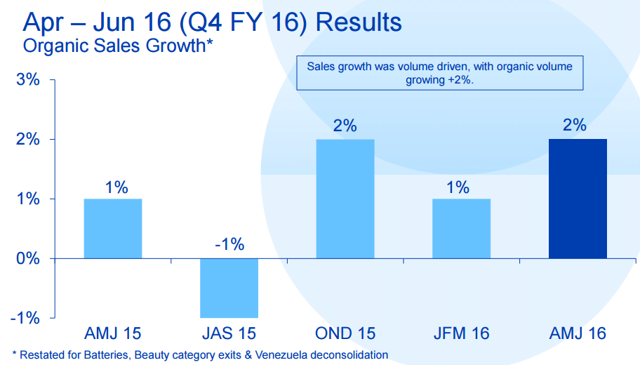 source: PG Q4 presentation
PG's growth has been so weak that the last three quarters - fiscal Q2 through Q4 - are considered an improvement. Yet Q2's sales growth came from a 3% pricing hike that even PG management admitted wasn't sustainable; Q4's 2% increase was backed by a 280 basis point increase in advertising and sampling costs. Obviously, there's a long-term benefit to that spend - it's not as if PG spent 2.8% of its revenue to get 2% growth - but PG took a big margin hit simply to get to that 2% figure. And yet global share, per the Q4 presentation, fell year-over-year in four of the company's five key categories. The only exception was Grooming, where P&G now must deal with Unilever's (NYSE:UL) purchase of Dollar Shave Club.
Again, looking forward, this doesn't appear to get much easier. Listen to CEO David Taylor said on the Q4 conference call [emphasis mine]:
A critically important element of our transformation is re-acceleration of our top-line growth to reach and sustain organic sales growth at or slightly ahead of underlying growth at the markets where we compete.
The target is basically flat market share. Honestly, that strikes me as reasonable. The problem with the "P&G has been here before" argument is that P&G hasn't been here before. Its brands were defined by the American middle class - both domestically and aspirationally abroad. But the middle class in America is shrinking, leading to an "hourglass effect" (higher-end customers move to smaller, more targeted brands; lower-end customers trade down to store brands, dollar stores, etc.). Overseas, the stronger dollar has an impact beyond simple currency translation: PG struggles to compete with Unilever and Japanese rivals, in particular, given the edge provided by the weaker euro and yen. PG already has fallen behind in China - its second biggest market - though performance has improved somewhat in the first half of CY16.
Heading into the 2008-09 recession, PG showed solid organic growth: 8% in 2005, 4% in 2006, 5% in 2007. There's not much reason to expect a return to those levels any time soon - by management's own admission.
3. Margins come from where?
But PG actually is valued higher than it was in those banner years, both on an absolute basis and relative to earnings. Yet topline growth is weaker, and there's little reason to expect margin expansion to pick up the slack. Q4 margins fell 150 bps - 30 bps even including currency - and full-year FY17 guidance appears to imply operating margins that are flat or down. PG is guiding for basically no net income growth, with a mid-single-digit increase in EPS against a 4% reduction in share count.
Commodity costs are rising, marketing spend is going to increase, and material cost-cutting opportunities are largely exhausted. The bet on PG at $86 is a bet on the company jumpstarting growth - but I'm not sure even flat market share supports much in the way of upside here.
Valuation
The funny thing about my arguments against PG over the past ~18 months or so is that the story has played out roughly the way I've predicted; in fact, FY17 guidance implies lower profits than the ~$4 I projected post-divestiture. There is some residual benefit from those transactions not incorporated in full-year EPS (as the share count won't incorporate the Coty deal for the full year, providing a modest benefit to FY18 EPS).
Essentially, the divergence comes down to multiples: I've argued PG should get a high-teen multiple at best, and perhaps approach a 4% yield. Investors at the moment are giving PG a 22.3x forward multiple and accepting a 3.1% yield. That's the difference between $70 (an 18.2x multiple and a 3.83% yield) and $86.
And that difference, honestly, makes little sense to me: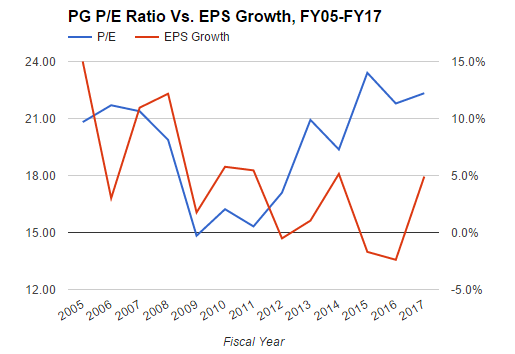 source: author from PG filings, press releases, and trading data
PG is trading near its highest multiples in over a decade despite the fact that its earnings growth is the weakest it's been in at least 25 years. During the turnaround, there was a reasonable case for that expansion; PG offered the promise of substantial near-term EPS growth (in the high teens, easy) as the cost-cutting program unfolded.
What's left to drive that multiple now? Fundamentally, PG looks expensive; operationally, it doesn't look all that impressive; competitively, it's falling behind. This really looks like a case where investors are chasing yield - and that rarely turns out well.
The question is what to do about it: shorting PG doesn't seem to make a ton of sense given macro/broad market correlations (indeed, the percentage of float short is under 1%). I am a bit intrigued by PG options: selling out-of-the-money calls (or call spreads) at $90 or even $95 is a bet that PG's multiple won't expand to the mid-20s (a 12-year high) with only one quarterly report ahead of the January 2017 expiration.
Regardless, this strikes me as a hugely dangerous stock that too many investors consider 'safe'. This isn't a case where PG is being buffeted by a cyclical swing or temporary pause in growth. P&G is a business that has been stagnant for years and by its own admission is trying to simply to tread water. Giving that business a growth multiple seems unwise - no matter what the dividend yield is.
Disclosure: I/we have no positions in any stocks mentioned, but may initiate a short position in PG over the next 72 hours.
I wrote this article myself, and it expresses my own opinions. I am not receiving compensation for it (other than from Seeking Alpha). I have no business relationship with any company whose stock is mentioned in this article.
Additional disclosure: It's unlikely that I will trade PG; any such trade would be a hedged short position using out-of-the-money options.