Introduction
Grupo Aeroportuario del Pacífico (NYSE:PAC) is an international airport operator based in Mexico. It was constituted in 1998 as a result of the Mexican government allowing private investment in its airports. The company has invested heavily since its concessions started in order to develop its 12 airports. It is important to note that the concession was given to PAC until 2048.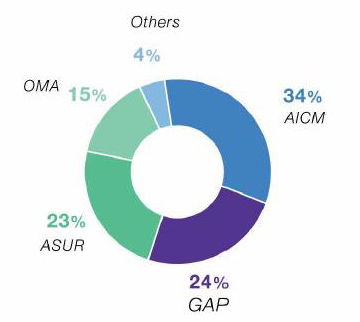 (Source: 2016 Investor Presentation)
PAC is the second-largest airport operator, providing service to 24% of all airport passengers in the country through its 12 subsidiaries (airports).
One of the most risk-averse strategies to invest in the aeronautical industry is to invest in airports. They are not exposed so heavily in case of an economic downturn. Also, they work as little monopolies, as there are several regulatory and investment restrictions on developing new airports in any given city. This forces governments to control the amount of money they can charge to airlines for its services. The former is very important to understand - any income growth mostly depends on the number of passengers that travel through each airport and how clever the airports are at extracting income on non-regulated areas of the business, such as renting commercial space, parking lots, VIP lounges, ad space, convenience stores, etc.
Grupo Aeroportuario del Pacifico is set to continue its growth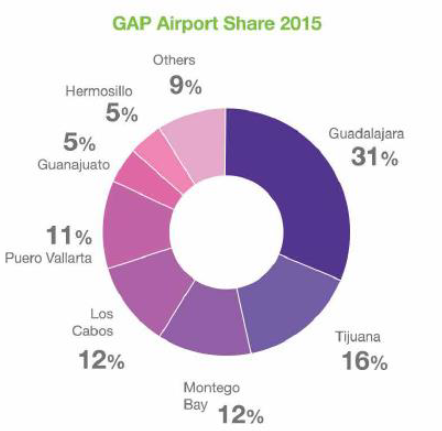 The most important issue that one must consider in order to know whether an airport will further succeed is the development of the area it serves. 71% of passengers travel through the Guadalajara, Tijuana, Montego Bay and Los Cabos airports.
Here is some data on what is expected to happen in coming years for each airport:
Guadalajara

All the airlines expect to increase capacity in Mexico by 2.5 million seats this year. Given the additional demand that is expected, 8 gates will be built in order to be prepared for increased demand. This represents a 21.62% increase in airport capacity.
Tijuana
In 2Q2016, around 20% of the airport users made use of the Cross-Border bridge facility. This is because there are several cost and time advantages of using this facility instead of going to the US by car. Considering 60% of the airport passengers' final destination is the US, considerable growth is expected in the following years.
Tijuana is the most advantageous airport for airlines that desire to connect Asia and Latin America without requiring a US visa. Therefore, the company expects to strengthen and increase this geographical advantage as travel requisites increase in the USA.
Montego Bay
There have been several changes made to the airport's infrastructure as well as its technology. Most changes are meant to provide better service for passengers as well to allow other airplanes to use the airport (by increasing its runway extension to 2,943m). This is in order to benefit from the 11.9% room inventory increase that is expected for this year.
Los Cabos
On September 15th, 2014, hurricane Odile destroyed Los Cabos Airport as well as many parts of the city. As of today, Los Cabos has recovered and expects to receive 19.70 more tourists in 2017 than in 2016. This provides an idea of the expected growth for this particular airport.
As we can see, the most important destinations for PAC have positive expectations regarding passenger traffic. This leads us to conclude that we can expect passenger growth to continue at or near double digits in the short term.
Historical Performance
The only reason we investment advisors exist is called Alpha. Therefore, it is our job to try to identify stocks that will perform better than the stock market indexes in the long term in order to make our efforts valuable to customers. Since 2014, PAC outperformed the indexes even though it had to reconstruct Los Cabos Airport.

(Source: Yahoo Finance)
It is important to address that I am not implying under any circumstance that history will prevail. I just want to make clear that even though the company had some tough times, it managed to outperform the US indexes in 2 years. Most of this is because of its passenger growth and operational effectiveness.
PAC is the only Mexican airport operator that owns an international airport. Montego Bay Airport currently handles 71% percent of Jamaica's air traffic. This particular investment contributes to 12% of PAC's consolidated income and helps in diversifying its income as well.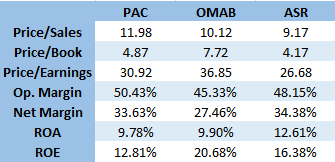 (Source: Morningstar.com)
Most of the attractiveness of investing in an airport terminal is the vast amount of cash and profits that it provides to stockholders each year. As you can see, all the companies that provide this service in Mexico have operating margins around 50% and net profits close to 30%. It is hard not to be impressed by PAC's ROA and ROE figures considering how heavily invested it is in fixed assets. In 2Q2016, the company reported a guidance of 13% increase in passengers and a 19% increase in revenue.
Its valuation multiples seem high compared to other industries. Fortunately, PAC comes with a handsome dividend for its investors, which justifies paying top dollar for the company even if valuation metrics seem high.
In 2017 and 2018, we will start noticing the operational improvements that management is pursuing in Montego Bay. If PAC succeeds in improving its EBITDA margin to a 70% level, the company will surely expand its valuation figures.
In order to be more successful, PAC has noted the following among the most critical issues for the company to continue to grow:
Oil should be inexpensive enough for airlines to be able to incentivize their customers through discounts
A depressed local exchange rate (MXN/USD)
The middle class ought to keep improving its way of life
Moving from car transportation in favor of air transportation
Dividends
PAC has been a steady dividend payer since 2008. Its distribution policy is quite simple. Every year, the company forecasts 2 months of operating expenses and distributes the rest to investors through buybacks and cash. According to its investor presentation, the dividend yield that investors will receive considering buybacks and cash will be around 5% (3.915 USD per ADR).
Conclusion
PAC is an excellent investment idea for anyone willing to have long-term exposure to the aeronautical industry. Given its dividend yield and double-digit growth, the company is set to outperform and provide alpha for its investors in coming years.
Disclosure: I/we have no positions in any stocks mentioned, and no plans to initiate any positions within the next 72 hours.
I wrote this article myself, and it expresses my own opinions. I am not receiving compensation for it (other than from Seeking Alpha). I have no business relationship with any company whose stock is mentioned in this article.