This revisit updates my initial look at Kinder Morgan (NYSE:KMI), May 2, 2016, article,"Kinder Morgan: The Preferred Investor's Perspective."
Although it is my hope that you will read the entire article, for which I have provided the link above, my bottom line assessment at the time was as follows:
Ultimately, I have to decide how safe this company is from an existential standpoint rather than how well its share price will perform over the next quarter or the following year. I must decide whether or not I believe in the long-term survivability of KMI, which I do. However, in this case with the mandatory conversion coming in two short years, I don't believe survival is an issue. KMI will survive, holders will be converted to commons by formula, and unless the price of the commons at that time is ridiculously low, the investor should come out all right.

As for me, I'll have no concerns at all, because as I stated above, this preferred is not for me.
Consequently, as most of my followers know, I put my money where my mouth is and sold my 500 shares KMI-A on 7/15 for $48.76/share, giving me a $4,369.00 profit. As I mentioned in the original article, the primary thing I had against holding this preferred was the mandatory conversion clause that on 10/26/18 would, in effect, convert my preferreds to KMI common shares. Furthermore, my growing concern about the irrational exuberance of preferreds, and the market in general, had prompted my decision to remove some of my chips from the table, mostly my preferred shares priced above par value. KMI-A was one of the few exceptions, it being below par value.
Yet, as I initially wrote, I have no concerns about the ultimate survival of KMI, which I continue to believe is secure, and for that reason I would in all probability still hold its preferred shares were in not for the mandatory conversion clause.
Let's see how KMI-A performed over the past three months: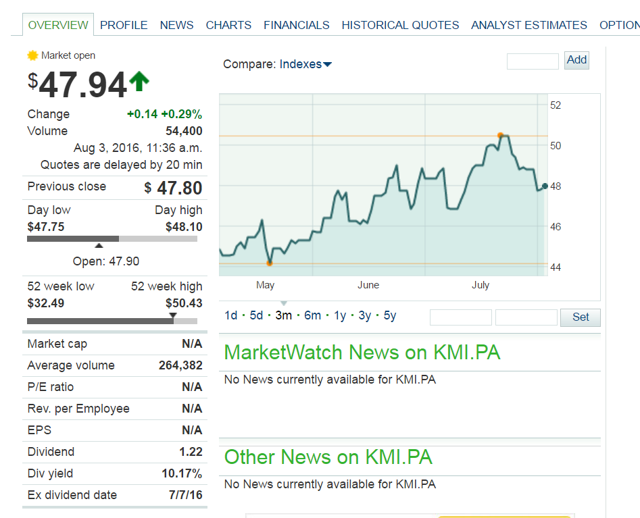 Although not a straight run-up, KMI-A has trended higher nicely and appears to remain a solid investment.
Equally impressive, KMI commons have trended higher along with the price of oil as is to be expected and as displayed on the chart below: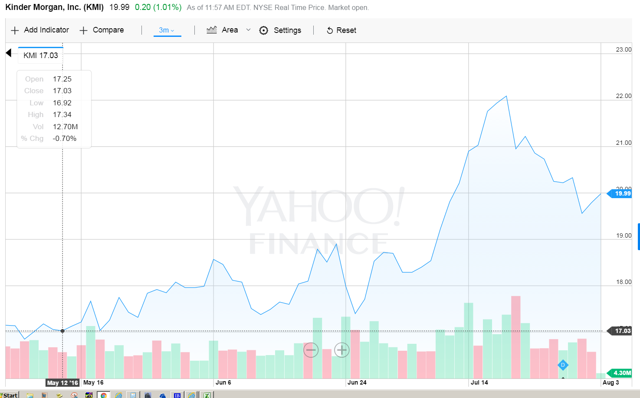 Notice that on May 4, just about the time I wrote the original article, KMI was priced at $17.15, and is currently priced at $19.98, however, because it tracks oil so closely it has recently backed off its high of $22.09 reached on July 20, as has the price of oil in general.
Because I am virtually an exclusive preferred investor, I have no problem recommending KMI-A as a safe investment, offering a high yield at its present price:
$4.875 (Dividend)/$48.40 (current price) = 10.07% yield
However, on 10/26/18 these shares will be converted to its commons, by formula, and if you are comfortable with this, jump in the water's fine.
My single concern is the fluctuating price of oil and continued unrest of the global economy that will ultimately dictate the fortunes of the KMI commons, which I really cannot predict, nor could I ever hope to.
For those of you inclined to follow up on my past reviews, I list them below and provide the links to each review.
Disclosure: I am/we are long GST-A, PPHMP, AHT-E, NM-G, NM-H, SB-D, CMRE-C, CMRE-D, NRF-B, NRF-E, GSL-B.
I wrote this article myself, and it expresses my own opinions. I am not receiving compensation for it (other than from Seeking Alpha). I have no business relationship with any company whose stock is mentioned in this article.