Now oil is back in a bear market with a 20%+ decline since the summer began and WTI crude is once again back below $40 a barrel. U.S. rigs are coming back online, OPEC wants to keep pumping out the oil, and Libya wants to get back in the game. The rumblings of oil related companies going belly up are back and MLPs seem to be the proverbial babies thrown out with the bath water.
Enterprise Products Partners (NYSE:EPD) has not been immune to the mercurialities of the oil market in the past couple of years, and EPD is now presenting itself as a compelling investment opportunity once again. With a close to 10% decline since mid-July, EPD could be a nice addition for income investors looking for reliable income in a stubbornly low interest rate environment. Whether EPD's fortunes are really tied to the oil market or not, the units seem to be affected by the oil price and this could spell well for investors who become informed about EPD's true economic drivers.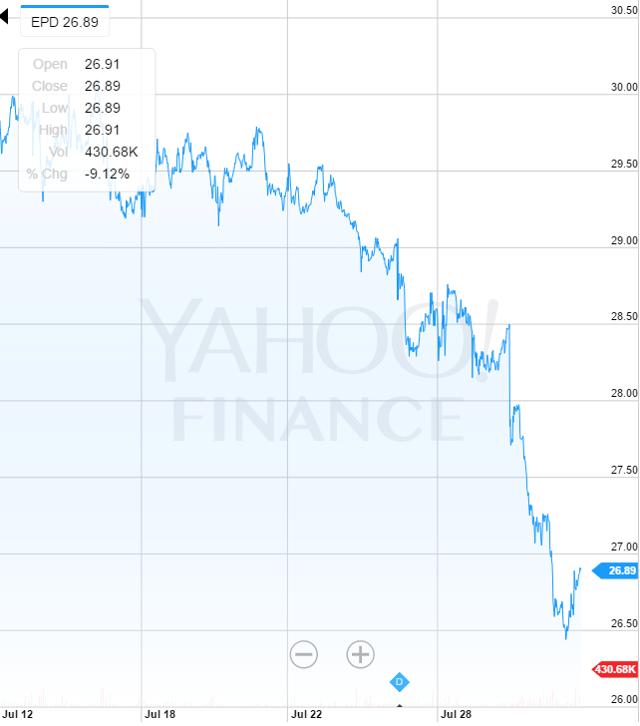 Source: Yahoo Finance
EPD Keeps Doling Out the Cash
Just as 'here we go again' applies to EPD being on a downward trajectory with oil, 'here we go again' applied to its distribution. EPD has now raised the distribution on its units for the 48 th straight quarter; that's 12 years straight. With the most recent 5.3% increase, EPD now distributes $0.40 on a quarterly basis, equating to $1.60 a year and a 6% yield as of writing. Furthermore, EPD has a long history of strong financing and not extending itself too much with its distributions. Its latest distribution coverage ratio was 1.2x - a clear sign of sustainability as sustained coverage ratios under 1 could be a sign of (bad) things to come. The distribution coverage ratio signifies the cash available for distribution divided by the cash actually distributed to investors. The distribution coverage ratio for the first six months of 2016 is even better than the quarterly figure at 1.3x. Furthermore, EPD's distribution coverage ratio has averaged about 1.4x since 2011, so investors should be assured that EPD is a solid MLP play. In addition to its coverage ratios, EPD's distributable cash flows have grown on not only on a quarterly basis by 5.3% but also compared to the first six months of 2015 by 3.8%.
What Drives EPD's Fortunes?
As mentioned earlier, it seems EPD's stock is for better or worse tied to the price of oil. The truth is, however, that the price of oil is not what drives EPD's fortunes but the volume of oil that goes through its pipelines and other infrastructure. Even more so than oil, the volume (not the price) of natural gas that travels through EPD's pipelines, storage facilities, and other infrastructure is what brings EPD to the mountain top and what leads to bigger distributions for its investors. As such, underlying economic activity and how it affects the use of natural gas and oil is the key driver in EPD's success and the distributions its investors receive. A myopic focus on the oil or natural gas markets and what prices these commodities are trading at may lead an investor to invalid conclusions about EPD. This chart really sums up EPD's success through all price points in the crude market: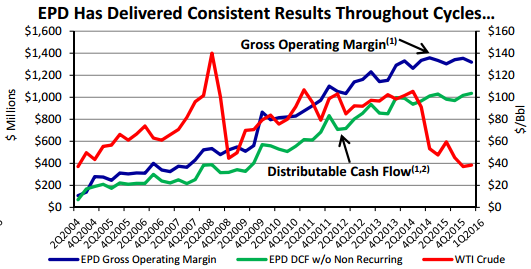 Source: EPD JP Morgan Presentation (attached)
EPD's gross operating margin and distributable cash flow has continued to rise through bear and bull markets in oil and that is because its contracts are more tied to the volume of oil they handle and not the price of oil. New investors seem to ignore this but it can help informed investors looking to pick up EPD units for the first time or existing unitholders looking to scoop up more units of one of the best MLPs around. Still, this chart shows just how correlated EPD is to WTI crude, so even informed investors have to put up with the reality and take advantage of it: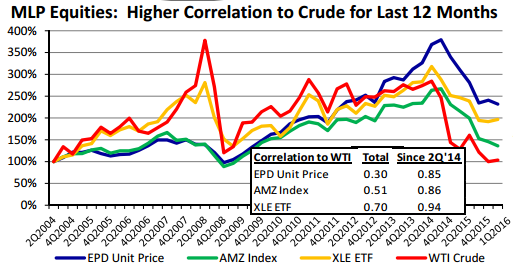 Source: EPD JP Morgan Presentation (attached)
A correlation of 0.85 between EPD and WTI crude is about as strong a positive correlation you'll see in investing. Lower oil prices can be stimulating to the economy, however, so EPD may benefit if oil prices stay low. The price of EPD could turn higher again before the price of oil heads back up. Thus, I think a lower oil price is more of a reason to buy EPD than to sell it or spurn it in favor of another investment at least perceived as not affected by the price of oil either on the business side or on the trading side. Further, as previously outlined, EPD's success is more tied to natural gas and this is outlined by the following chart showing natural gas related activities constituting 68% of its operating margin: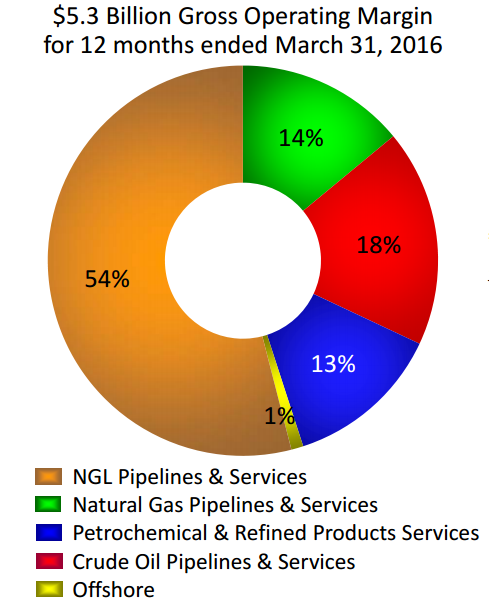 Source: EPD JP Morgan Presentation (attached)
The Takeaway
Don't get scared away from EPD by the price of oil. It is one of the most financially sound companies around and a gem in the MLP space. Its financial strength gives EPD the ability to take advantage of low capital costs and take on projects while other MLPs may be looking to cut back. A credit rating of BBB+/Baa1 puts this on full display and its aforementioned coverage ratios give credence to the fact that EPD's success will continue and its investors will be rewarded because of it. Further, its strong presence in the natural gas space puts it on a path to benefit from cleaner fuel use. The recent decline in EPD's price is just another opportunity to pick up a great MLP on the cheap and watch the income it provides to you grow and grow.
Disclosure: I/we have no positions in any stocks mentioned, but may initiate a long position in EPD over the next 72 hours.
I wrote this article myself, and it expresses my own opinions. I am not receiving compensation for it (other than from Seeking Alpha). I have no business relationship with any company whose stock is mentioned in this article.