The Markit Eurozone Manufacturing PMI for July is slightly down at 52.0 points from 52.8 points in June. The strongest countries are once again Germany and Austria, followed by Netherlands. Italy and Spain are near stagnation while France and Greece remain in contraction territory below the neutral 50-mark.
As it could be already observed last month, deflationary pressures continued to ease. The weaker currency pushed input costs higher and led to the first increase in average purchase prices for a year. However, output prices fell again, but only moderately.
Chris Williamson, Chief Economist at Markit, commented on the PMI result: "Although signaling an easing in the pace of expansion in July, the PMI points to steady manufacturing growth. The problem is that growth is looking increasingly lop-sided, which will worry policymakers and add to calls for further stimulus from the ECB."
The following overview of European countries' PMIs highlights the key changes, ranked by the PMI points:
Germany - 53.8 (2-month low): New orders growth slows; input costs rose for the first time in a year during July and selling prices stabilized.
Austria - 53.2 (2-month low): The rate of growth eased slightly, but still above its long-term average.
Netherlands - 53.2 (4-month high): Output increases at fastest rate since March; employment growth strongest in seven months; purchasing activity growth at one-year high.
Italy - 51.2 (18-month low): A considerable slowdown in growth of new orders recorded; the main weak point was the intermediate goods sector, where output and new orders fell.
Spain - 51.0 (31-month low): A general trend towards stagnation can be observed. However, the rate of job creation picks up.
Ireland - 50.2 (3-month high): The impact of the British referendum can be seen; manufacturing firms were positioned cautiously amidst political uncertainty.
Greece - 48.7 (2-month low): Manufacturing PMI returns below the neutral 50-mark; new orders decline for the twenty-third month in succession in July.
France - 48.6 (4-month high): Still below the neutral 50.0 mark (fourth month in a row); slower rate of decline.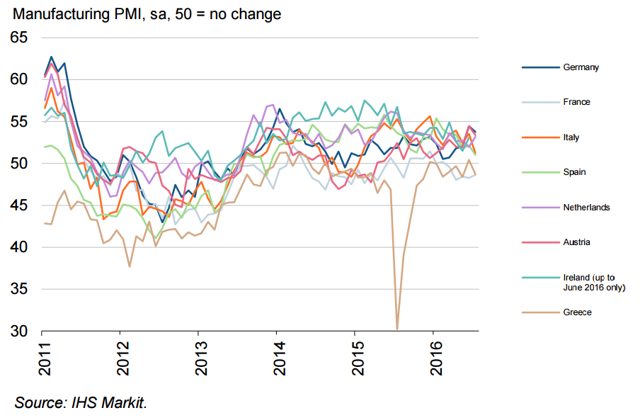 The outcome of the British referendum one month ago doesn't seem to have any negative impact on the Eurozone as a whole. New export business improved in July which can be attributed to the weaker euro (see the euro in the chart below). I see buying opportunities in companies which have mainly business with non-euro areas. While the ECB will be pleased to see that input costs rose for the first time in a year during July and selling prices stabilized, I don't think it can afford to let the euro appreciate again. As we hear more and more headlines about the struggling banking system in Europe, the ECB has to remain supportive and destroy any panic in the European stock market in advance.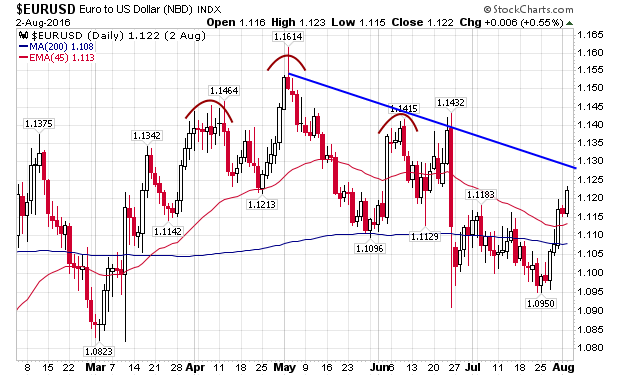 Disclosure: I/we have no positions in any stocks mentioned, and no plans to initiate any positions within the next 72 hours.
I wrote this article myself, and it expresses my own opinions. I am not receiving compensation for it (other than from Seeking Alpha). I have no business relationship with any company whose stock is mentioned in this article.