After the market closed on August 3rd, the management team at Legacy Reserves (NASDAQ:LGCY) reported financial results for the second quarter of the firm's 2016 fiscal year. In what follows, I will dig into the numbers and go over the business's performance and detail how this matched up with my expectations for the company and what it means for investors moving forward.
Some good news!
During the quarter, management made some progress on a few things. For starters, I had been expecting additional asset sales so that Legacy could focus more on debt reduction. In the first two quarters of 2016, Legacy has sold assets for an aggregate $87.47 million. Although this sounds scary for such a small business because of the cash flow implications, management has assured us that these assets were low-quality in nature. You see, over the past 12 months, the assets have generated negative cash flow to the tune of $0.54 million so, in a market where things do not improve, Legacy was essentially paid to unload unprofitable assets.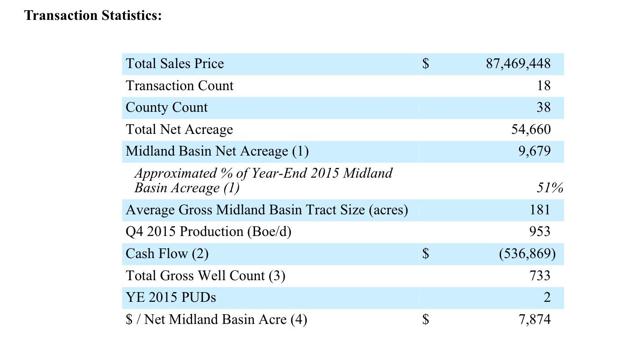 All-in-all, I'm happy with this but one thing that does disappoint me is that only $19 million of the divestitures occurred during the second quarter (and $5.4 million of which was previously disclosed) and still brings asset sales down to less than the $100 million management expected to engage in during the first half of this year. Fortunately, through July and early August, the company sold an extra 3 properties, bringing total assets sales this year up to $92.5 million.
Using the proceeds from sales, management has also been working hard on reducing outstanding debt. As of today, long-term debt stands at $1.19 billion, a reduction of $272.36 million compared to the end of last year when debt totaled $1.46 billion. Since the company last reported news on its outstanding debts, with data ending May 4th, the credit facility has been reduced by $40 million to $520 million. As a result of its work on its credit facility, the company has excess capacity of $108.6 million that it could tap into if it so desired. Meanwhile, management also paid down (at a discount to par) its 8% Senior Notes by $25 million, lowering interest expense there by $2 million per year.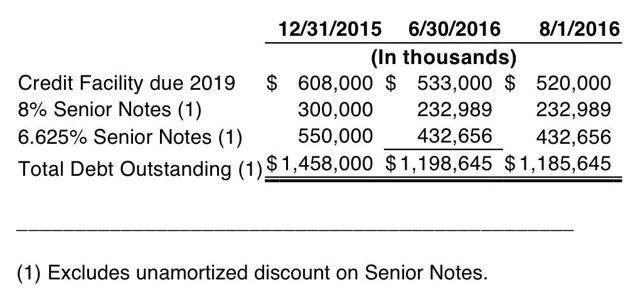 The last thing I expected was for Legacy to focus on cost-cutting initiative and focus on them they did. During the quarter, the company incurred oil and gas operating expenses of $10.23 per boe (barrel of oil equivalent). This represents a decline of 27% compared to the $14.02 per boe management reported the same quarter a year earlier, which is truly impressive progress in my opinion. Meanwhile, general and administrative costs, excluding those associated with transactions and LTIP expenses, averaged $1.92 per boe, a decline of 10.3% compared to the $2.14 per boe seen a year ago.
Two notes
Based on the data provided by management, I'm pretty happy with Legacy's performance, though not quite as happy as I was with the performance of Memorial Production Partners (NASDAQ:MEMP). There are, however, two things I must be critical of. The first relates to cash flow. Based on my models, Legacy should be generating meaningful cash flow this year but, through the second quarter, it generated outflows of $14.63 million. In all fairness, the second quarter results for the firm have come out to a positive $3.41 million for operating cash flow. Moving forward, I hope to see this number improve as management cracks down on changes in certain assets and liabilities but if this does not transpire then there could, eventually, be a problem.
The only other note I have relates to hedging. During the quarter, management actually did quite well in increasing hedges, raising second half (for 2016) oil hedges from 29% of production to 63%, second half natural gas hedges from 52% of production to 82%, 2017 oil production from 10% to 46%, and 2017 natural gas hedges from 49% to 54%. This is great in my book but one thing management said worries me a bit. According to Legacy, the company wanted to engage in more hedging during the quarter but its bank would not serve as a counterparty to it.
This sounds really scary but Legacy's management chalked it up to the fact that lenders are trying to mitigate their exposure to the oil and gas industry and in cases where the fair value of the hedges turn out to be positive, said counterparty would owe Legacy money and Legacy itself would be exposed to credit risk. I can't actually blame Legacy or its management team for this but it would have been really great to see the company find some other way to engage in additional hedging if that's what it desired.
Takeaway
Based on the data provided, I'm pretty happy with how things are looking for Legacy. It would have been nice to see more cash flow and asset sales but, beyond that, I don't have too much to complain about. Moving forward, it will be interesting to see how things progress with Legacy but, after seeing these results, I have no intention to sell my stake in the firm for the foreseeable future.
Disclosure: I am/we are long LGCY, MEMP.
I wrote this article myself, and it expresses my own opinions. I am not receiving compensation for it (other than from Seeking Alpha). I have no business relationship with any company whose stock is mentioned in this article.
Additional disclosure: I own LGCYO, not LGCY.