In my last article, I named a few alarming concerns with Nobilis Health (NYSEMKT:HLTH) Q1 earnings. The stock tumbled throughout the quarter and eventually covered some lost ground. Needless to say, investors lost complete confidence in the company and its management team. Despite a turnaround in Q2 results, stock merely moved up 7% on the following day. Now let's review what happened in Q2:
Business is heading the right direction
The headline numbers look solid: both revenue and operating income grew by more than 20% compared with figures from last year. The only thing that I would nitpick is the hospital operating expense.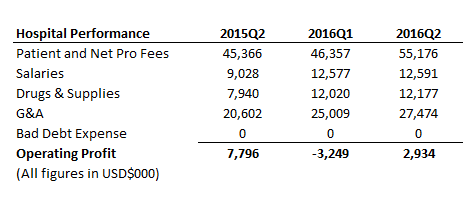 As mentioned in the last article, the company failed to adjust its expenses accordingly in Q1 resulting a loss from its hospital operations. Q2 expenses were in line with last quarter. Due to improved revenue, Nobilis turned in a profit this quarter. This is significant. It proves that Nobilis is capable in generating profits and the business is not broken. We could see higher earnings in the future as the hospitals scaling up or managing its expenses better. To note, 2016Q2 and 2015Q2 are not perfect comparisons since some hospitals are now categorized under equity income.
Marketing and factoring revenues are becoming more meaningful for the company. Both of these businesses essentially leverage the resources from the hospital system. So the margin should be higher than treating patients for Nobilis.

Account receivable is getting prettier
Days outstanding jumped to 148 days as at the end of Q1. This figure freaked out a lot of analysts. 112 days in Q2 look more settling.

The biggest reason people ran away from Nobilis was their worry of accounting manipulation. Often times, companies artificially boost its revenue and earnings by giving out their service for free through credits. The combination of Nobilis' incredible growth profile in the past year and the subsequent built-up in account receivable was alarming. This quarter's account receivable number is a positive. I would definitely like to see more consistency from Nobilis in the future.
Management mentioned on the call that 90% of account receivable outstanding has been collected as of August 2, 2016. So we should expect better days sales outstanding number by the end of Q3. Further, the management said 90 days is somewhat a normalized DSO moving forward. This is great for those of us who love to play with numbers. We now have something to measure against.
Arizona Vascular Clinics looks like a nice pickup
Even though Nobilis stock price has been a roller coaster ride in the past few weeks, I am glad the management was focused on what really matters. Company acquired Arizona Vascular Clinics for $22 million. The deal looks very attractive on paper. First, Arizona Vascular had $6 million in 2015 EBITDA. Assuming no growth in 2016, Nobilis paid only 3.7x EBITDA which is very cheap in my opinion. Secondly, Nobilis does not have vascular related offerings and will able to extend this new area of expertise to its existing hospitals. If Nobilis could integrate vascular treatment successfully across its network, this could push growth even higher than I initially expected.
Final words
I can completely understand investors' frustration with Nobilis. Once the trust is broken, it will be very difficult to repair. I said Nobilis stock could double a few months ago. I still feel the same way. However, I think it will be a slow recovery from here on. Management has to demonstrate consistency in order to earn back some love. Next two quarters will be very interesting. Management reiterated $51 million guidance in adjusted EBITDA for the year. Adjusted EBITDA has been underwhelming so far in the first half of 2016 at $8.9 million, mostly due to a disastrous Q1. Nobilis has a lot of catching up to do but history says they could do it.
Disclosure: I am/we are long HLTH.
I wrote this article myself, and it expresses my own opinions. I am not receiving compensation for it (other than from Seeking Alpha). I have no business relationship with any company whose stock is mentioned in this article.