Some managements are a little slow on the draw. The management of ConocoPhillips (NYSE:COP) is definitely not the "sharpest tools in the shed." But clearly, the light is dawning on the management and during the conference call, it started saying the words that should have been said long before now.
"Ryan Lance

And, Ryan, we're not satisfied with where the numbers are at today, and we've got a lot of effort to continue to drive them down to get the same scope done for less capital and less cost as well. Because we've got to continue to attack that breakeven and make sure we get the breakeven for the company down as low as we possibly can and be as competitive as we can. Because we believe this world of low and a lot of volatility in prices is here to stay. So we've got to thrive in the down cycle."
It has taken nearly six months to get a public statement like this. There were some other key officers finally voicing the same thing. This should have been publicly announced long before this, but management appears to be finally catching on. It should also be voiced on the presentation and earnings release statements, otherwise management comes across as unfocused (to say the least) or worse.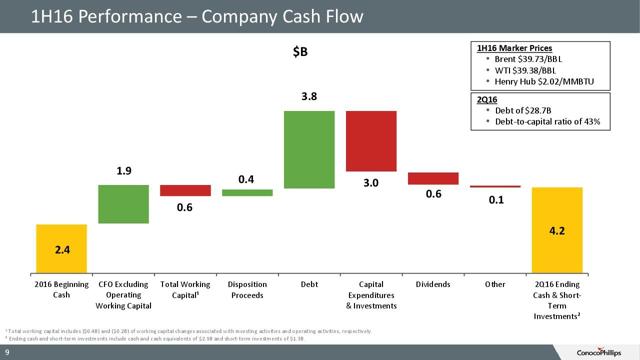 Source: ConocoPhillips Second Quarter, 2016 Presentation, July 28, 2016
That first-half cash flow is extremely insufficient for the debt load even before the working capital effect is taken into account. In the last article covering the first quarter, the cash flow was well under $500 million (taking into account the working capital effects which management has stated will be negative this year). The improvement came from a commodity price increase in the second quarter when combined with other improvements that will be discussed later. But there is no way the cash flow before or after working capital effects when it is annualized will sufficiently fund the $28 billion or so of long-term debt ($27 billion is classified as long term and another $1 billion is due within a year).
During the earnings call and the quarterly announcement, management trumpeted a 20% cost improvement. But that is not nearly a fast enough pace to fix this situation. Management did not provide a cost break-down by project, so investors are entitled to assume the worst. Especially with the size of the last two quarterly losses reported.
The particularly unstable part is the reliance on bank debt when bankers usually get very nervous in a situation like this and can pull the plug at any time. It is happening all throughout the industry. So unless an investor believes that a company like this is too big to fail, the warning signs are now flashing. Unfortunately, the only thing the "big" part may do is make the crash louder and more painful.
I have detailed two companies Penn West Petroleum (PWE) and Paramount Resources (OTCPK:PRMRF) that have worked their way out of a similar mess. Both sold enough properties to pay down debt sufficiently and yet still have some good future prospects. But those sales equaled or exceeded the market value of the companies' common stock. In this case, that would indicate property sales on a scale that may not be practical. But the long-term debt-to-annualized cash flow ratio (28.4:2.6 or 10:1) is clearly not sustainable. Also, there is not fast enough cost progress made for this situation to continue for a very long time.
Management has indicated about $1 billion in property sales when probably more than $10 billion need to be sold. In the commodities business, the ship needs to be righted ASAP or consequences can be very severe. Management pointed to three divisions being profitable but they were small divisions. The largest division is in the United States Lower 48 and it reported about two-thirds of the very large quarterly loss.
Now, both oil and gas prices are retreating as supply and demand issues change. So unless things change dramatically in the third and fourth quarters, that cash flow will continue to be an issue. This company really needs to double that second quarter cash flow rate. Without hedging under current market conditions, that could be a multi-year project that the bankers may not have patience for. Really, without sufficient cash flow, not much other analysis will matter. The current ratio is fine, but so what? There are assets and future prospects that this management does not currently have the funds to get to. Joint ventures would be a great cash flow source that management is not even considering. Maybe part of the "Lower 48" or one of the other divisions should be organized into a separate company and sold to the public for cash if that is even practical. This company needs billions and management is talking millions. The fact is that management needs to show giant progress and it appears to be taking baby steps. Management may figure this out, but so far have not shown the urgency or the planning necessary to turn the company around.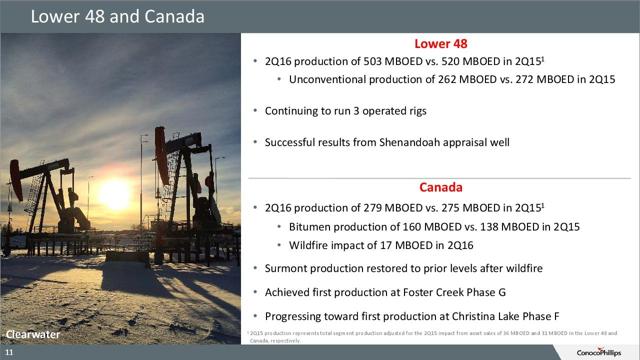 Source: ConocoPhillips Second Quarter, 2016 Presentation, July 28, 2016
Three slides really detail the future prospects of this company. As noted before, the "Lower 48" is showing a huge loss of more than $600 million. Three rigs and a Gulf of Mexico appraisal well that won't be producing for a few years (if ever) are not going to turn that giant loss around quickly. Quickly is what is needed because that credit line is not going to last forever. Investors can bet that the banks will be tightening the credit strings very soon when presented with this kind of plan.
But the bigger deal is the need to invest money in Canada for what many regard as a relatively high-cost project to start that project back up after the recent fires. The company may have no choice because some cash flow may be better than none given the investment needed, but it is clearly the best choice of a series of bad choices. Those Canadian properties may need to be sold to ensure the company's long-term survival.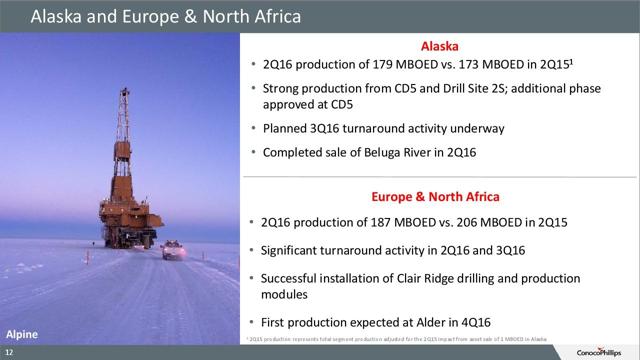 Source: ConocoPhillips Second Quarter, 2016 Presentation, July 28, 2016
Unlike the first slide, this slide represents some profitable areas for the company as well as prospects for decent growth. However, the growth anticipated here does not come close to offsetting the losses shown in other areas, especially that first slide. So while some progress is good, it needs to be sufficient to keep the lenders happy. Right now there is no indication from management that the progress here will satisfy the lenders.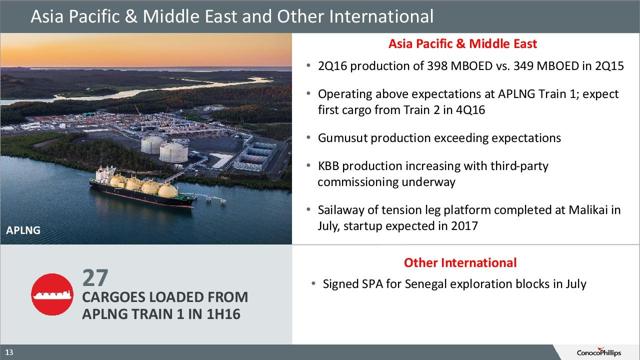 Source: ConocoPhillips Second Quarter, 2016 Presentation, July 28, 2016
The top part of this slide represents profitable and in some cases expanding projects. But why management, with all the challenges it has, would look to expand to Senegal at a time like this is beyond common sense. At least some of the Asian and Middle East projects will return more cash soon, but the Senegal project would just be starting and most likely returns could not be obtained for years. This company really does not need projects such as that.
Management tried to successfully change the focus to increasing the dividends in the future. But really the cash flow is not there for the dividends now. There really should be higher priorities and more urgency on the part of management to solve the current problems. Currently, it appears that management is banking on commodity price increases to bail them out, but commodity prices are heading in the other direction. So more very large losses are on the horizon.
Without sufficient cash flow, the stock of this company is at best a trading candidate on volatility, and quite possibly a good short sale candidate until management demonstrates that the current challenges can be resolved. As was noted above, when the long-term debt-to-cash flow from operations ratio heads past 5:1 (and this company's ratio is way past that) the chances of long-term survival dim dramatically without some kind of sizeable reorganization. Severe dilution may be the least of shareholder's worries. Plus this company has significant gas production, which while profitable, may not be able to provide the increase in profitability necessary to lift the company to sufficient cash flow and profitability.
The unconventional properties usually provide the fastest way to increase cash flow. But with only three rigs allocated to those properties (when probably a minimum of 10 are needed for this situation), there does not appear to be much cash flow help from these projects either. So clearly there is not much reason to hold this stock for the long term. Most likely management will be allowed to try for a while, but currently there is no long-term appreciation available for holders of the common stock. But there is a growing risk of significant and maybe total loss of the investment. This stock has become a speculation that does not have much chance of success at the current time.
Disclaimer: I am not an investment advisor and this is not a recommendation to buy or sell a security. Investors are recommended to read all of the company's filings and press releases as well as do their own research to determine if the company fits their own investment objectives and risk portfolios.
Disclosure: I/we have no positions in any stocks mentioned, and no plans to initiate any positions within the next 72 hours.
I wrote this article myself, and it expresses my own opinions. I am not receiving compensation for it (other than from Seeking Alpha). I have no business relationship with any company whose stock is mentioned in this article.
Editor's Note: This article discusses one or more securities that do not trade on a major U.S. exchange. Please be aware of the risks associated with these stocks.