There is no doubt that Q2 was not pretty for some big energy names. Last week, we got Q2 results from some of the major O&G players (Exxon Mobil (NYSE:XOM), Cheveron (NYSE:CVX), and BP (NYSE:BP) to name a few). It's no secret that investors were not pleased, as each report sent shares successively lower. XOM missed the Street's estimates by 36%, with quarter-over-quarter earnings down 60% from last year.
In the face of falling commodity prices, these companies are aggressively burning through cash and taking on debt to fund operations. CVX, for example, has generated $3.7 billion in OCF so far this year, but has spent $10 billion on CapEx and another $4 billion on dividends (see Figure 1 below).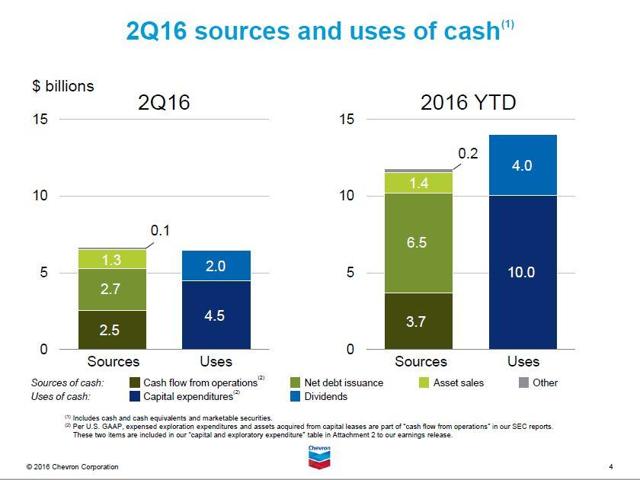 That works out to $6.5 billion in net debt issued and another $1.4 billion from asset sales. With declining refining margins also seen across the board, rising crude prices are the only thing that can breathe life back into the sector.
Oil futures may be poised for significant gains. For several weeks, slower than expected US inventory draws dragged crude further off its recent highs. Last week's unexpected 1.7M barrel supply build sent prices even lower, and this week, WTI futures recently slipped below $40, which has renewed bear market fears. These figures seem to reaffirm fears of a major supply glut, yet some of the fundamentals tell a different story.
In the last two years, the number of US oil directed rigs has fallen peak to trough by roughly 1300 (Figure 2). This has not been surprising, as falling commodity prices have forced numerous energy bankruptcies and significant reductions in infrastructure.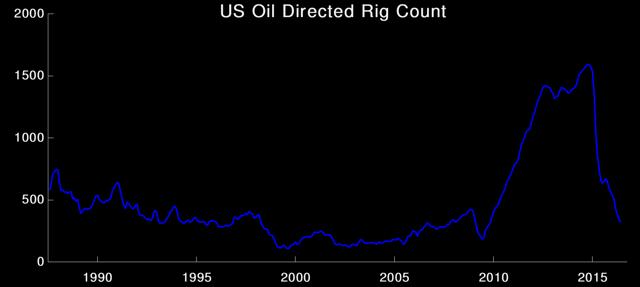 What has been surprising to most, though, has been the resiliency of US production in the face of declining rig counts, as it remained strong into the middle of 2015, and has only recently started to show declines (see Figure 3 below).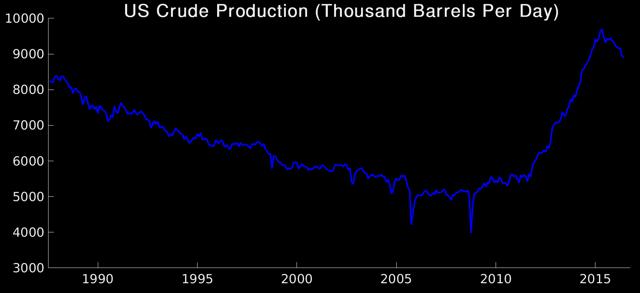 However, in a manner of speaking, this level of resiliency is not completely unprecedented after major declines in rig count. Figure 4 below shows the historical average production rate per rig for US rigs. As you can see, the rapid rig count declines seen in 1997 and 2008 both led to rapid increases in per rig production efficiency, and in both cases, a large decline in total production rate followed. The only difference now, though, has been the rising, rather than uninterrupted, total production in the face of declining rig counts, which we believe to be an unexpected unsustainable consequence of production from tight source rock. Further, we believe that current increasing rig counts will be followed by significant losses in per rig production, and a precipitous drop in US production, similar to what the chart shows for 2007-2008.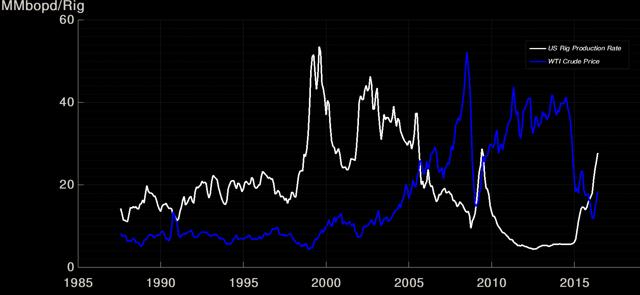 One major consequence of falling US production has been a significant rise in crude imports (Figure 5).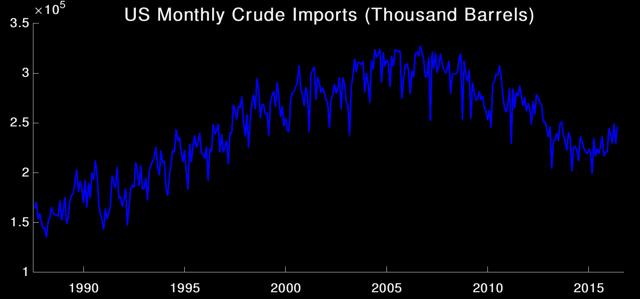 This appears to signify a major reversal of the past decade's trend towards decreased foreign oil dependence (mostly OPEC). As a result, Saudi oil consumption and exports are now exceeding production, as their inventories in the past year have drawn faster than any other period on record (Figure 6).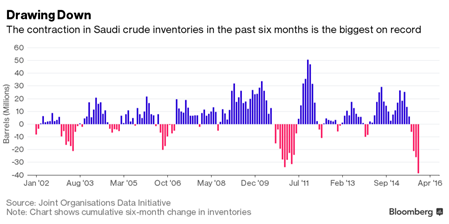 OPEC, as a whole, is also currently operating near capacity. Figure 7 below shows OPEC's spare production capacity, which is currently at the lowest it has been since 2008.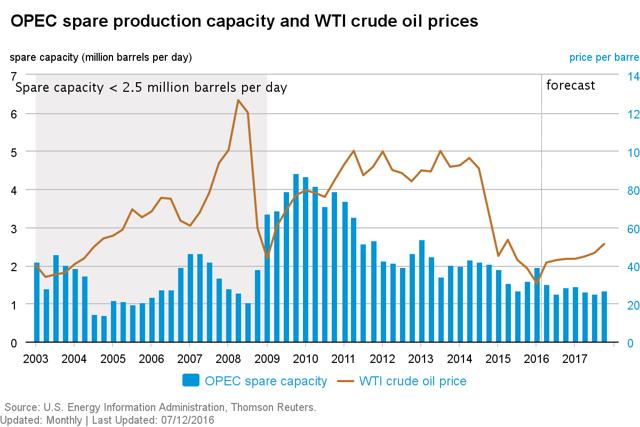 This also reminds us of the situation in 2007-2008, when OPEC's spare production levels were also very low, limiting its ability to respond to demand and price increases. We believe that as the fall in US crude production accelerates, other major producers will not be able to keep up with demand, and sustained prices above $60 per barrel will become necessary to bring more producers back into the game to help support unmet demand.
The options market for WTI futures seems to agree that downside is limited. A Bloomberg article from earlier today shows that investors are paying the smallest premium to hedge against further declines in oil prices since April (Figure 8 below).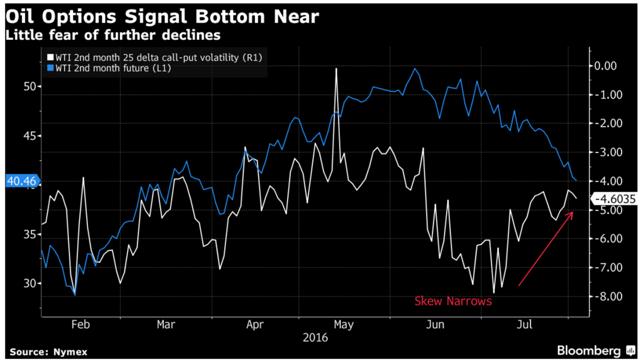 How are we trading this low? We believe that the recent correction in energy shares will be short lived, as rising oil prices in the coming weeks will lead the group higher. However, we see the current setup as a perfect opportunity for some high short term yields via the 3x leveraged inverse crude oil ETF (NYSEARCA:DWTI). We like to take advantage of some of the inefficiencies of leveraged ETF's and loss-compounding effects, and take advantage of intermediate to long term market bottoms by selling DWTI short. As oil oscillates defending $40 per barrel, DWTI shares will likely drift down and begin to plummet as crude approaches $45-50.
Disclosure: I am/we are short DWTI.
I wrote this article myself, and it expresses my own opinions. I am not receiving compensation for it (other than from Seeking Alpha). I have no business relationship with any company whose stock is mentioned in this article.