MY CURRENT RATING: HOLD
In my last analysis of Pentair Inc. (NYSE:PNR), I made the argument that the company was trading at an attractive valuation, and that as a result of the prior price drop, the company was likely undervalued.
Subsequently, we have seen Pentair rise from $49 in February of this year to $63 at the time of writing:
Moreover, Pentair just beat on earnings at $1.11 per share compared with the prior analyst estimate of $1.10. From a financial standpoint, I see Pentair as having significant potential to grow further.
Previously, significant concern was given as to whether Pentair could sustain long-term growth given that oil prices continue to head lower. While water services forms an important part of Pentair's business, it is still merely a part of the business. With regard to the oil and gas business segment specifically, Pentair has recently taken the decision to divest of its Valves & Controls segment. While the move has come under fire in that the business is being divested of at a lower price, this could well be a good move long-term as it allows the company to develop a more strategic focus on the water industry specifically.
With competitor Xylem (NYSE:XYL) up by 28% since the beginning of 2016, the company appears to be thriving due to no energy exposure at the present time. Notwithstanding this, the water industry itself is not immune to a slowdown depending on the sector you look at. For instance, while Xylem saw revenues increase by 12.4 percent across its Water Infrastructure segment, revenues from the Applied Water business fell 1 percent year-on-year due to a slowdown in sales across the US and China. Moreover, where Xylem differs from Pentair is that the company has direct exposure to public water utilities, while Pentair is more fluid-control focused. While Xylem is currently outperforming Pentair, we saw Xylem hit a few headwinds in 2013 as a result of a slowdown in public utilities and industrial markets in Europe while Pentair continued to outperform: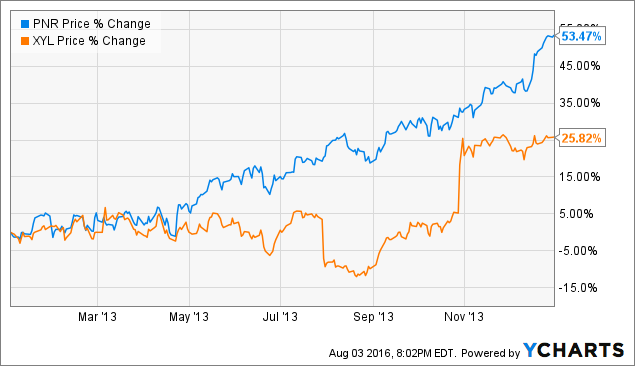 While there is a case for saying that increased urbanization worldwide would lead for greater demand for services from Xylem (which I do not deny to be the case), this does go to show that a slowdown in public utility investment, which can be expected in economically slower times, could have a more direct impact on Xylem.
Moreover, from a personal investing standpoint I love companies that are able to continuously generate vibrant free cash flow. Even with short-term pressures on Pentair and lower energy prices placing strain on the company, we see that their free cash flow per share continues to outperform Xylem: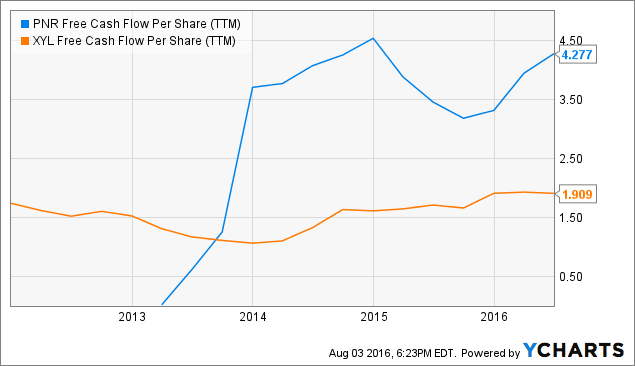 While Xylem could still see growth and this article is not arguing a short position on the company per se, I take the view that Pentair ultimately has a better valuation on the basis of free cash flow growth. Specifically, I do not see oil and gas as a long-term threat for the reasons outlined above.
In this context, should oil prices continue to dip, then we could see short-term headwinds for the company. However, the fact that earnings have still come out strongly in spite of falling prices reaffirms my confidence that Pentair's long-term future is sustainable, and a dip could signal a buying opportunity under the circumstances.
To conclude, I rate Pentair as a hold at this time, due to short-term uncertainty regarding oil prices. However, the long-term future of this company remains on solid ground, and a short-term pullback could serve as a buying opportunity should growth in free cash flow and earnings remain solid.
Disclosure: I/we have no positions in any stocks mentioned, and no plans to initiate any positions within the next 72 hours.
I wrote this article myself, and it expresses my own opinions. I am not receiving compensation for it (other than from Seeking Alpha). I have no business relationship with any company whose stock is mentioned in this article.