The airline industry is a volatile and unsettling one for investors. Its cyclical and capital intensive nature have led to numerous corporate failures in the past. With six major US airline stocks trading much closer to their 52-week lows than to their 52-week highs, one might reasonably wonder if an economic slowdown/recession is in the cards. I examine 6 major US airlines (Delta (NYSE:DAL), United Continental Holdings (NYSE:UAL), American Airlines (NASDAQ:AAL), Southwest (NYSE:LUV), Alaska (NYSE:ALK), and JetBlue (NASDAQ:JBLU)) for trading opportunities in this column and the downward trend is similar on several metrics. United Continental Holdings came up the strongest, but there is not a whole lot of light between the major names in this sector.
Overall, why the downward trend? I think the pessimism may be overdone. One thing these companies all have in common that they didn't in the past is rock-solid earnings, ample cash flow to service their debts, and worst case scenarios already being priced in. People are not considering how competition in the industry has driven prices down and global air traffic keeps increasing because of how cheap it is to fly now. I don't see this trend reversing anytime soon, especially in North America with our non-existent high speed rail network.
When I talk about airlines' cheap earnings, I'm talking about sub-10 P/Es, double-digit returns on equity, sub-5x price to cash flows, and knockdown prices on 6 major US carriers. This is like a value investing 101 fantasy (okay, there's no sub-1.0 price to books, but good luck finding those in this sector):

Unfortunately, if we are sticking with this opportunistic value theme, there is no "blood in the streets," despite the pain short and long-term investors in these stocks have felt in the past year. The longer view reveals we are in fact late to the party. The airlines were left for dead even as recently as 2011, as you can see from this 5-year chart on which all of them except American absolutely crush the S&P: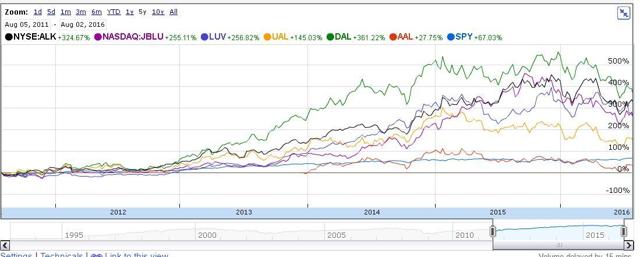 (Source: googlefinance.com)
Over a ten-year period market, outperformance is harder to come by. I'm showing this to demonstrate the perils of getting into this sector at the beginning of an economic slowdown. If you look at the group of airlines (and exclude mega-winner Alaska Air from the 10 year), you see that someone who put money into any of them 10 years ago would have been "underwater" until about mid-2013, with only the last straggler (American) being lifted by the tide in 2014.

Getting in during the doldrums of 2009 would have been enormously profitable, of course, like it was in almost anything, but hindsight is 20/20. There is, however, another side to the airline stocks' meteoric rise that may be part of another "new normal." There is more to this story than just sentiment: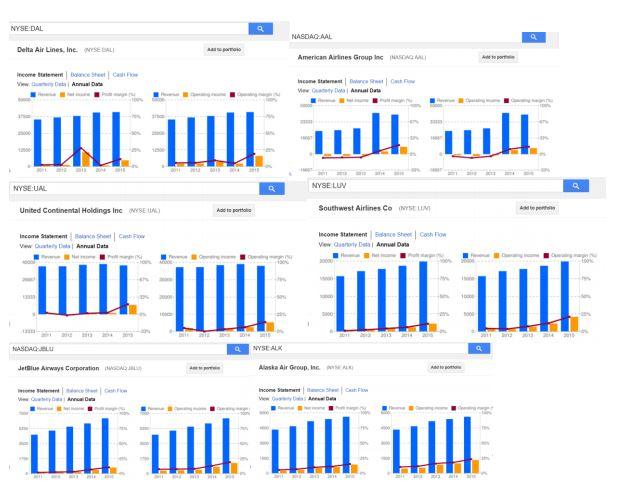 (Source: googlefinance.com)
Without exception, the profit margin red lines on these income statements over the last four years literally resemble planes taking off. Warren Buffett's famous assertion that he would never invest in airlines made sense as recently as 2012. At that time, all major carriers were struggling to eke out a profit, and some of them weren't even doing that. What nobody saw coming was the oil price collapse, and I don't think it's a coincidence that there was a strong trend starting in 2014, emerging in earnest in 2015, of airlines' profit margins taking off, going from close to zero to double digits.
Yes, the stocks can and will get hit hard again. People don't take vacations when the economy is struggling and business travel is also slashed. Airlines also have their high cost structures, legacy employee obligations, and pressure from analysts to boost the "per-seat" revenue - making profitability a moving target. But these improving margins are driven by growing traffic and lower fuel costs. If the lower fuel costs are here to stay, and I think they might be for awhile, given that we've gone in 2 years from a world where oil was worth at least $100 a barrel to one where it couldn't keep its head above $52, then more investors might get the memo that airlines actually make money now.
Comparing the datasets above, the airlines I would pick to play the sector are UAL and AAL. They are the middle of the pack in terms of liquidity (14 and 18 billion market caps, respectively), have the cheapest priced cash flow and were both restored to profitability in 2014, thus having the fastest expanding margins and sporting triple-digit ROE numbers for 2015. Neither managed to grow absolute revenue from 2014 to 2015 which the other cheaper stock, JetBlue, did. JetBlue loses, however, because its ROE is not as big and it has the smallest market cap, putting it at a disadvantage for employing options strategies (larger cap stocks offer better liquidity and less slippage on contract bid/ask spreads).
I would, on this basis, be looking to accumulate some UAL as a position. Because I like to manage my portfolio with options 6 weeks out, especially on names that don't pay dividends like this one, I looked at the chain in mid-September.
In terms of options, the market is pricing in more volatility for the airlines than it is for itself, even though the VIX has been crushed and is breaking new lows every day while the SPY continues to break higher despite low volume and lousy breadth.
As of this afternoon, all these companies' options are trading at a discount to their historical volatility, except for JBLU, and also under the 50th percentile for the last year for their implied volatility. The one whose options have the most premium, with the highest IV rank, should be UAL.

The option market is pricing in about a $6 move for UAL over the next 6 weeks or 32 trading days.
Therefore, 55 cent September 16 $39 put contracts could be sold, at the time of this writing, for $55 a piece minus commissions. This would commit you to $3900 or 100 shares per contract. If those shares are put to you, their cost base can then be lowered by writing calls against them. This strategy gives you a better chance of earning than a return than buying calls, because if the stock goes the other way, those will lose their value very quickly.
Despite the sector's reputation for value destruction, I think there could be a secular trend toward better long-term profitability. If that is the case, a conservative option strategy like this could be used to add what I think is the best opportunity of the bunch right now, UAL, to your portfolio.
Disclosure: I/we have no positions in any stocks mentioned, and no plans to initiate any positions within the next 72 hours.
I wrote this article myself, and it expresses my own opinions. I am not receiving compensation for it (other than from Seeking Alpha). I have no business relationship with any company whose stock is mentioned in this article.
Additional disclosure: I am short the September UAL 40 puts.