Introduction
Occidental Petroleum Corporation (NYSE: OXY) is an American exploration and production company. The company is headquartered in Houston, Texas, however, has operations in the United States, Middle East, and South America. The company is one of the largest oil and gas producers in the United States with a $57 billion dollar market cap and a very respectable and secure dividend yield of roughly 4.1%.

Occidental Petroleum Logo - BP Blogspot
Occidental Petroleum has had an easier time than most since the start of the oil crash. The company has watched its stock price drop from just under $105 per share to less than $75 per share. This represents a share price drop of almost 30% from its pre-crash highs. While not in the same range of share price drop as ExxonMobil (NYSE: XOM) and Chevron (NYSE: CVX), the company's share price drop is better than many other in the industry and the company continues to maintain a strong dividend yield.
Recently ExxonMobil and Chevron are back near their pre-oil crash prices with ExxonMobil roughly 15% below its pre-crash prices and Chevron roughly 23% below its pre-crash prices. These companies offer a respectable dividend yield of 3.43% and 4.25% respectively compared to 4.10% for Occidental Petroleum. I think the company's strong dividend, secure market position, and growth potential coupled with the fact that the company is still 30% below its pre-crash prices means that the company is a strong investment at present times.
Occidental Petroleum Overview
Let us begin by getting an overview of Occidental Petroleum.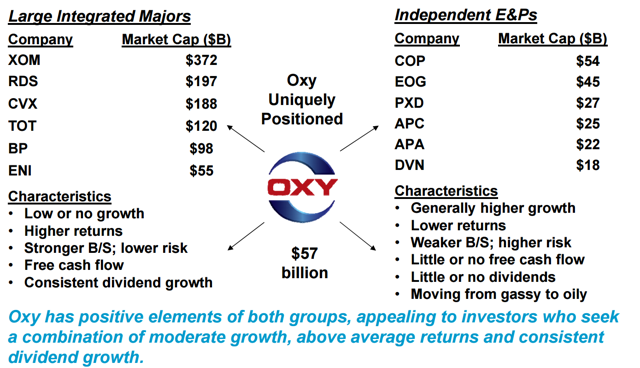 Occidental Petroleum Overview - Occidental Petroleum Investor Presentation
The above image provides an overview of the Occidental Petroleum in comparison to the large integrated oil majors and the independent exploration and petroleum companies. With a $57 billion market cap, Occidental Petroleum is the largest independent exploration and petroleum company larger than a much more widely known company ConocoPhillips (NYSE: COP). More so, even compared to the large integrated majors, the company has a good size noticeably smaller than some of the largest ones but bigger than others like ENI (NYSE: E).
Occidental Petroleum as a company that is larger than all independent exploration and petroleum companies and smaller than most large integrated majors combines the best of both works. The company's potential means that it can achieve moderate returns and growth while providing strong cash flow. This strong cash flow allows it to provide a competitive and very secure dividend. Exploration and petroleum companies like ConocoPhillips have been forced to cut their dividends to handle the crash. Occidental Petroleum has, however, been able to maintain its dividend providing investors with strong rewards.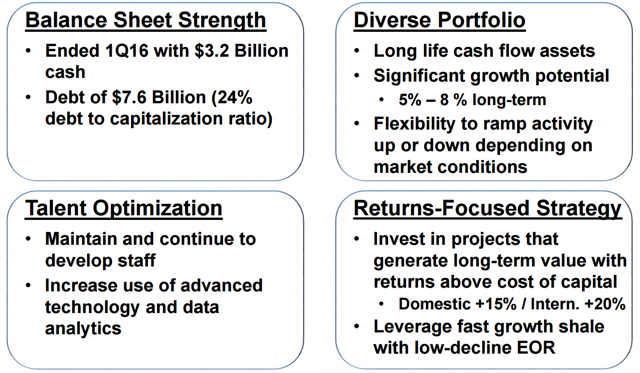 Occidental Petroleum Balance Sheet and Portfolio - Occidental Petroleum Investor Presentation
Now that we have a broad overview of Occidental Petroleum, it is now time to discuss the company's keys to success. Namely the combination of the company's growth and returns along with the company's financial security.
The company ended 1Q 2016 with $3.2 billion in cash and $7.6 billion in debt. The company's debt to capitalization ratio of 24% is 20% below the 30% debt to capitalization ratio we see in Chevron investor presentations that often separates oil companies from being secure and more risky. The company's secure balance sheet has allowed it to maintain its staff and continue to develop its team, the company wasn't forced to lay off massive amounts of workers just to maintain its financial strength. This loyalty in turn will inspire a more productive work environment.
The company's portfolio also remains strong. The company has a number of assets that will provide long-term cash flow and sees itself having 5-8% long-term growth potential. This growth potential will allow the company to continue to increase its dividends and reward shareholders. More importantly, these assets allows the company the flexibility to ramp activity up or down based on market conditions. That means the company can cut costs in a market downturn and increase production when prices recover.
Capital Spending and Financial Strength
Now that we have an overview of Occidental Petroleum including its potential to achieve moderate growth while providing strong dividends and its strong financial position, it's now time to discuss the company's capital spending plan.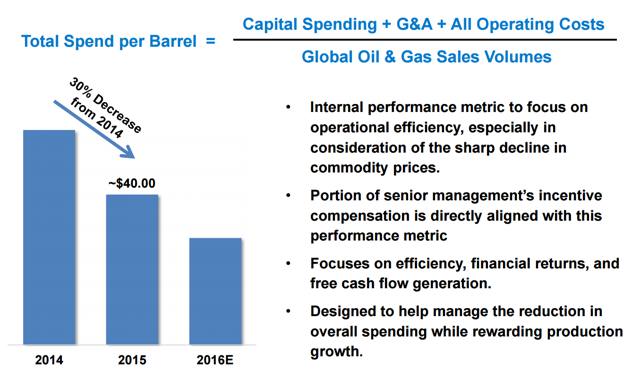 Occidental Petroleum Total Spend Per Barrel - Occidental Petroleum Investor Presentation
The above image shows Occidental Petroleum's current cost situation for attracting oil from the ground. The company's current total spending per barrel is a mere $40 per barrel and that includes the cost of finding that oil. That is a 30% decrease since the start of the crash and means that even despite the recent drop in oil prices, the company is making a small profit and present prices. More importantly, there are several important things to be seen here.
The first is that the company expects this margin to go down further in 2016. A further decline in this margin means the company would be making even higher profits at present oil prices. The fact that a portion of senior management's compensation incentive is directly aligned to this performance metric means that the company has incentive to further bring down this total spending per barrel in future years.
The other important thing to be seen is that these results are not achieved instead of production growth. That is, take a hypothetical oil company. Our hypothetical company has three fields, one with $10 spending per barrel, one with $15 spending per barrel, and one with $20 spending per barrel. On day 1, the company is spending a blended total of $17 per barrel. Now if this company wanted to market that it has cut down overall spending, it could turn of the taps for the second and third fields and now it has just own field and its spending per barrel is $10. That is something a number of oil companies do.
However, Occidental Petroleum is reducing overall spending while at the same time trying to grow its production. That means that the company's decrease in spending per barrel is coming not from production cuts but instead from increased operational efficiency. That means the company is not only saving money now, but when oil prices recover, a number of the changes the company has made will likely remain in place meaning the company's profit margins will be higher and its costs per barrel will continue to remain lower.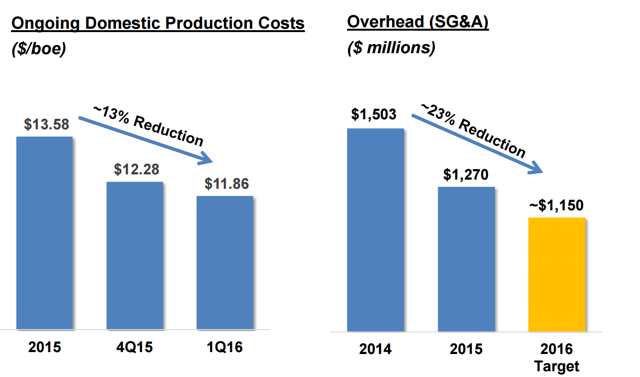 Occidental Petroleum Domestic Production Costs and Overhead - Occidental Petroleum Investor Presentation
More importantly, Occidental Petroleum's domestic production costs have continued to remain low while the company's overhead costs are forecast to drop by another $120 million this year after a $233 million drop from 2014 - 2015. While many will say that the total spend per barrel is the important measure to keep track of for an oil company as this shows its overall costs for getting one barrel of oil, I would argue in times of financial weakness, it is the production costs that are most important.
Occidental Petroleum, like most other oil companies, has significant reserves that would allow it to produce for another decade or longer with no additional exploration. As a result, should worse come to worse with a drawn out crash, Occidental Petroleum can halt exploration today and produce oil with the above cost profile allowing the company to make a respectable amount of profits. Don't get me wrong, the reserves will be depleted and the company will eventually need to re-invest the capex it cuts now. However, in a pinch, the numbers above provide an idea of the amount of cash the company can generate.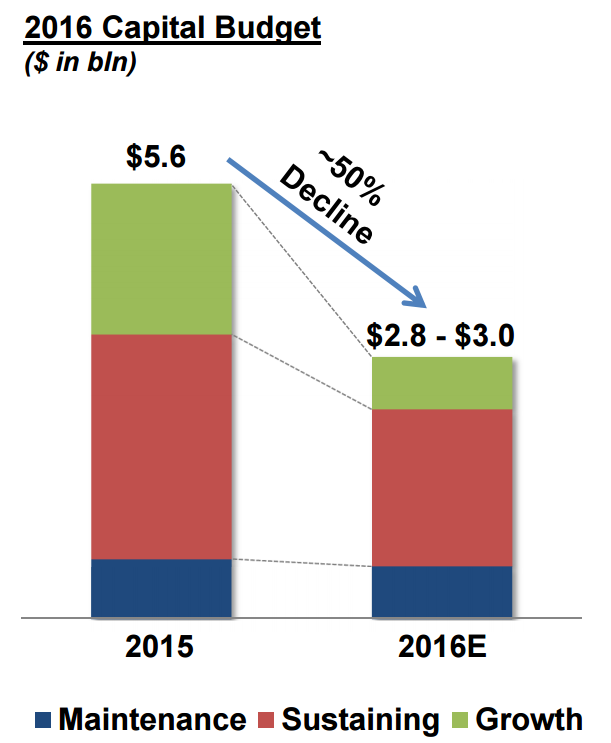 Occidental Petroleum 2016 Capital Budget - Occidental Petroleum Investor Presentation
For 2016, Occidental Petroleum is forecasting a capital budget of $2.8 - $3.0 billion a significant 50% decline from the company's $5.6 billion 2015 capital budget. The majority of the spending cuts is coming from a decline in growth capex with sustaining capex also taking a hit. The decrease in sustaining capex, that is the capex the company needs to sustain its present production can be attributed to increased efficiency and the numbers above show off a strong picture of the company's efficiency.
However, the company is also significantly cutting its growth capex. I have said it before and I will say it again, during the oil crisis, I would rather that the financially secure oil companies such as Occidental Petroleum borrow some money and undertake increased exploration and/or acquisitions when prices are lower. However, the company is still keeping respectable growth capex and believes that its reduced activity levels will not harm its progress on its growth prospects.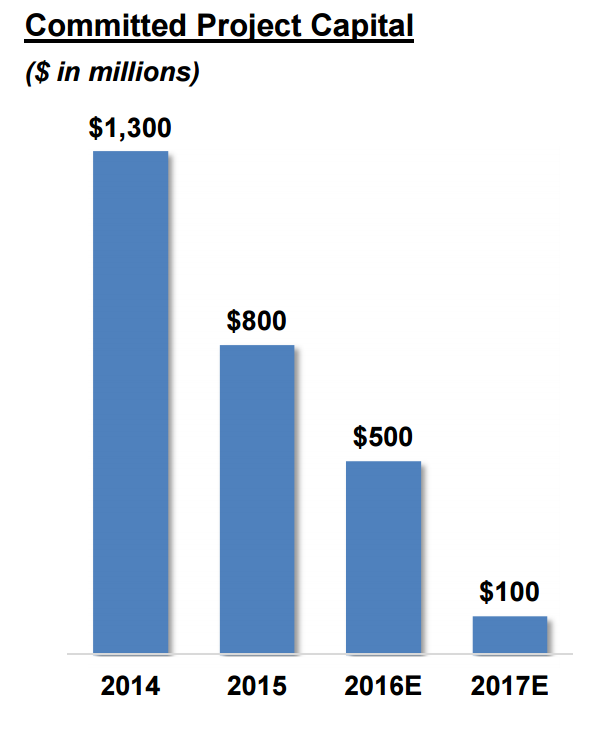 Occidental Petroleum Committed Capital - Occidental Petroleum Investor Pr
But while I might be unhappy about Occidental Petroleum cutting its overall capex I am very happy that the company is cutting its committed project capital. The company's committed project capital has fallen from $1.3 billion to a forecast $0.5 billion for this year and is expected to fall to just $0.1 billion for 2017. This drop in committed project capital means that Occidental Petroleum has much more wiggle room in choosing how much it will spend and wear. That means should the oil crash become drawn out, the company will have the freedom to cut costs without having substantial amounts of obligated capex that will hurt its financial security.
Potential
Now that we have had a full introduction to Occidental Petroleum and have discussed the company's capital spending program program which ties into its financial strength, I want to finish up by talking about the company's potential.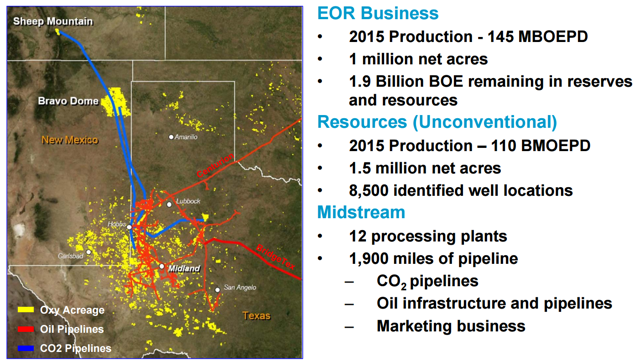 Occidental Petroleum Permian Basin Overivew - Occidental Petroleum Investor Presentation
Occidental Petroleum's assets center around the Permian Basin which is its core asset. The company's 2015 production from the region was 255 thousand barrels per day resulting in billions in barrel. In total the company has 1.9 billion barrels in reserves and resources which means That means that this region has 20 years in reserves and resources, so the company could shut off the exploration tap today and not run out of oil until 2036.
The company's assets in this region include an astounding 1.5 million acres across its unconventional resources and EOR business with an astounding 8500 well locations. These identified well locations means that the company does not have to play a guessing game with its exploration. Instead it can drill already identified wells increasing both its reserves and its production. More importantly, that means that the company can cut capex in the short term for savings and when it starts capex up again have already identified locations to explore.
These identified locations coupled with the company's large assets means that Occidental Potential has the potential to significantly grow its production in the coming years. However, it also gives the company the freedom to slow down exploration and use up its existing reserves and identified exploration locations to increase its financial strength during the downturn.
Conclusion
Occidental Petroleum has had a difficult time since the start of the oil crash. The company's 30% drop is better than many other oil companies but it's still a ways behind the drops many other oil majors have experienced. And as we saw from this article, Occidental Petroleum has many of the qualities of the majors with many of the advantages of a smaller company.
The company maintains a strong dividend for its investors yielding over 4%. At the same time, the company has more than 20 years of reserves from its key Permian Basin asset and 8500 identified locations as potential well-sites. The company has been aggressively cutting costs and has a debt to capitalization ratio of just 24%. This means that Occidental Petroleum has the financial strength to handle the oil crash while continuing to grow and reward investors.
Because the company's stock price continues to remain low despite its impressive financial security, I recommend interested investors open positions in the stock at its present price.
Disclosure: I am/we are long OXY, XOM, CVX.
I wrote this article myself, and it expresses my own opinions. I am not receiving compensation for it (other than from Seeking Alpha). I have no business relationship with any company whose stock is mentioned in this article.