On August 4th, Nokia (NYSE:NOK) reported 2Q16 earnings.
Non-IFRS revenues of €5.7 billion (about $6.35 billion) in the quarter missed consensus by 2%, and represented a discouraging but largely expected drop of 11% YOY. The company reported notable weakness in the Mobile Networks subdivision, part of the Ultra Broadband Networks segment. But the top-line pain was felt across the board, with IP Networks and the highly profitable Nokia Technologies both down 11% YOY as well. Non-IFRS EPS of €0.03 largely met timid expectations of $0.04.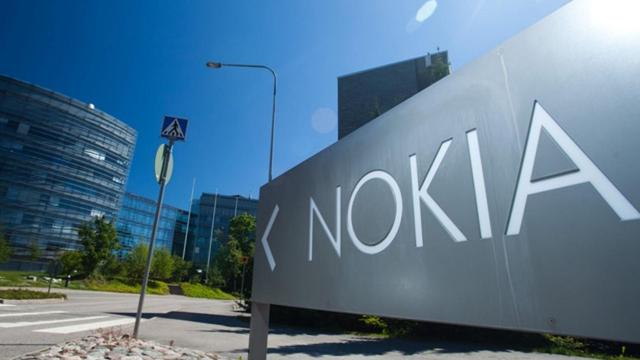 Credit: Bloomberg
Operating margins fell off a cliff in the YOY comparison, at 5.8% vs. 10.2% in 2Q15. CEO Rajeev Suri attributed part of the weakness to "a meaningful negative impact from one of [Nokia's] major customers in Latin America", which resulted in about 1 percentage point in margin headwind. Op profit for the company's Networks business "decreased primarily due to lower gross profit, partially offset by lower R&D and SG&A expenses".
Net cash deteriorated €1.2 billion sequentially to €7.1 billion, largely due to a €810 million increase in net working capital (a whopping €2.2 billion increase in the YOY comparison). Restructuring costs played a minor role, contributing €80 million to the drop - less than I expected, considering the potential redundancies from the Alcatel integration.
Nokia's management has been providing little or wide-ranging guidance lately. This time, FY16 op margin expectations for the Networks business have been narrowed down from "more than 7%" to "7%-9%", while Network's FY16 revenue guidance remains unchanged. More significantly, the Alcatel synergy expectations for 2018 have been raised from €900 million to €1.2 billion.
Source: Nokia's Press Release
My initial thoughts on NOK's 2Q results and future expectations
In January, I argued that NOK seemed "significantly overpriced due to the less-than-exciting prospects of the networking industry and the stock's rich valuations, despite management's resolve to generate €900 million in synergies from the Alcatel acquisition by 2018". Over the following four months, NOK fell 27% to $5.21/share, while the S&P 500 (NYSEARCA:SPY) was up 10%.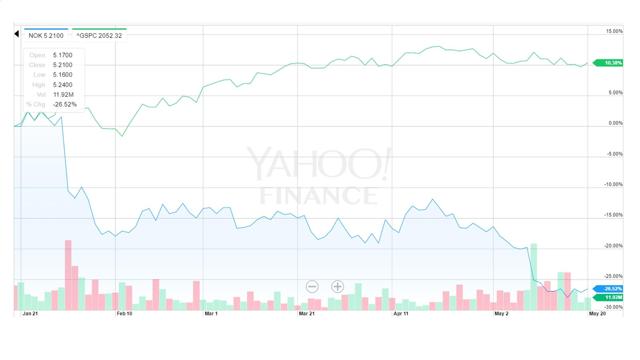 Source: Yahoo Finance
Then in late May, I revisited my thesis on NOK, concluding that "the stock [was] fairly valued at $5.25/share", and that "I [expected] uncertainty to cause volatility and overall sideways movement in the stock for the next several quarters". Since then, in only about 10 weeks, NOK has reached lows of $5.08/share and highs of $5.93/share, only to return to $5.23/share today, pre-market.
Sifting through the noise, the ups and downs, the good and the bad, my views on NOK remain unchanged. Partly because the company's 2Q results, while lacking meaningful positive developments to excite investors, have fallen largely in line with my expectations: material top-line headwinds, softening margins (at least in the short term) as a result of price pressures, and continued (and successful, so far) efforts to cut costs though synergy. As I had mentioned previously, "the ultra-broadband networks business, responsible for bringing in over two-thirds of the company's revenues in 2015, is likely to remain under pressure from reduced carrier capex and the expected scale-down in LTE rollouts around the world. I doubt that the more realistic investors and analysts, myself included, would be willing to bet on more robust top-line growth in the near term, until at least enterprise becomes a much larger customer segment and investments in 5G begin to break client capex inertia".
The minor outlook updates will do little to please investors. The exception could be the Alcatel synergy expectations for 2018, which have been raised once again, this time more significantly from €900 million to €1.2 billion. As I have estimated, "each €100 million in additional annual savings [should] result in $0.01-$0.02 in increased EPS, leading to about $0.10-$0.20 (2%-4%) upside in the stock price". So the additional €300 million in cost savings could be worth, in my view, about 6%-12% upside in the stock price by 2018, if realized as per management's expectations.
In conclusion: shares seem fairly valued
I have not changed my view on NOK, following the company's 2Q earnings results. There is still significant uncertainty surrounding the company's prospects, following the still incipient Alcatel acquisition and amidst a tough industry landscape. This is not to say that shares could not once again shoot to $6.00 over the next several weeks, particularly if today's 8% pre-market drop is proven to be overdone.
But the general direction of the stock, in my opinion, is sideways for a few more quarters to come.
Disclosure: I am/we are long SPY.
I wrote this article myself, and it expresses my own opinions. I am not receiving compensation for it (other than from Seeking Alpha). I have no business relationship with any company whose stock is mentioned in this article.