If history has taught us one thing about Russia, it is that its resilience should not be underestimated. Its legendary winters have forged a determination in its people that, when tested, particularly by foreigners, sees them dig in for a long hard fight. After the end of the siege at Leningrad (January 1944), Russians proudly proclaimed, "Troy fell, Rome fell, Leningrad did not fall." The length: 900 days. The toll: 670,000 to 1,500,000 people.1
Given the country's recent history, it should come as no surprise that Russian markets are staging a comeback.
Russia in Recovery
The Russian economy may have contracted in the first quarter (1.2% growth year on year), but it was less than expected.2 During the same period, the economy benefited both from higher oil prices and a stabilization in the ruble's exchange rate. In June, stating steady inflation as a reason, the Bank of Russia lowered its key interest rate by 50 basis points to 10.5%.3 At the half year mark, Russia's stock market had risen 8.49% in local currency (ruble) terms for the six-month period and 24.78% in U.S. dollar terms.4 As of July 25, the MVISTM Russia Index (MVRSXTR) was up 23.21% YTD. At the same time, small-caps as measured by the MVIS Russia Small-cap Index (MVRSXJTR) soared 40.47% in the first half of the year.
2016 YTD Total Returns 12/31/2015-7/25/2016
MVIS Russia Index (MVRSXTR) versus MVIS Russia Small-Cap Index (MVRSXJTR)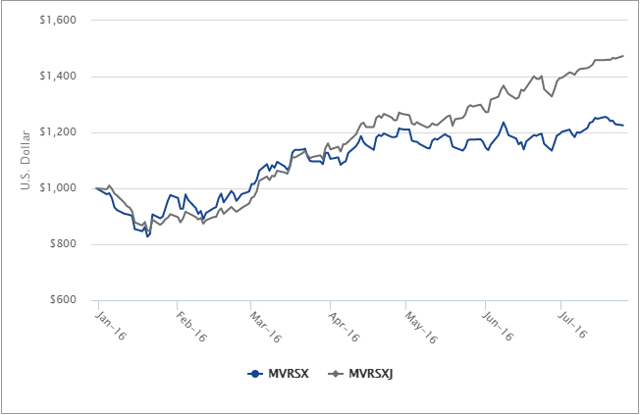 Source: MVIS and VanEck.
Pragmatism and Consistency
Why does Russia remain resilient? On the economic front at least, two characteristics stand out: pragmatism and consistency.
A good illustration of Russia's pragmatism is the reaction of Minister of Finance Anton Siluanov at the beginning of March, to Moody's Investors Service placing Russia on review for a downgrade. Assigning no blame, Siluanov noted that the rating agency's move indicated "…the need to adapt the budget system to the new reality in the commodities market."5
When it comes to consistency, you need to look no further than the Central Bank of Russia. Following the imposition of sanctions, the central bank continued to opt for a more orthodox policy response than was initially expected. This has allowed Russia's currency to act as a shock absorber, and it has worked. The ruble sold off almost 75% in 2015 and inflation at the end of this year could be as low as 7%. Russia continues to pay its debts despite having its market access severely restricted under sanctions and as a result the government's external debt has approximately halved in the past two years (falling to $31.5 billion).4
"Russian Markets Did Not Fail"
Russians may someday proclaim, Communism failed, Western Sanctions failed, but Russian markets did not fail. The Russian equity markets can be accessed through VanEck Vectors Russia ETF (NYSEARCA:RSX) and VanEck Vectors Russia Small-Cap ETF (NYSEARCA:RSXJ).
IMPORTANT DISCLOSURE
1 Russiapedia: Russian history: The Great Patriotic War
2 Focus Economics: Russia Economic Outlook
3 Ibid.
4 Bloomberg
5 Reuters: Moody's warning highlights pressure on Russia to adapt to lower oil
The information herein represents the opinion of the author(s), but not necessarily those of VanEck, and these opinions may change at any time and from time to time. Non-VanEck proprietary information contained herein has been obtained from sources believed to be reliable, but not guaranteed. Not intended to be a forecast of future events, a guarantee of future results or investment advice. Historical performance is not indicative of future results. Current data may differ from data quoted. Any graphs shown herein are for illustrative purposes only. No part of this material may be reproduced in any form, or referred to in any other publication, without express written permission of VanEck.
An investment in the Funds may be subject to risks which include, among others, expropriation and/or nationalization of assets, restrictions on international trade, confiscatory or punitive taxation, regional conflict, political instability, armed conflict, underdeveloped securities markets, inflation, governmental control of economic activity, suspension of redemptions of creation units, and currency fluctuations, all of which may adversely affect the Fund. Foreign and emerging markets investments are subject to risks, which include changes in economic and political conditions, changes in foreign regulations, changes in currency exchange rates, unstable governments, and limited trading capacity which may make these investments volatile in price or difficult to trade. Small- and Medium-capitalization companies may be subject to elevated risks. A Fund's assets may be concentrated in a particular sector and may be subject to more risk than investments in a diverse group of sectors.
MVIS Russia Index and the MVIS Russia Small-Cap Index are the exclusive property of MV Index Solutions GmbH (a wholly owned subsidiary of Van Eck Associates Corporation), which has contracted with Solactive AG to maintain and calculate the Indices. Solactive AG uses its best efforts to ensure that the Indices are calculated correctly. Irrespective of its obligations towards MV Index Solutions GmbH, Solactive AG has no obligation to point out errors in the Indices to third parties. VanEck Vectors Russia ETF (RSX) and VanEck Vectors Russia Small-Cap ETF (RSXJ) are not sponsored, endorsed, sold or promoted by MV Index Solutions GmbH and MV Index Solutions GmbH makes no representation regarding the advisability of investing in the Funds.
Index returns are not Fund returns and do not reflect any management fees or brokerage expenses. Investors cannot invest directly in the Index. Returns for actual Fund investors may differ from what is shown because of differences in timing, the amount invested and fees and expenses. Index returns assume that dividends have been reinvested.
Fund shares are not individually redeemable and will be issued and redeemed at their Net Asset Value (NAV) only through certain authorized broker-dealers in large, specified blocks of shares called "creation units" and otherwise can be bought and sold only through exchange trading. Creation units are issued and redeemed principally in kind. Shares may trade at a premium or discount to their NAV in the secondary market. You will incur brokerage expenses when trading Fund shares in the secondary market. Past performance is no guarantee of future results. Returns for actual Fund investments may differ from what is shown because of differences in timing, the amount invested, and fees and expenses.
Investing involves substantial risk and high volatility, including possible loss of principal. An investor should consider the investment objective, risks, charges and expenses of a Fund carefully before investing. To obtain a prospectus and summary prospectus, which contains this and other information, call 800.826.2333 or visit vaneck.com. Please read the prospectus and summary prospectus carefully before investing.