Cooper is one of the most critical metals used by industries across the globe. The metal's thermal and electrical conductivity, as well as its malleability make it uniquely versatile in construction as well as technological systems.
A Question of Energy Usage
The future of energy and copper are inexorably tied. Electronics, growing populations, no emission vehicles, etc. will burden current electricity generation systems. Copper is used directly in consumer goods production, and more importantly, in renewable energy production systems. As people and nations demand the replacement of fossil fuel production, the demand for renewable energy production will grow.
The real growth potential for copper is in renewable energy and built-out energy infrastructure. There is no doubt that the increase in demand for renewable sources of energy will grow. The EIA has tracked a decrease of WTI crude oil from $93.17 per barrel in 2014 to $43.57 per barrel in 2015. During the same time frame, electricity averages have risen from 12.52 cents per kilowatt hour to 12.64 cents per kilowatt hour. Although this is not a drastic increase in electricity prices, it does demonstrate that electricity prices can rise while oil, coal, and natural gas prices fall.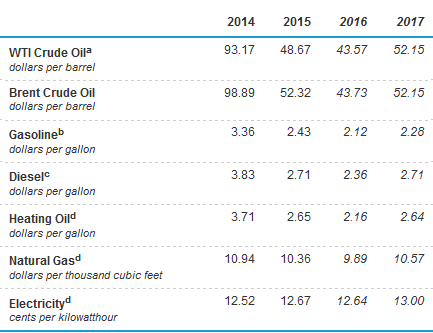 (Source: U.S. EIA)
Demand for electricity and energy will only grow into the future. Increased energy demand is intuitive when you consider that everyone has multiple electronic devices on them at any given time. Everything from phones, laptops, tablets, to Fitbits and other wearables will demand an increasing portion of the power grid. And these electronics are only a small part of the overall energy consumption market. Consider heating and air conditioning requirements worldwide. The world is projected to start using 700 million new air conditioners by 2030. Furthermore, there has been an explosion in production and consumption of electric-powered cars. These cars will lessen the demand for oil in the long term, but put an ever-greater demand on the energy infrastructure. As fossil fuel demand and supply move in opposite directions, renewable energy sources have started to provide larger and larger portions of the world's energy. In the short term, the demand for electricity is being produced by the natural gas and fracking revolution; renewable energy sources will grow in lockstep with other sources.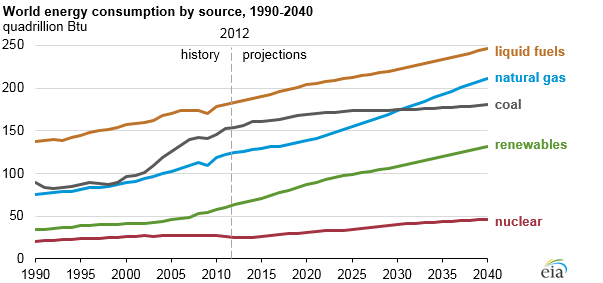 (Source: U.S. EIA)
Copper Creates Energy Efficiencies
Copper is a critical component in new and more efficient power generation and electric systems. Its characteristics are valuable in multiple stages of production of consumer and industrial goods. The metal can also be leveraged to replace outdated systems. Electric motors could be one of the areas of greatest energy efficiency gain. Motor-driven systems account for 43-46% of global electricity consumption. Copper induction motors transfer heat more efficiently than other metal motors. Copper motor systems will begin to replace older systems as industries realize cost efficiencies and the National Electrical Manufacturers Association efficiency standards take effect.
Renewable energy sources use tons of coppers. In photovoltaic solar panels, 5.5 tons of copper are used per megawatt. Grid energy storage systems that preserve energy from intermittent power sources like wind and solar require 4 tons of copper per megawatt. A wind farm can require between 4 and 15 million pounds of copper. Furthermore, non-utility contracts for wind turbines made up 23% of the market in 2014. Offshore wind power generation farms require 10.5 tons per megawatt. Renewable energy production is only one factor in the overall demand for copper. Consumer and public demand will increase as well.
As cities replace older public transit systems with energy-efficient electric systems, the requirement for copper is tremendous. Electric trolleys, buses, and subways require approximately 2,300 of copper per vehicle. Elon Musk has realized this and indicated that Tesla (NASDAQ:TSLA) would get involved in the mass transportation marketplace in the future. Furthermore, with Tesla's recent offer to buy SolarCity (SCTY), a company that installs solar panels, Elon Musk is creating a new industry standard in renewable energy usage. The Tesla Gigafactory is projected to consume 17 million tons of copper alone, which is staggering considering global production.
Production
World production of copper sits around 18 million tons of mine production and 21 million tons of refined production. Chile, the historical leader of copper production, maintains 27% of the world's production. The top copper producing companies are Codelco at 9%, Freeport-McMoRan Copper & Gold at 8.7% and Rio Tinto (NYSE:RIO) at 2.4%. These players will certainly keep pushing overall production in an upward trend. With prices sitting near lows over the past year, global copper production is projected to grow around 3% a year to 26 million tons by 2019.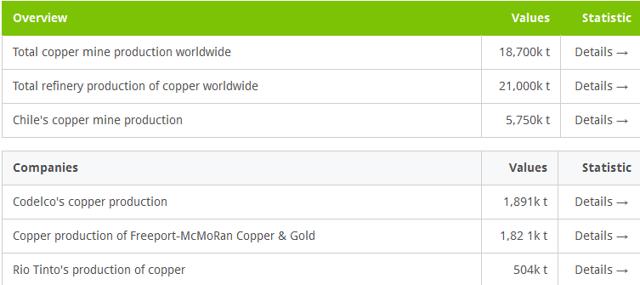 (Source: Statista)
Stockpiles
Stockpiles are a big area of concern for copper. As production has exceeded demand over the last year, the world is starting to build up inventories. The London Metal Exchange has seen stockpiles of copper go from 150 thousand tons in April to 210 thousand tons in June of this year. While this only accounts for about 10% of annual copper production, the trend is indeed indicating growing supply in the market. While it may seem intuitive that copper production will slow at current prices and stockpiles, there has not been any indication of significant supply cuts. China has reported stocks of around 360 thousand tons alone. The country is the major impediment to copper price growth.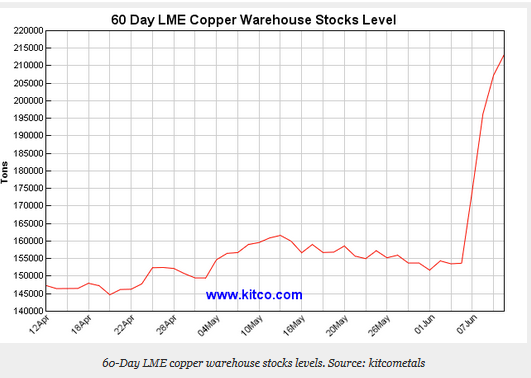 (Source: MetalMiner) (London Metal Exchange)
The China Problem
The tales of China's economic demise are likely exaggerated, but they are not exempt from economic headwinds. The country has seen disposable income growth of around 10% a year since 2006. Although Chinese economic data tends to be in a black box, its middle class continues to grow. That middle class will continue to demand electronics and cars. The middle class demand for goods and services will require more and more energy infrastructure build-out. China has been installing renewable energy production to meet the increased internal energy demand. It is projected to increase solar power alone from 36 gigawatts in 2015 to 250 gigawatts by 2050. The country is consuming 6 thousand tons of copper per gigawatt of power produced.
China accounts for approximately 25% of the world's total copper production at 9 million tons in 2015. The country's estimated 360 thousand tons of copper stockpiles are a fraction of its overall demand. However, as China's growth slows, its demand for copper will slow as well. At current production rates, it is unlikely that the market will quickly clear the current copper glut.
Conclusion
Copper will be a breakout investment vehicle in a few years. For the time being, however, it is best to sit on the sidelines and see how supply equilibrates with demand. Copper has excellent production utility, unlike other rare metals such as gold. This production efficiency will become clearer as the world moves from fossil fuels to renewable energy.
Disclosure: I/we have no positions in any stocks mentioned, and no plans to initiate any positions within the next 72 hours.
I wrote this article myself, and it expresses my own opinions. I am not receiving compensation for it (other than from Seeking Alpha). I have no business relationship with any company whose stock is mentioned in this article.