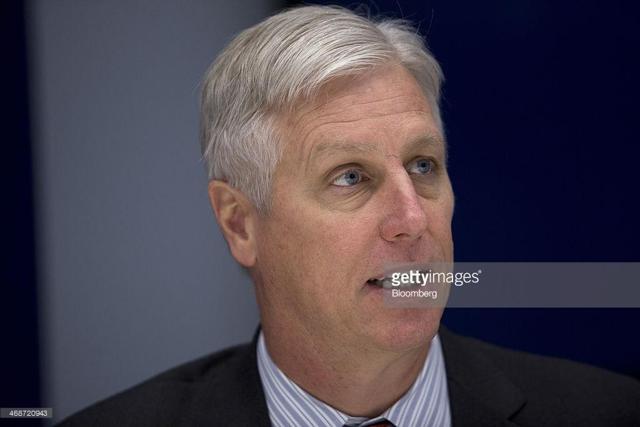 Gilead CEO John Milligan
Gilead's (NASDAQ:GILD) Q2 results exceeded expectations on revenue and eps, but the company lowered estimates of full-year product sales. The market was disappointed by slowing HCV sales. While total product sales were flat Q/Q, HCV sales fell by 7%. As HCV sales growth has waned, so has interest in GILD. Over the past 12 months GILD is down over 30% versus a 4% gain for the S&P 500 (NYSEARCA:SPY).
Japan Was A Disaster Last Quarter
Heading into Q2 Japan had been a superstar within the company's HCV segment. The region had no sales in Q1 2015; sales in the region were $1.1 billion in Q1 2016 or 25% of total HCV sales. In April Japan implemented a mandatory price reduction on HCV drugs. I assumed Q1 starts of 31,000 were likely depressed and Q2 would reflect pent up demand for customers looking to benefit from rate cuts. That was not the case.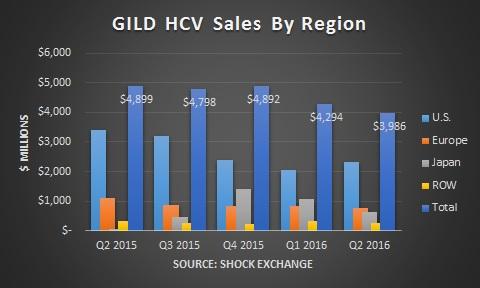 Starts fell 39% to 19,000 -- that was in spite of a 7% decline in average sales price ("asp"). Sales were $619 million, down a total of $470 million. The diminution in Japan eclipsed the company-wide HCV sales decline of $308 million.
Why So Mum On Japan?
I found it odd that both price and starts declined. In my opinion, Japan's demise defined the quarter and I expected management to speak to it. Below is management's description of Japan on the earnings call:
Kevin Young (Gilead): Moving to Japan, as Robin mentioned, revenue was $619 million, down 43% sequentially. We believe this is related to two factors: first, the decline in genotype 1 new patient starts following the Q1 2016 peak when a very large number of individuals with advanced disease initiated therapy; and second, the full three-month effect of a mandatory price reduction previously described on last quarter's call.
Here is a question from an analyst and management's response:
Geoffrey Porges (Leerink Partners): Are you suggesting to us that you think that there is a stable outlook for the HCV revenue on a market-by-market basis from these levels? Or are you suggesting that we should see more like an orderly and steady decline? And could you particularly comment about Europe where I think it was surprising to see patient numbers in the big early markets roll over so quickly, particularly, Germany and Japan. Is that a one-time step-down? Or are we going to continue at or below this level going forward?

Kevin Young (Gilead): I think it is encouraging that our patient starts in the U.S. and Europe have been reasonably steady over the past three quarters. Japan's a different story and I can certainly at some point comment on that this afternoon. I think from my perspective ... I think it's more of the latter comment that there will continue to be a gradual decline in new patient starts, but an equilibrium will be eventually hit.
Management suggested that it would drill down on what makes Japan "different" later on in the call. However, Gilead moved on to other issues and never addressed it again.
Japan's Demise Mainly Driven By Change In Volume
I walked away from the earnings call that Japan's revenue slide was driven by a decline in price and starts. The data suggests that had prices stayed flat then revenue still would have fallen sharply.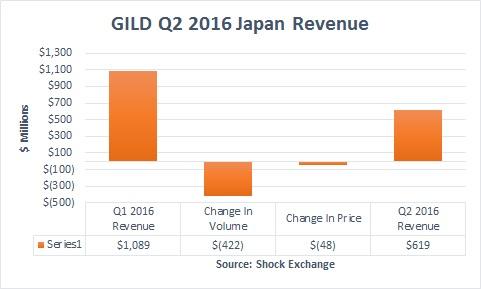 The above chart illustrates a price/volume analysis for Japan.
The change in volume (from 31k starts to 19k) at the old price ($35,129) would have resulted in a loss in revenue of $422 million. Said another, decline in volume was responsible for a 39% decline in revenue.
The change in price/start (from $35,129 to $32,579) at the new level of starts (19k) resulted in a loss of revenue of $48 million, or 4%.
The combined change in volume and price resulted in a 43% Q/Q decline in revenue.
Wider Implications Of Japan Do Not Bode Well
The majority of Japan's revenue slide (90%) came from the decline in volume. Even at the lower price point Gilead could not spur demand. I don't think this came through that clearly on the earnings call. Japan has generated over $3.6 billion in HCV sales since its launch in Q2 2015. About half those sales came in Q3 and Q4 2015 when the launch was fully underway.
The wider implications are that similar trends could happen when Gilead launches Harvoni in China and other markets. SA's Ian Bezek made this point eloquently on a recent article:
The Japanese market launched, grew, peaked and has now declined 50% in size without ever helping overall HCV revenues to reach a new peak. The hope is now for "other international" such as China to come through, but based on the past, you can see that sales drop off very quickly once the first wave of patients gets access.
Those still long GILD are in effect banking on growth from new markets. The company could get an initial jolt from starts in new markets, but the impact might not be sustainable long-term. What bulls would be left with is [i] the U.S. (58% of HCV revenue) where the sickest patients have been treated, and starts and asp are falling and [ii] Europe (22% of HCV revenue) where certain countries are facing budget constraints.
These findings do not bode well for Gilead's forward earnings. The company could be in worse shape than I had original thought. I recommend that investors continue to avoid GILD.
Disclosure: I am/we are short GILD.
I wrote this article myself, and it expresses my own opinions. I am not receiving compensation for it. I have no business relationship with any company whose stock is mentioned in this article.