On Tuesday August 2nd I sold my last remaining bond and am officially without any position in Chesapeake Energy (NYSE:CHK). CHK has been the most traded company for me since I started writing articles on Seeking Alpha. Here are some of them so you can take a look how a trader's logic changes based on price behavior:
Reason 1.
6 months ago I was extremely bullish on the bonds vs. the common stock. In fact I think CHK was one of the most overvalued high volume common stocks in comparison to its bonds. There were many trading days that I just could not believe. How can a bond that is safer offer you more speculative potential than the common stock. This was a clear arbitrage from all angles. Here you can see the performance of 3 of CHK's bonds vs. the common stock for the last 8 months: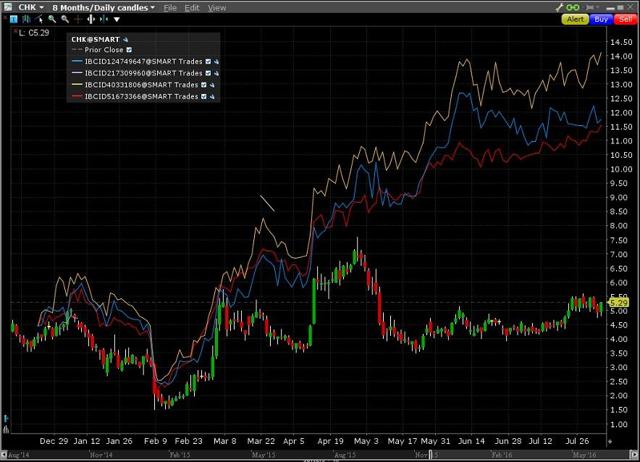 Source: Interactive Brokers.
Price is really what matters when evaluating any asset out there. Some of the bonds were 3 times cheaper when CHK common stock was at the same price. It definitely makes a difference if the house you wanted to buy is 3 times more expensive than your second best choice in 8 months.
Reason 2.
This is just a continuation of reason number 1. When the price of the bond raises, the yield to maturity "surprisingly" lowers. Currently the 5.375% JUN 15 2021 bond for example yields "just" 14% at the ask:

14% Yield to maturity for a 5 year instrument seems too good to be true in this low yield environment. In fact it is not that good when you clearly understand that there is a serious bankruptcy risk and this is the yield to best. This is a table with all current prices of CHK's bonds: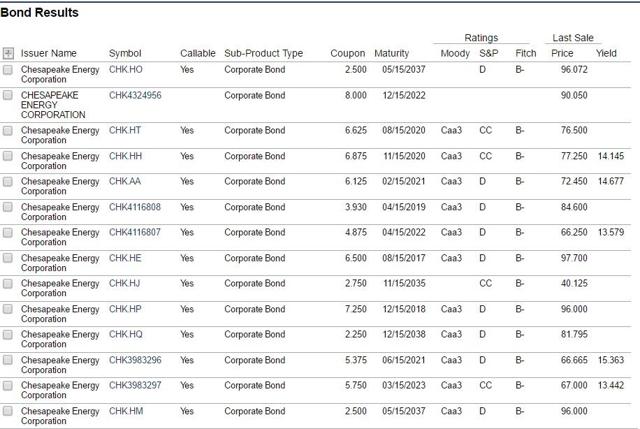 Source: Finra
The bonds with closer maturities are trading at $96 and $97 respectively. This clearly states that CHK is not going bankrupt until 2018. The point here is that the yield received from them is nothing compared with just a "stupid" short squeeze spike in the common stock if for example Carl Icahn tells the word CHK somewhere in public. In fact these bonds now trade almost as "normal" and they are not normal. The "D" rating seen higher does not stand for "defensive issue".
Reason 3.
I am surely not an expert in the oil and gas industry, but there is one simple fact I understand and it is that CHK "makes money" out of selling oil and natural gas: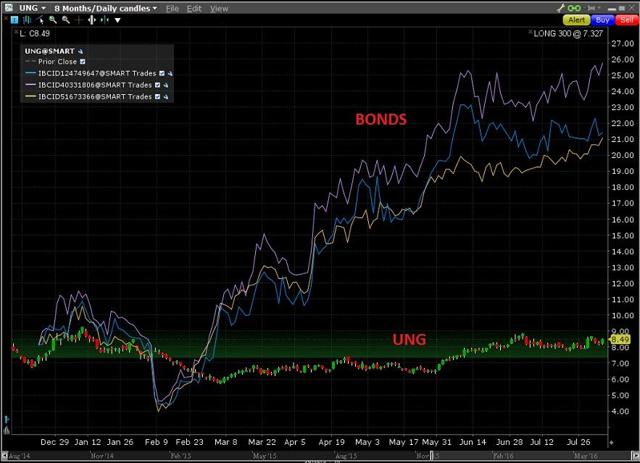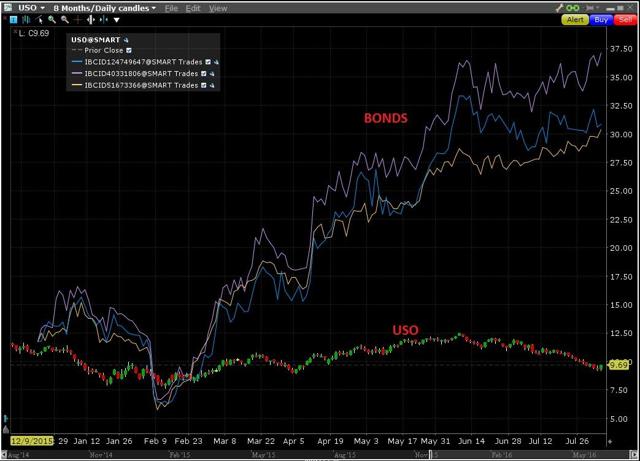 While these 2 commodities don't stabilize at higher levels it does not matter what financial voodoo magic the management does or how many new credits they take. I personally prefer to be long in oil and natural gas currently.
Reason 4.
Alternative financial thinking has to guide you. It is not a sign of weakness for an investor to change his mind. I have always thought that a person in the markets has to be like a sunflower. If an alternative shines brighter why not switch to it. In CHK's case this would mean switch from bonds to convertible preferreds. If you are buying the 14% yielding bond that matures in 5 or 6 years you are betting on the company's survival in 5 years. In 5 years CHKDP for example will have accumulated around 80% of its current value from the suspended dividend. On top of that the company survival will mean that this preferred stock will move closer to parity with the bonds. Currently it has a preferred stock value of less than 15% of par (price-conversion value). The convertible preferred stock is definitely the riskier instrument in the capital structure, but the reward is significantly higher and the risk reward ration puts it in better position than the bonds at least in my view. This is the most simple IRR calculation for the convertible stock:
| | | | | | | | |
| --- | --- | --- | --- | --- | --- | --- | --- |
| PRICE now CHKDP | 2017 | 2018 | 2019 | 2020 | Total 2021 | PRICE in 2021 | cumulative divs |
| -330 | 0 | 0 | 0 | 0 | 987.5 | 700 | 287.5 |
| -330 | 0 | 0 | 0 | 0 | 1087.5 | 800 | 287.5 |
| -330 | 0 | 0 | 0 | 0 | 1187.5 | 900 | 287.5 |
| | | | | | | | |
| IRR 1 | 25% | IRR 2 | 27% | | IRR 3 | 29% | |
The internal rate of return is almost double the yield to maturity received from the bond. They all depend on the same positive scenario for the company. On top of that I highly doubt that a possible bankruptcy will leave the unsecured bonds in a far better position than the preferred stock, but this is just an opinion and I have not done the work to defend this opinion and am also sure that readers know better.
Reason 5.
Profit taking. If someone tells you risk management is all about closing losers, he is not a real trader. Every good trader knows that the hardest thing in the market is to sit tight and hold your winners as long as it takes while they reach your initial goals. In the case with CHK bonds I understand that there might be some more potential left, but I just need to close this winner, because I am scared that the profit might be easily gone. This psychological behavior draws all the Fibonacci lines on the charts and is the number one reason why markets are much more technical than fundamental in the short term. Risk cutting and profit taking have larger effect on prices that are mostly driven by market forces. This emotional deviations from fundamentals are the reason why so much money can be made by the big sharks out there. Any way "no one died from taking a profit"
Conclusion. You should not fall in love with a stock or bond. Once there are better alternatives you have to take advantage. Just don't use this model outside the markets.
Click 'follow' by my name at the start of the article to receive more updates like this.
Disclosure: I/we have no positions in any stocks mentioned, and no plans to initiate any positions within the next 72 hours.
I wrote this article myself, and it expresses my own opinions. I am not receiving compensation for it (other than from Seeking Alpha). I have no business relationship with any company whose stock is mentioned in this article.