Shopify (NYSE:SHOP) impressed investors yet again Wednesday morning reporting second quarter revenue of $86.6 million, smashing the company's own guidance by nearly 8%. Growth in the merchant solutions portion of the business truly emphasizes the phenomenal outperformance during the quarter, with revenue growing ~121% as merchants seem to be taking advantage of options like in-house shipping, payments, and the general idea of vertical integration which Shopify continues to push as a method for milking additional revenue from merchants while maintain the simplicity of the platform. Actual EPS and revenue were well above the estimates I laid out on my last note with EPS coming in at $(0.04) versus my projection of $(0.09) and the street's $(0.08). After a thorough read-through of the quarter and revision to my model, I am increasing my 12-month target to ~$43/share while still utilizing the 7.5x NTM EV/Revenue multiple mentioned in my previous analysis.
Focus Shifts Towards Growth in Premium Merchants via Shopify Plus
Aside from being the fourth consecutive quarter where revenue grew over 90% on a y/y basis, Shopify Plus has emerged as a bright spot with its faster than expected growth in terms of adding well-known brands and translating that growth into a broad increase in both gross merchandise volume (GMV) and monthly recurring revenue (MRR) for the company as a whole. Management stated that on the call that the growth in Shopify Plus clearly drove the 12.5% increase in MRR on a sequential q/q basis and ~70% growth on a y/y basis, which yet again underscores the engagement level that the platform has achieved with most customers. Perhaps the biggest surprise to either the street or my own views comes when considering the split of new Shopify Plus customers, which management stated to be around 50/50 amongst existing lower-level merchants and newer customers like Adele, Justin Bieber, and Boeing. Moreover, this shift in the amount of user on lower levels plans has had a positive impact on average revenue per merchant (ARPM), which is a figure that is a bit ambiguous because the company does not explicitly state the exact number of merchants added/maintained. Running along with the company's reports that the merchant base is "over 300,000", it appears that ~25,000 new merchants were added during Q2, with average revenue per merchant jumping nearly 9% to $28.40 from $26.40 in Q1 (using provided 275K and 300K). Furthermore, ARPM is up over 13% from Q2 2015 when the company sported around 175,000 merchants. Note, the total addressable market remains large for the company and I believe that the level of engagement and retention that the company has been able to maintain should aid in its endeavors of attacking larger portions of the market.
Profitability Re-Affirmed for Q4 2017 and a "Re" Revision of FY 2016 Guidance
The company continues to deliver on its promise of lowering operating leverage to stay on track for profitability as early as Q4 2017. That said, GAAP operating margin improved three basis points to -10% and Non-GAAP operating margin improved to around -4% from -8% in the first quarter of 2016. Management did re-confirm their previous timeline of being profitable in Q4 2017 on the conference call.
In my last piece regarding the company around two weeks ago, I mentioned the ability of management to consistently execute on the goals they lay out, specifically concerning operating metrics and revenue guidance. Recall, I mentioned that I wouldn't be surprised if the company raised guidance for a second time this year due to 1) The nature of being a "hyper-growth" company and 2) Previous conservative approaches by the company and its ability to deliver on expanding sales channels, etc. Lo and behold, the company did in fact raise guidance once again, this time guiding for FY 2016 revenue to come in "between $361-$367 million." This revision should solidify two core pillars of the company's investment thesis which are 1) That the premium valuation is in fact justifiable as evident by consistent 90%+ revenue growth on y/y bases and 2) While the company has very little penetration when considering the broad TAM, there still are avenues for rapid growth in the short term.
Updated Valuation and M&A Commentary
I have updated my forecast through the end of 2017 and have projected Q3 revenue to come in around $1.6 million higher than the range of $93-$95 million provided. Additionally, I am now forecasting 13% and 15% growth in the subscriptions solutions business for Q3 and Q4 due to seasonality (seen historically), & 10% and 7% growth in the merchant solutions portion. My estimates of ~$363 million in FY 2016 revenue fall in-line with the updated guidance for the full year.
Figure 1: Shopify Updated Income Statement Projections

(Source: Company filings, personal estimates)
Staying consistent with my previous valuation, I am sticking with a multiple of 7.5x EV/ NTM revenue estimates and am raising my fair-value to $43/share, implying further upside of ~16%. Note, this premium 7.5x multiple assumes consistent mid-teens revenue growth in the subscriptions solutions business and also factors in some M&A value. I believe that the chances of M&A have only gone up with last week's announcement of Oracle (NYSE:ORCL) taking over NetSuite (NYSE:N) at nearly 9x forward EV/Revenue. Potential acquirees would need to note that Shopify will gradually become more expensive as time progresses assuming the company is able to sustain its current growth rates. In that case, management would control the cards of the game and would be able to leverage a sweetened deal, ultimately favoring Shopify and its shareholders.
Figure 2: Shopify Updated Valuation Summary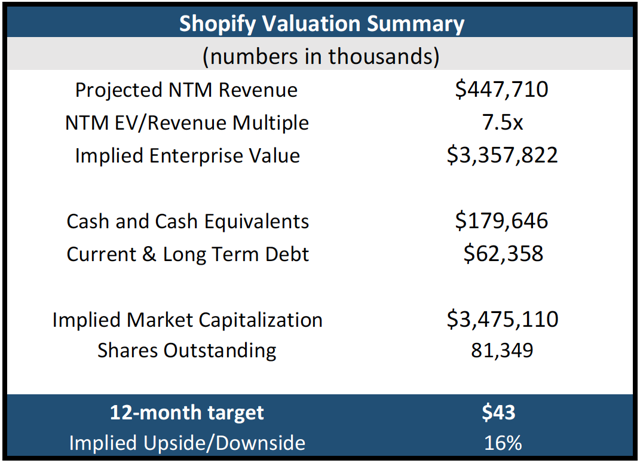 (Source: Company filings, personal estimates)
Note: Data as of market close, August 4th, 2016.
Disclosure: I am/we are long SHOP.
I wrote this article myself, and it expresses my own opinions. I am not receiving compensation for it (other than from Seeking Alpha). I have no business relationship with any company whose stock is mentioned in this article.