I, like many investors have been waiting 16 years for Community Health (NYSE:CYH) to realize its potential. The stock price, like the CEO and CFO is the same since 2000 - actually, the stock price is $5 below its price in July 2000. In 2014, CYH acquired HMA - which turned out to be a terrible acquisition. In fairness, some of the issues were not clear at the time of the deal.
The problem - CYH levered up to buy HMA, and then in 2H15 after it became clear the deal was bad, CYH bought back more stock, leaving the company over-levered. In 1Q16, the company successfully spun off its underperforming rural assets as quorum, which ironically actually increased CYH's leverage even more. In my opinion, spinning off Quorum will end up being the beginning of the end of CYH's independence.
CYH's current equity value is just 8% of its total Enterprise Value, making the equity basically a levered call option that the current management team can fix things. Looking at this another way - even at 100% premium, HCA Holdings (NYSE:HCA) can acquire the equity in CYH for about 1.1x 2016 EBITDA BEFORE synergies. Then, when you add the $450mm of interest expense savings by refinancing CYH's debt, and the $100mm of cost synergies (CYH's HQ is 20 miles away from HCA), and another $400mm of synergies as CYH margins start moving up towards HCA's margins, and you have a VERY compelling reason for HCA to acquire CYH.
HCA is the best hospital operator in the US, period. The management team is a machine. The EBITDA margins are industry-leading (albeit partially because they are more urban) - but this management team knows how to operate hospitals effectively and profitably. This is clear when you realize HCA's stock has outperformed CYH by 280% over the past five years. Both companies do the EXACT same thing.
Our PF run rate CYH EBITDA of $3bn assumes margins increase from 13.5% to 16.5% - still 3% below HCA's margins of 19.6%. Given the low hanging fruit of CYH's bloated corporate overhead and HQ, which would be closed quickly, we are comfortable CYH can generate $3bn of EBITDA 1-2 years after the deal closes.
To put this acquisition into perspective, HCA generates about $2.8bn of FCF per year. At a 100% premium ($25 per share), HCA could acquire CYH for $2.8bn or 100% of annual FCF! And once HCA strips out CYH's overhead and implements its own systems - I believe CYH's run rate EBITDA is around $3.0bn - which would imply HCA is paying just 6.0x PF EBITDA.
HCA's stock trades at 8.5x. As we illustrate in Table 2, this acquisition is 15% accretive to HCA's 2017 EPS - and this assumes HCA does very little buybacks in 2017, as FCF would be used to pay for the deal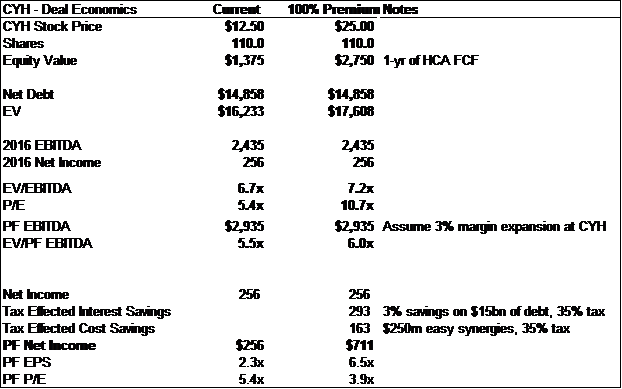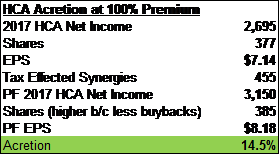 It's time for CYH's management team to pull the chord on their golden parachutes and allow shareholders to walk away with a little dignity. HCA can take one year's worth of FCF (or all of its share buybacks in 2015) and acquire CYH for 100% premium - a deal that is 15% accretive to 2017 earnings. Talk about a win-win - even CYH's bond holders would massively benefit from this deal.
Disclosure: I am/we are long CYH.
I wrote this article myself, and it expresses my own opinions. I am not receiving compensation for it (other than from Seeking Alpha). I have no business relationship with any company whose stock is mentioned in this article.