Allergan's (NYSE:AGN) share price is down ~25% from its 52-week high. Shares of competitors like Valeant Pharmaceuticals (NYSE:VRX) (~92%), Impax Labs (NASDAQ:IPXL) (~38%) and Perrigo (NASDAQ:PRGO) (~54%) are down by much more. Allergan is trading at almost 21.5X EV/EBITDA, while Impax is trading at ~10.5X, Perrigo at ~14X and poor Valeant is trading at a measly ~7.7X. Based upon the following table, Allergan's valuation seems to be a bit stretched compared to those of its competitors. So why the discrepancy?

Unlike the other companies mentioned above, Allergan has been buying its stock in the open market. Sure in October 2015, Perrigo's board of directors approved an up to $2 billion repurchase plan to fend off Mylan's (NASDAQ:MYL) hostile takeover bid. However, Perrigo didn't buy any shares during Q1 2016, and only used up $.5 billion of the plan. Neither Valeant nor Impax Labs have the luxury of using their respective cash flows to prop up their stock prices. On the other hand, Allergan has been in the market buying.

While a total of 170,704 shares may not seem like a lot, consider that Allergan's average volume is about 3.6 million shares per day during the same period, and the bulk of the purchases occurred in March.
Carl Icahn and others have also helped prop up the stock price with their recent purchases, but it seems to me that Allergan's valuation is in bubble territory now. Surely, it's not earnings supporting the valuation. Allergan has a history of operating losses. The company reported a net loss before income taxes and noncontrolling interests of $483 million in Q1 2016, compared to a net loss of $1,045.7 billion for the same period a year ago. If it weren't for the tax benefit of $402 million, the net loss from continuing operations would have been dismal, to say the least. Discontinued operations contributed to profits, while continuing operations generated losses.
Some are saying that the sale of the generics business is a good thing for Allergan. The sale was delayed, but as of this writing has now been completed, with the cash portion of the purchase price reduced by ~$200 million and for a business that was profitable for Allergan. Worried about generic pricing deflation and the company's $58.6 billion in total liabilities at the end of Q1 2016 with only $10.1 billion in current assets, management still needs to figure out how to make a profit from continuing operations. Looks to me like they need to raise drug prices and reduce costs. We all know what risks raising drug prices brings. Having raised prices already by 8.9% YTD, and coming in third for the highest % increase in prices, they'll need to do more - and fast.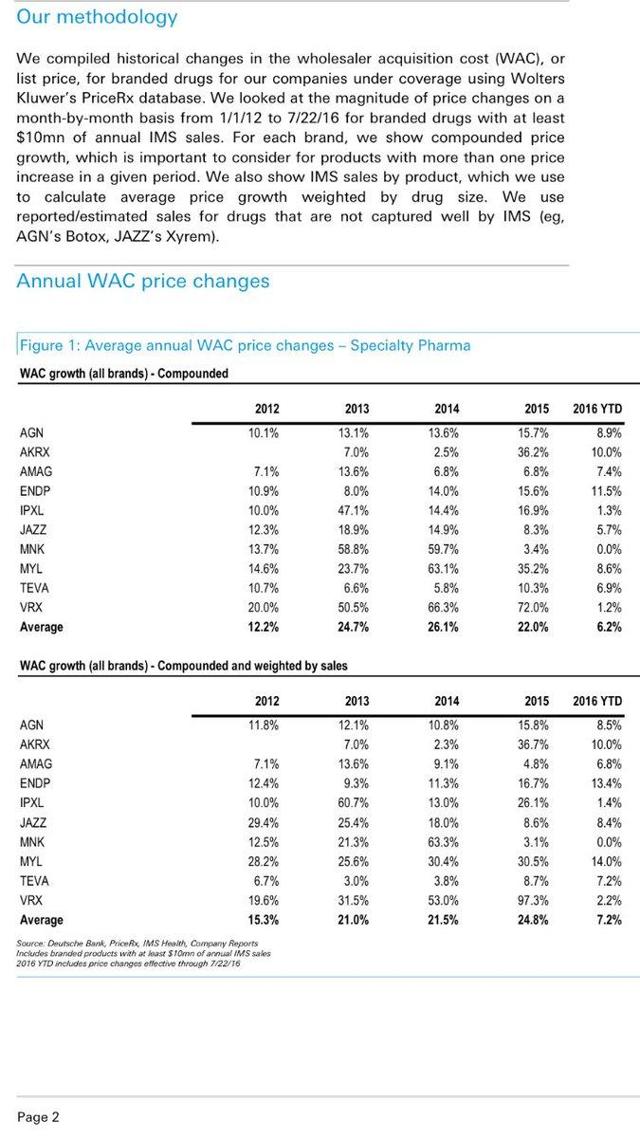 Without significant change in Allergan's operations and product offering, stock repurchases alone will likely not afford the company its lofty valuation relative to its competitors. Look for evidence that Allergan effectively allocates the proceeds from the sale of its generics. It's likely the company will need to make acquisitions in the future, which, as we've learned from the Valeant saga, can be quite risky - causing the bubble to burst.
Disclosure: I am/we are long VRX.
I wrote this article myself, and it expresses my own opinions. I am not receiving compensation for it (other than from Seeking Alpha). I have no business relationship with any company whose stock is mentioned in this article.