The year 2016 has not been friendly to shareholders of Kroger (NYSE:KR). As of August 3rd, the stock is down nearly 20% year to date including a 6% decline this past week. The performance of Kroger's stock in 2016 reminds me of a quote from Ben Graham's Intelligent Investor: "In the short run, the market is a voting machine but in the long run, it is a weighing machine." In the article below I'll refute many of the short term votes against Kroger.
Food & Energy Price Deflation
On August 2nd, BMO Capital downgraded Kroger due to deflationary prices in food. Price deflation in food and fuel will undoubtedly hurt Kroger's net sales as the company is the nation's largest traditional grocer and also operates many fuel centers, but it will have minimal impact on the company's earnings growth.
The table below shows quarterly performance for revenue and earnings per share for the past eight quarters compared to consensus Wall Street estimates.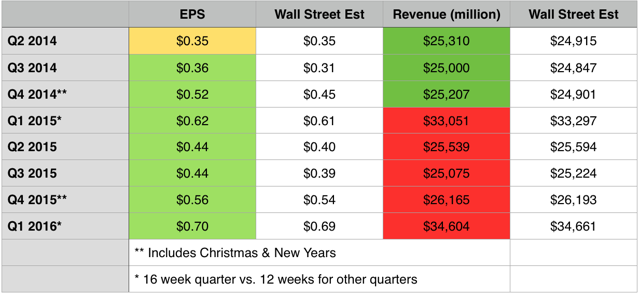 (source)
The company has not met street expectations in revenue the past five quarters, largely due to deflationary prices in food and fuel, but has consistently beaten expectations on earnings per share. For the most recent quarters, Q1 2017, Kroger increased EPS by over 10% versus same period year ago.
It's important to note that falling fuel prices began in late calendar year 2014 (Q4 2014) and yet Kroger has still beaten street expectations on EPS even while revenue did not beat.
Deflationary food prices, as cited by BMO for their downgrade, will hurt Kroger's net sales and same store sales growth. They will likely not impact the company's earnings per share as shown above. The company has withstood falling fuel prices; they will likely withstand falling food prices. Investors in Kroger should not worry about food price deflation.
Dividend Yield
A second reason investors may not want to own Kroger is the company's dividend yield; currently around ~1.3%. While Kroger's yield is lower than peers Wal-Mart (NYSE:WMT) (2.7%) and Target (NYSE:TGT) (3.25%), the company may be an attractive income investment for two reasons.
First, Kroger has not only continuously increased its dividend annually since 2006 (10 straight years) but also has given significant increases in most of those years. The table below shows Kroger's year over year percentage dividend increase for the past 6 years.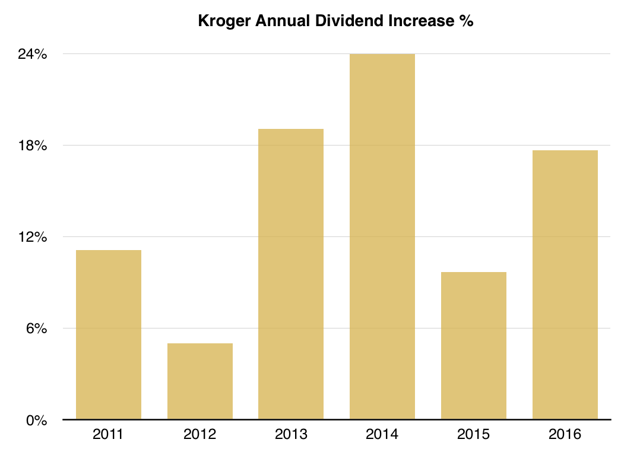 (source)
In five of the past six years, Kroger's annual dividend increase has been over 10%. Kroger's dividend payout may be low today but it's increasing annually.
The second reason Kroger's low current dividend yield should not worry investors is how the company is financing the dividend growth. In the past few years, many companies have issued low cost debt to repurchase shares. Lesser amounts of shares outstanding increases earnings per share and also makes dividend increases easier. Kroger is not one of these companies.
FY 2015 net income was $2.0 billion; a 18% increase versus year ago.
FY 2014 net income was $1.728 billion; a 13.7% increase versus year ago.
FY 2013 net income was $1.519 billion; a 1.47% increase versus year ago.
(source)
Kroger is driving its dividend growth largely with increases in net income and not share repurchases. The company does however repurchase many shares as well.
Income investors seeking a potential future dividend aristocrat should look into Kroger and not worry about their current low yield.
No Growth In A Boring Business
A third reason investors may be pessimistic on Kroger is that company operates in a boring business that some say has low growth. Selling groceries is nowhere near as exciting as building electric cars or inundating social newsfeeds with ads, but it's not a bad business to be in.
First, grocery may not be a high growth industry but Kroger is growing within that industry. According to Nielsen Point of Sale data:
In 2015, Kroger increased market share in 17 of the 20 geographic markets and decreased in only 1 market.
In 2014, Kroger increased market share in 18 of 20 geographic markets and slightly decreased in 2.
In 2013, Kroger increased market share in 16 of 18 geographic markets and declined 2.
Grocery may not be a fast growing industry but Kroger is consistently growing its piece of the industry.
Second, as Warren Buffett has made famous, boring business are often the best investments. In 2003, Berkshire Hathaway (NYSE:BRK.B) purchased the McLane Company from Wal-Mart for $1.45 billion. McLane distributes groceries and other packaged goods to Wal-Mart's and independent grocers throughout the US. In 2013 alone, McLane earned over $450 million in net profit for Berkshire. Boring business may not be fun to own but can be very profitable, as shown by Berkshire's experience with McLane.
Conclusion
In conclusion, Kroger's 20% decline year to date looks to be irrational. While food and fuel price deflation will hurt net sales, the company has shown it can still increase earnings per share. The company does have a low dividend yield today but has increased its payout annually for 10 years and is not relying on share repurchases. While grocery may be a boring business to operate in with low growth, Kroger has shown it can consistency grow its piece of the business.
I will add that Kroger currently trades at 15 trailing multiple; lower than Whole Foods' (NASDAQ:WFM) multiple of 21, Sprouts' (NASDAQ:SFM) multiple of 26 and Wal-Mart's multiple of 16.
A more detailed analysis on why Kroger is a good long term investment.
Disclosure: I am/we are long KR.
I wrote this article myself, and it expresses my own opinions. I am not receiving compensation for it (other than from Seeking Alpha). I have no business relationship with any company whose stock is mentioned in this article.