By Kevin Wu and Richard Zhang
Thesis
Calgon Carbon Corporation (CCC:NYSE) is a global company that develops, manufactures, and supplies active carbon, other media, and treatment systems to: clean drinking water, improve waste reuse or disposal efforts, remove contaminates from air emissions, purify food, and enable cleaner chemical manufacturing. Specifically, CCC deals with the manufacture, supply, reactivation, and application of activated carbons, as well as the manufacture of ballast water treatment (BWT), ultraviolet light disinfection, and advanced ion-exchange (NYSE:IX) technologies.
CCC recently hit a 3-year low of $12.75 on July 1st. Currency headwinds and a series of delays saw profits drop 50% YOY. This drop is justifiable due to a record year for many companies in FY2015, continued FX headwinds, and delays in their products. Revenues have also remained stagnant as a result of customer churn in the municipal water side of the business. Finally, the company has suffered public setbacks in the form of rulings by the US Coast Guard as well as regulatory struggles with the Supreme Court.
However, pieces have begun to fall into place as management has been enacting cost-cutting measures across the board, government regulation requiring the use of activated carbon, and the acquisition of Arkema Group's activated carbon division. We should expect to see an inflection point in the company's earnings as they transition from a period of customer churn to a new growth of sales from new regulations by the EPA. The current multiples of CCC do not take into account this inflection.
MATS (Mercury and Air Toxics Standards)
The EPA is implementing new standards regarding how much mercury can come from: coal-fired power plants, cement production, hospital waste incinerators, and industrial broilers in the form of MATS. MATS will significantly increase the amount of activated carbon required, boosting growth in the sector. CCC has produced a solution meant to address these issues with a product known as FLUEPAC. Most power plants have not complied with the regulations yet, with the EPA estimating approximately 4 years until full implementation. Management has guided towards an end goal of $51-$80M sales target per year (in the US).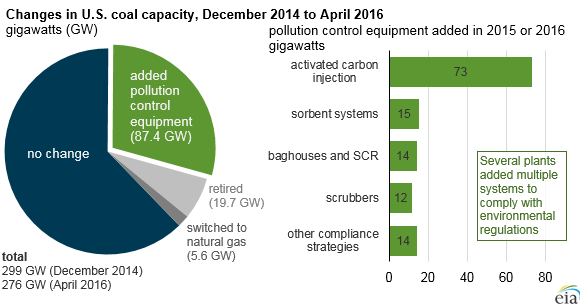 MATS has faced a significant number of legal hurdles over the past several years, dampening the share price; we believe that MATS will enjoy successful implementation, forcing the power plants in the previous chart to begin utilization of activated carbon. The US Court of Appeals for the District of Columbia ruled in December 2015 to leave MATS in effect. While several coal companies have indicated they will launch legal action, we expect these efforts to fail. This implementation period promises strong growth for CCC's activated carbon division, and should materialize over the next several quarters as more power plants begin implementation.
We believe that CCC, as the largest manufacturer of activated carbon, has the first mover advantage and brand to capture a large portion of corporations affected by these new standards. Not only does this mean increased sales for CCC, but it ensures sustained income in the future. Activated carbon is currently a $3.0 billion industry with a projected CAGR of 8.4% from 2016-2024. Expected sales for Fluepac are upwards of $80 million a year in the United States alone. As you can see by the attached graphic, there is still a significant portion of this market that needs to be addressed by a system, and that the majority of coal plants that do comply are utilizing carbon systems. We expect that CCC will be able to capture significant revenues as MATS compliance increases.
Purchase of CECA from the Arkema Group
On April 14, 2016, CCC announced a plan to acquire CECA's Activated Carbon and Filter Aid Business for a price of $160.1 million (cash and debt at 2.25x leverage), at a 9.6x EBITDA multiple. CCC anticipates that this deal will close in F4Q16.
Arkema operates out of 4 facilities in France, and 2 facilities in Italy, with a revenue of $102.5 million in 2015, and an EBITDA of $16.7 million. We believe that not only will this acquisition boost CCC's presence in Europe, but will also lower cost of sales due to a decrease in supply chain for the European, Middle East, and African markets. Furthermore, since the majority of Arkema's revenues derived from food & beverage and industrial processes, CCC strengthens two of their weakest areas in revenue, creating a reasonable level of diversity. This diversity will enhance the quality of sales growth for CCC, which normally experiences lumpy revenue due to mixed periods of municipal water sales. The acquisition should provide fantastic potential for CCC to increase its market share in Europe, and drive growth for the company as a whole.
Calgon provides a useful infographic to demonstrate how the new company will meaningfully change the company.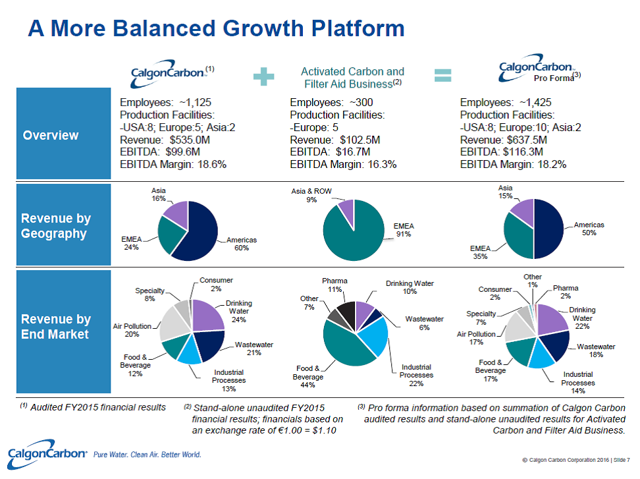 Margin Enhancement and Cost Reduction
CCC is engaged in several initiatives meant to reduce OpEX. Gross margins have improved YOY, with $35/$50 M in cost savings realized. CCC plans to realize the remainder of these savings in FY2016 and FY2017. CCC has upgraded its SAP program and consolidated its headquarters into a single center, further reducing costs. These savings should help further improve gross margins for Calgon.
CCC is also increasing capacity and consolidating its manufacturing facilities around the globe. The acquisition from the Arkema Group means that European cost synergies can be realized as increase growth in the region. CCC is now able to produce 163M lbs of virgin GAC each year, with an incremental 3 million pound increase per year. CCC also plans to invest $35 million in its Pennsylvania plant, meant to increase industrial reactivation capacity by 12 million pounds.
In whole, CCC projects that CapEx will decrease in 2016, allowing use of the funds to both grow the company and increase shareholder value. The Phase III cost improvement plan should reduce costs by a total of $20 million.
Ballasts
CCC manufactures treatment systems for ballast systems in cargo ships. Ballast water is simply water carried in ships to improve the stability of the ship while it is at sea. This water is discharged and taken on when the ship needs to do cargo exchanges, or dry-dock. Since ships often travel from entirely differing regions of the world, there is a possibility for these ships to dump non-indigenous invasive species in local waters.
The International Maritime Organization is currently working to pass a ballast water management treaty to force all ships to treat their water to kill organisms, before they dump the water. The treaty requires ratification by 30 states as well as 35% of the world merchant shipping tonnage to agree on the measures. Currently, the treaty enjoys support by over 30 states representing 34.79% of global shipping tonnage. The treaty is projected to pass this year. After ratification, the treaty will not go into effect for another year. After this period, ships will be given a several year time frame to begin complying with regulation. This means that ballast water adoption has a multiple year time frame.
Calgon manufactures the Hyde GUARDIAN ballast water treatment system. This system utilizes physical solid-liquid separation utilizing filters, as well as ultraviolet technology to kill or inactivate organisms. This system as Alternate Management System approval from the US Coast Guard, as well as IMO Type approval. Calgon has sold around 40 units to date. Calgon estimates that the total addressable market represents $18-28 billion in potential revenue.
Calgon faces regulatory struggles from the US Coast Guard who rejected the testing method that Guardian utilizes, the "most probable number" count. The issue boils down to this: the Coast Guard wants a system that evaluates effectiveness based off of organisms killed, the Guardian system instead evaluates effectiveness based off of how many organisms are still viable to reproduce (the IMO accepts this standard). Therefore, Calgon has not received "Type" approval from the Coast Guard. The Alternate Management System that Calgon received is only good for 5 years after ballast water regulations came into effect in US waters on January 1, 2016; after that period, Type approval is required. To date, over 50 AMS have been approved by the Coast Guard, and 0 type approvals have been granted. Calgon has appealed this decision, is awaiting word back from the Coast Guard. To date, over 5,300 vessels have received compliant extensions.
Overall, revenue from this segment is problematic to predict. Currently, we do not include ballast water projections in our growth forecast due to regulatory uncertainty and the longer time frame. This issue will require a re-evaluation once the IMO treaty passes and/or Guardian receives type approval.
Management
Management has a strong history of creating shareholder value with strategically timed share buy-back programs. In 2015, management purchased $45.4M in shares (2 million/ 4% shares outstanding), and plans to continue this repurchasing program. In December 2015, the Board authorized a repurchase plan with a total availability of $150 million. This plan is temporarily on hold due to the acquisition from Arkema, but should resume afterwards.

Management also recently reinstated a quarterly dividend, demonstrating that management is focused on providing shareholder value. Management reinstated a $.05 quarterly dividend in February 2015, the first since 2005.
Valuation
We also developed two relatively simply valuation models for this company, a DCF and a competitor analysis. We built the DCF using a modest CAGR of 3%, and light margin improvement.
Value Calculation

(in $mm except per share amounts)

Cumulative PV of Unlevered FCF

$380

Terminal Year FCF (2020E)

$71

Terminal Growth Rate

3.5%

Terminal Value

$1,647.25

Discount Factor

0.68

PV of Terminal Value

$1,128

% of Enterprise Value

74.8%

Enterprise Value

$1,508

Less: Total Debt

111

Less: Preferred Securities

0

Less: Non-controlling Interests

0

Plus: Cash & Cash Equivalents

54

Implied Equity Value

$1,450

Diluted Shares Outstanding

53,003,659

Implied Share Price

$27.36

Current Share Price

$13.81

Upside/(Downside)

98.1%
For the competitive analysis, we looked at several peers to analyze their ev/ebitda.
(in millions except per share amounts)

Capitalization

EV/Revenue

EV/EBITDA

P/B

Company Name

Equity Value

EV

2015

2015

2015

Clarcor Inc

$3,040

$3,286

2.3x

13.1x

2.7x

Daiseki Co Ltd

$94

$69

2.6x

9.4x

1.8x

Federal Signal Corp

$986

$954

1.2x

9.2x

2.4x

FutureFuel Corp.

$501

$281

1.2x

6.3x

1.5x

Kurita Water Industries Ltd

$339

$301

2.5x

10.9x

1.7x

Rayonier Advanced Materials Inc

$420

$1,186

1.3x

6.0x

205.4x

Calgon Carbon Corp.

$818

$876

1.5x

8.3x

1.7x

Maximum

$3,040

$3,286

2.6x

13.1x

205.4x

75th Percentile

$865

$1,128

2.5x

10.5x

2.6x

Mean

$897

$1,013

1.9x

9.1x

35.9x

Median

$460

$628

1.8x

9.3x

2.1x

25th Percentile

$359

$286

1.2x

7.0x

1.7x

Minimum

$94

$69

1.2x

6.0x

1.5x

Implied Share Price Calculations

(in millions except per share amounts)

Current EV/EBITDA

8.3x

Industry Avg. EV/EBITDA

9.1x

EBITDA

$98.8

Implied Equity Value

$899

Diluted Shares Outstanding

53,003,659

Implied Share Price

$16.96

Current Share Price

$13.81

Upside/(Downside)

22.8%
Both of these analyses support our conclusion that CCC is currently undervalued, relative to its cash flows as well as its peer group.
Conclusion
Calgon Carbon is a fundamentally strong company that has suffered as a result of regulatory uncertainty. While the company has stagnated recently due to sales churn, the tailwinds are clearly on Calgon's side. Increasing regulation around the world in water and air treatment will only continue to drive demand for Calgon's product, meaning that we will see an inflection point in Calgon's revenue. MATS as well as increased margins means that we will begin to see a period of growth in Calgon's revenue, with ballast water treatment remaining the background as a long-term growth driver.
Disclosure: I/we have no positions in any stocks mentioned, and no plans to initiate any positions within the next 72 hours.
I wrote this article myself, and it expresses my own opinions. I am not receiving compensation for it (other than from Seeking Alpha). I have no business relationship with any company whose stock is mentioned in this article.