Yesterday I wrote about PIMCO Strategic Income Fund, Inc (NYSE:RCS) and discussed why I felt it was time to sell the fund. Today I want to consider another closed-end fund that I acquired about the same time under somewhat similar circumstances.
Summer and autumn of 2015 was a difficult time for high-yield fixed-income. Many of the CEFs in this category were on extended losing streaks. There was a series of distribution cuts that exacerbated the price trend ( see Distribution Cuts: Threats And Opportunities For Income CEF Investors). I decided that AGIC Convertible & Income (NYSE:NCV), a fund that splits its portfolio about equally between high-yield corporate bonds and convertible securities was one of the opportunities. I also discussed its sister fund AGIC Convertible & Income II (NYSE:NCZ) and everything I say here pretty much applies to that fund as well with a few modest changes in the numbers.
Now, some 10 months later, NCV has moved up. Its market price is up 14.3% and the discount has moved 17 points from -14.3% to a 3.1% premium. NAV remains below the mark of that time by about -5% but it has been on an upward trajectory all year. As it turned out my call was premature but I repeated my view that NCV would regain those market losses. The fund was, after all paying as much as 20% market yield during that period.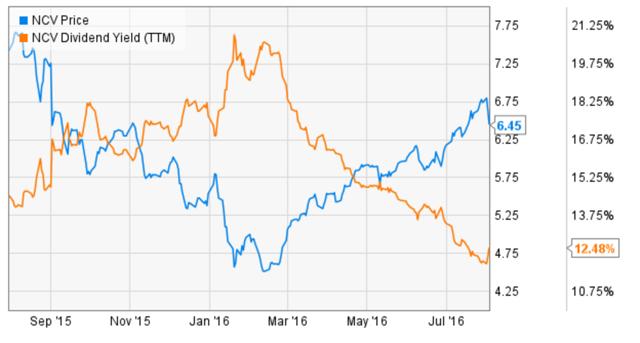 That kind of yield drives market moves, especially if NAV is moving upward. I doubled my position in May.
The question today is, "Has the fund run its course?" I've heard from readers that they think it has and they have sold NCV. I disagree and will be holding my position. Here's why.
First, NAV is growing. Not at an extraordinary pace, I'll grant, but it is on an upward trend. This chart (from Yahoo Finance) shows NAV (MUTF:XNCVX), the blue line and price (the red line) YTD.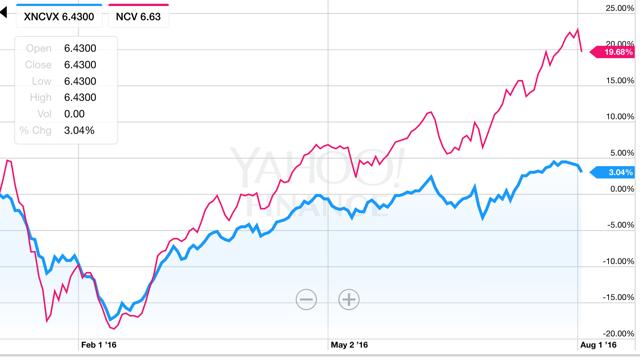 Should NAV begin to show signs of faltering, I will reconsider my decision to hold onto NCV.
Second, the premium is growing, which can be seen in the growing distance between the price and NAV lines in the chart above, or more in cefconnect's premium/discount chart below.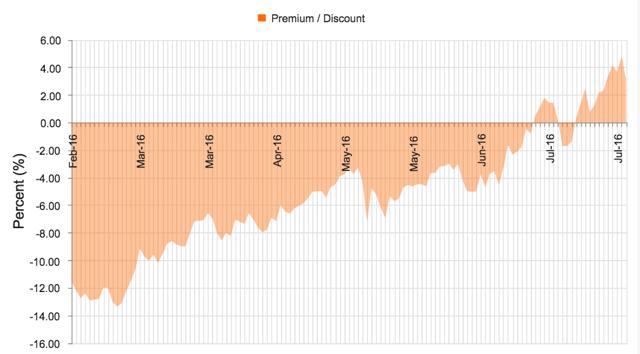 Third, the fund is paying 11.75% at market price and 12.02% at NAV and that distribution looks to be safe at this time. You will remember that it was NCV's management that cut the distribution by nearly a third last fall that precipitated its drastic price drop but it did succeed in bringing the fund into a sustainable distribution status. As of 30 June the fund held UNII (undistributed net investment income) of $0.0691/share, an excess of 6.3% of the fund's monthly distribution. That number has been moving up consistently since the distribution cut.
The category median distribution for general fixed-income CEFs (from cefanalyzer) is 7.65%. At those comparative yield points, it would not be unexpected to see additional movement into higher premiums for NCV. The Premium/Discount vs. NAV yield plot supports this view.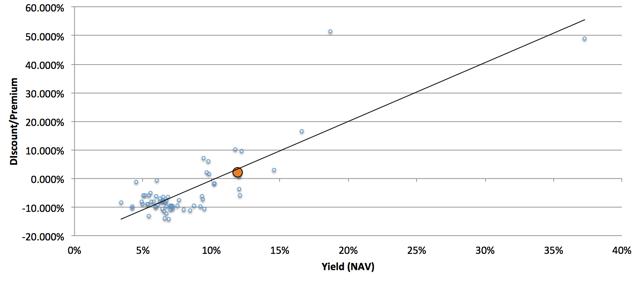 This chart shows the category's 66 general fixed-income CEFs with NCV represented as the larger orange point. The trend line depicts the linear regression of discount/premium on NAV yield. NCV is slightly below the line, which does not suggest any extreme movement of the premium valuation is imminent. Of course, this is only one indicator, many other factors influence how investors decide to value a fund.
Summary. I'll hold NCV for now. I'll be watching it closely and I expect the roller coaster will continue. But I do not anticipate a downturn anything like the scale of last fall's crush, nor do I anticipate any imminent distribution reductions. With the near 12% yield and modest premium valuation I feel confident in that decision.
Disclosure: I am/we are long NCV.
I wrote this article myself, and it expresses my own opinions. I am not receiving compensation for it (other than from Seeking Alpha). I have no business relationship with any company whose stock is mentioned in this article.
Additional disclosure: I am not an investment professional and this article does not constitute investment advice. I am passing along the results of my research on the subject. Any investor who finds these results intriguing should consider it as my research notebook, and will certainly want to do all due diligence to determine if any security mentioned here is suitable for his or her portfolio.