Performance and Valuation Prime Chart
The PVP chart below reflects the real, economic performance and valuation measures of Magellan Midstream Partners (MMP) after making many major adjustments to the as-reported financials.
The four panels explain the company's historical corporate performance and valuation levels plus consensus estimates for forecast years as well as what the market is currently pricing in - in terms of expectations for profitability and growth.
The apostrophe after ROA', Asset', V/A' and V/E' is the symbol for "prime" which means "adjusted." These calculations have been modified with comprehensive adjustments to remove as-reported earnings, asset, liability and cash flow statement inconsistencies and distortions. To better understand the PVP chart and the following discussion, please refer to our guide here.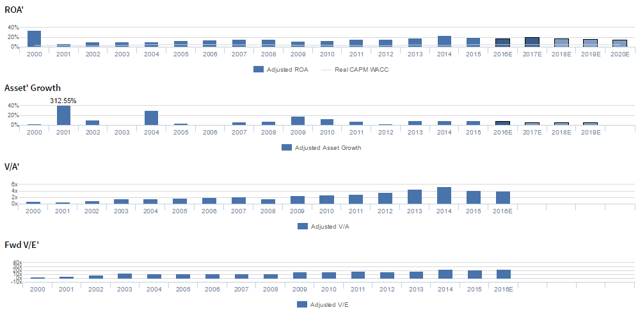 The firm has historically seen cyclical trends in ROA', ranging from lows of 17.1% in 2001 to 16.7% by 2008. However, in the wake of the Great Recession, ROA' compressed again to 11.4%, before rebounding to 24% in 2014 and then fading slightly to current 20% levels. Asset' growth has been similarly lumpy, recently sustaining strong 9%-10% levels since growing from 3.1% in 2012.
Performance Drivers - Sales, Margins and Turns
It can be helpful to break down ROA' into its DuPont formula parts, Earnings' Margin and Asset' Turns, which are the cleaned up margins and turns metrics used to calculate ROA'. The chart below details both Earnings' Margin and Asset' Turns historically to help us better understand the drivers of the firm's profitability and performance.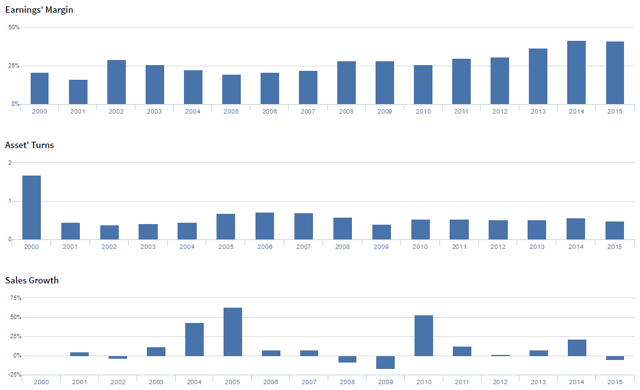 Trends in ROA' have largely been driven by Earnings' Margins, which have materially improved through cycles. After bottoming in 2001 at 16%, Earnings' Margin rebounded to 29% in 2002. Since then, the firm has been able to improve margins to higher highs and higher lows reaching 28% in 2008, and more recent +20% levels in 2014-2015. However, Asset' Turns have remained poor, sitting at 0.4x-0.5x since 2009, which has led to less substantial improvements in overall ROA'.
Embedded Expectations Analysis
As investors, understanding what the market is embedding in the stock price in terms of expectations is paramount to making good decisions. Without understanding what the market is pricing in, it is impossible to claim that the market is wrong. We derive market expectations for the firm from valuations and historical performance trends to give a clearer picture into what the market is projecting for the firm.
MMP is trading at a 4.1x V/A', at the lower end of valuations since 2012. At these valuations, the market is pricing in expectations for a moderate 5% Asset' growth, with ROA' decreasing from 20% in 2015 to 15% levels.
Analyst and Management Expectations and Alignment
Analysts have more bullish expectations than the market, expecting ROA' to remain around 20% levels. Furthermore, analysts expect the firm to maintain their current performance and rate of Asset' growth rather than slowing growth to preserve liquidity.
However, our qualitative analysis highlights that management is concerned about increasing margin pressures and their ability to hedge their exposure to weakness in the energy markets. Additionally, they may be concerned about the impact headwinds related to the timing of tank maintenance.
Valuation Matrix - ROA' and Asset' Growth as Drivers of Valuation
When valuing a company, it is important to consider more than a singular target price, and instead the potential value of a firm at various levels of performance. The below matrix highlights potential overvalued or undervalued prices for MMP at various levels of profitability (in terms of ROA') and growth (Asset' growth.) Prices that are in excess of 10% equity upside are highlighted in black, and prices representing an excess of 10% equity downside are highlighted in red.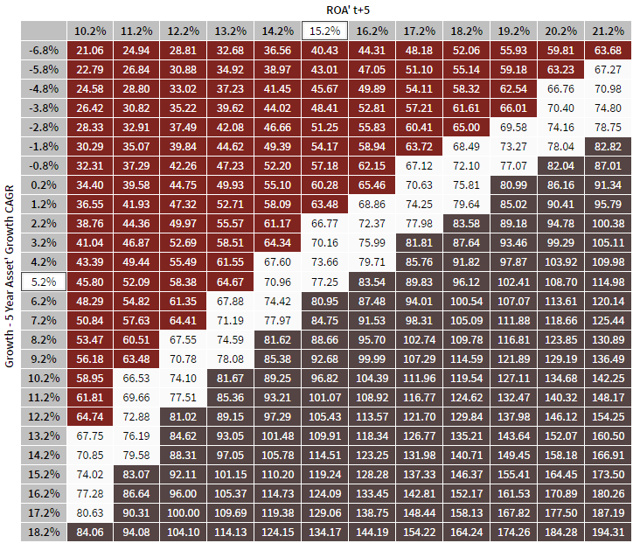 The market is currently pricing in expectations for ROA' to fade, and to justify current prices, the firm would either need to see ROA' reach levels seen pre-2012, or the firm would need to shut off growth entirely. Given management's concerns about margin compression and headwinds related to weakness in the energy space, both of these possibilities are highly possible. The firm may slow growth to preserve liquidity and profitability in the current macro environment, which would indicate expectations are warranted, or the firm may suffer from profitability headwinds as their previous hedges begin to roll off and contracts are renegotiated, indicating that current valuations are justified. In either case, equity upside is likely limited absent a material improvement in the macroeconomic environment.
Our Chief Investment Strategist, Joel Litman, chairs the Valens Equities and Credit Research Committees, which are responsible for this article along with the lead analyst, Melvin Yubal. Professor Litman is regarded around the world for his expertise in forensic accounting and "forensic fundamental" analysis, particularly in corporate performance and valuation.
Disclosure: I/we have no positions in any stocks mentioned, and no plans to initiate any positions within the next 72 hours.
I wrote this article myself, and it expresses my own opinions. I am not receiving compensation for it (other than from Seeking Alpha). I have no business relationship with any company whose stock is mentioned in this article.