If you follow Tesla (NASDAQ:TSLA) on Seeking Alpha, you know the visionary electric vehicle - and soon to be battery/storage/SolarCity (SCTY) unified - company is controversial. This article will not try to convince you of its shortcomings. By my count, there is a five-to-one ratio of negative articles on SA about TSLA to positive, and lots of spirited comments follow every article. Here I want to take you through my thinking process of shorting it if you've already decided this is an overpriced stock that might crash in a reasonable time frame.
A "story stock" like Tesla does not necessarily crash when targets such as revenue, margins, production falls short of expectations. Most of us wish we had bought Microsoft (NASDAQ:MSFT) back in 1986 or Tesla back in 2011- the chance to buy into a pioneer and crush the market has infected all of us to some degree. Tesla has it all- the visionary founder and CEO who has had success with PayPal (NASDAQ:PYPL), SpaceX (Private:SPACE), and now is building out infrastructure to challenge traditional carmakers with a better electric design.
I drove in a Tesla and was impressed at what a terrific and silent ride it was and was glad it was being made in the USA. I doubt that gasoline power will disappear anytime soon, but will remain agnostic that the Tesla battery solution represents the future of driving.
My reasons for being short are probably typical. They lose money on every car. They are buying SolarCity in a deal that benefits the owners/family members but showed poor corporate governance. The CEO may believe his own outlandish statements and seems to conveniently forget them, including share dilution again and again to fund ongoing operations. I don't like that taxpayer subsidies are forcing owners of used Corollas to pay taxes to help wealthier people buy an $80,000 toy. Most of all, I am skeptical that Tesla can produce a $35K mass production car in a couple of years and break-even on it.
I think there will be significant new rounds of equity and dilution over the next couple of years to accomplish the variety of Model 3 expenses that are coming. If the share price declines, it will take one or more of the following factors:
1. The institutional ownership wearies of Musk's antics and decides to pull out. This does not seem likely without...
2. Damaging evidence of slowdown in the ability to bring the Model 3 to market in a couple of years comes out and the company admits to it.
3. The steady stream of negative occurrences (recalls, more autopilot deaths, etc.) reach a tipping point where the brand becomes known as unreliable. Frankly, I would not count on this - I believe the Model S is a safe, reliable car statistically.
4. The overall market which is somewhat propped up by absence of alternatives (bond yields abysmal, etc.) falls significantly and Tesla gets crushed in a flight to safety.
5. The creative accounting becomes the story and quiet selling snowballs.
If you decide to short - major risks ahead.
1. Single biggest risk: a succession of enthusiastic public relations moves keeps the stock price up, rising, and then eventual success forces you out of your position. Shares can be difficult to borrow with high interest with significant risk of margin calls from the volatile move upwards with any new announcement. You will have no recourse. Let's look again at the stock chart to see some volatile moves burning shorts who were just much too early at the scene: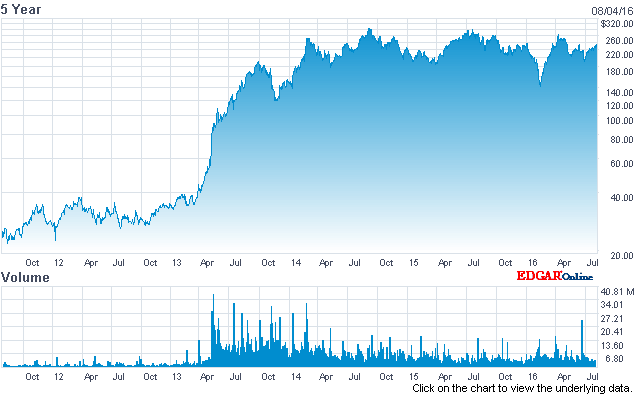 The recent earnings release may not hurt a stock, which has traded on future hopes and not present sales/balance sheet.
2. You may be right about long-term dilution of shareholders and the diminished stock price in the future but wrong about your timing. For this reason, I have a small position in long-term put options. A word of warning - most retail investors who buy puts (or calls) lose money. Volatility is high and these puts are expensive. I would strongly suggest significantly educating yourself about options and doing months of free practice offered in many places such as the Chicago Board of Options Exchange site or my preference, the Options Industry Council site, if you are inexperienced.
Short-term puts can make a lot of money if your timing is perfect but LEAPS give your thesis more time to play out. I would steer clear of weekly options or day trading unless that is your profession - you are fighting it out with traders and computer algorithms much faster and shrewder than you are.
Currently, the January 2017 $200 put is listed as $17.68 on Yahoo Finance. If this was a European style put, we would need the price on the last day to be lower than $183.32 to profit. However, this option may be profitable if TSLA falls soon or faster than the time decay since American options can be sold anytime.
I prefer and currently hold the January 2018 $180 puts currently listed as $31. As you look at the further away LEAPs when more thinly traded, you have to be careful of the bid/ask spread. If you want to limit your net cost (and upside in case of a Tesla crash), you can simultaneously sell the $125 put listed for $15. Personally, I avoid straddles, iron condors, and much of the fancier choices and just decide how much I'm willing to lose on a trade and stop there.
I use OptionsHouse as my broker as I'm happy with the volatility/options Greeks etc., calculations they can do; however, I have friends happy with other low-cost providers. A longer-term option will allow you to not get upset when the price jumps one week from a random tweet or bogus earnings report commentary - you have time to re-evaluate and wait for your short to materialize.
A final note - don't try to be a hero and double your money in one day. I consider shorting any stock to be a gamble no matter how confident you are. This is money I'm prepared to lose. Here is a link to how I view my portfolio if you are interested. Good luck! Comments welcome. Final request - keep comments civil without insulting the Tesla bulls/bears.
Disclosure: I am/we are short TSLA.
I wrote this article myself, and it expresses my own opinions. I am not receiving compensation for it (other than from Seeking Alpha). I have no business relationship with any company whose stock is mentioned in this article.