Fiat Chrylser (NYSE:FCAU) yet again produced excellent numbers when it reported Q2 figures. However its range-bound stock price did not get any benefit from the good figures. FCAU seems to remain anything but a stock market darling. This is despite the fact that in most respects it is outperforming Ford (NYSE:F) and General Motors (NYSE:GM).
CEO Sergio Marchiopnne's success has been built around his brand strategy. This has been most noticeable with the stunning sales of the Jeep brand worldwide and the leading small car success of the Fiat brand in Europe. Jeep sales grew 16% in the last quarter with gains everywhere. Fiat's success in contrast has been most noticeable in Europe. The Ram brand has been a conspicuous success in North America.
Profit margins have become better but remain subject to further improvement. What Marchionne needs to do to increase margins is to attain similar success with the Group's upmarket brands. These constitute in particular Alfa Romeo and Maserati. However Marchione's comments at the Earnings Briefing on Alfa seemed somewhat lacking in enthusiasm.
Q2 Figures.
Comprehensive details can be seen here.
Some important highlights were as follows:
Adjusted EBIT + 16% to Euros 1.6 billion.
Adjusted net profit +91% to Euros 0.7 billion.
Net profit +25% to Euros 0.3 billion.
Net revenues - 2% to Euros 27.9 billion.
Worldwide combined shipments (including joint ventures) +1%.
Market share increased just about everywhere: up 30 basis points to 12.7% in the US, up 40 basis points to 6.8% in Europe, remaining market leader in Brazil with 17.8%.
Analysts have been expressing concern about debt levels of the company. However these concerns seem somewhat misplaced. Net industrial debt was reduced by Euros 1.1 billion. Moody's raised the company's credit rating to Ba3 from B1. Net financial expenses were reduced by Euros 128 million to Euros 491 million on the back of debt reduction and refinancing at lower rates.
Since the results, news has come out that Samsung (OTC:SSNLF) may be making a bid to buy FCA's Magneti Marelli, the company's parts and components division. This was previously valued at up to 3 billion euros by FCA. This gave an overnight boost to FCAU's stock price of almost 10%.
The negative reaction to FCAU's stock price following the results was to my mind overdone. It is perhaps predicated mainly on some negative views of the North American auto market in general going forward. Many see the auto market as having peaked. This feeling was accentuated by Ford's poor results and poor outlook. It is speculated that the big auto companies will need to increase sales incentives to maintain sales growth. FCA's sales in the quarter were spurred on by substantial increases in sales to fleet customers.
Figures just released for July sales in the US show the same trend of FCA gaining market share over its rivals. GM sales were down 2%, Ford sales were down 3% while FCA sales rose 0.3%. The new Chrysler "Paciifica" model did particularly well. For year -to-date FCA sales are up 4% in the US.
Another factor hitting all the major manufacturers is the perception (correct in my view) that the auto industry faces a huge secular change with the advent of electric vehicles (EV'-s) and autonomous vehicles. It is not clear that FCA is particularly well positioned for this. I wrote about this in an article in May.
Luxury Brands - Maserati.
The higher profitability of luxury brands is self-evident. One sees this in the profit margins of the likes of BMW, Mercedes and Audi. Since floating off Ferrari the high end sports area for FCA has been represented by Maserati, with mixed results. Over-stocking in 2015 led to a slowdown in production with the result that shipments were down 17% in Q2. On the brighter side, sales in China rose 20% and attracted good margins.
On the conference call CFO Richard Palmer referred to Maserati's departure into an SUV model as follows:
"We have had a very good reception for the Levante in the marketplace. Orders are strong. And we will see production and shipments ramping up in Q3."
Marchionne emphasized that the rejuvenation of the "Quattroporte" and "Ghibli" models, allied to the "Levante" (pictured below), would lead to better volumes and margins.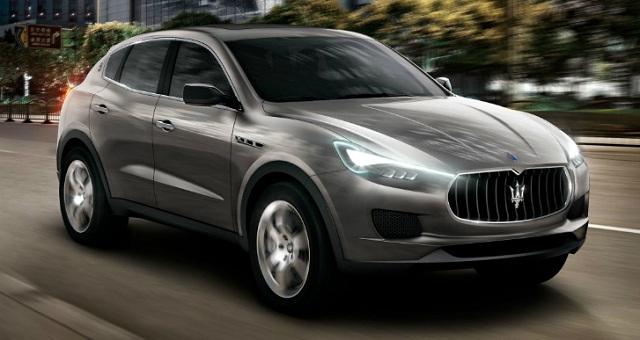 The new "Quattroporte" (pictured below) is now being delivered and the "Levante" launch is ongoing. Production of the "Levante" is currently about 140 autos a day.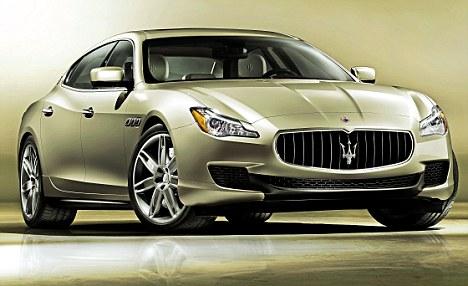 What Maserati may not ever be able to do though is replicate the brand cachet of Ferrari (OTC:RACE). Sergio Marchionne remains the chairman of Ferrari since the float-off last year from FCAU. Their quarterly results just published showed record sales and profits for the iconic brand.
Luxury Brands-Alfa Romeo.
In March last year I wrote an article stating that Alfa Romeo would be the final piece in the brand jigsaw for FCA and 2016 would be a critical year for this. So far developments have been somewhat disappointing.
The existing "Giulietta" and "Mio" models have been supplemented by the all-new "Giulia" (pictured below) on which quite a lot has been expected. This was a replacement for the "159." The high performance version, the "Giulia Quadrifoglio," is now out.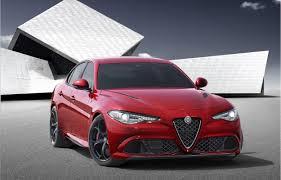 The "Giulietta" hatchback has received a facelift for 2016 as pictured below.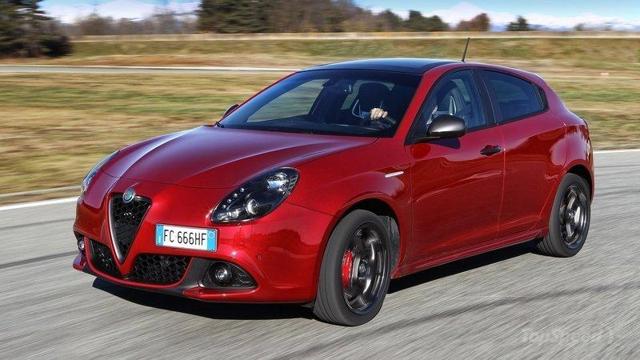 The next version of the "Giulietta" is expected to be based on the "Giulia" platform and will probably come with rear-wheel drive.
The stylish "Mito" sub-compact had mixed reviews. It has not been able to duplicate the small car success of its cousins from Fiat.
Eight new Alfa models were originally planned for 2018 but that time table has been stretched. It is thought that the full new product lineup will now be completed in mid 2020. A small saloon and an SUV were to be the first off the new Italian production lines. The reported "Stelvio" crossover SUV has had some alleged sightings but nothing definite has emerged from the company. 5 billion euros had also been earmarked for new engines. These also were to be built in Italy to tie in with Alfa's heritage of Italian deign and flair.
At the results briefing Marchionne remained uncharacteristically somewhat tight-lipped on Alfa. He stated:
"We will give you a better update on Giulia as the car gets fully operational and we start shipping into the U.S. which hopefully will happen in Q4."
On the sports car side the "4C" has been joined by the "4C Spider" (pictured below). Concerning market reaction to the Alfa "Spider" it was "too early to tell," according to Marchionne.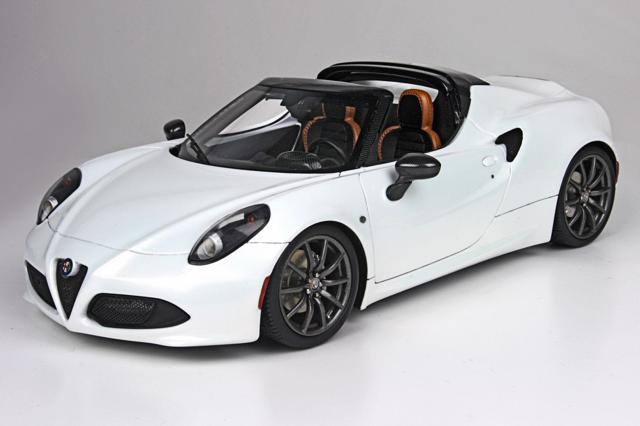 What Alfa needs to do is get back to the reputation for style and image that their cars such as the old design classic Spider Veloce pictured below had.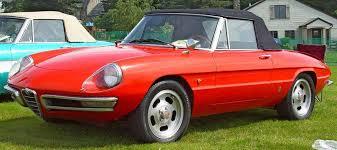 Alfa models remain stylish and pretty to look at, but questions remain over reliability. This has to improve if Alfa's new models are to challenge the perceived reliability of its German counterparts. Marchionne plans for new Alfa models to take advantage more of the complementary brands at FCA. For instance the new large sedan will be based on the Maserati "Ghibli" platform and the SUV will on a Jeep platform.
A central problem for the brand remains the fact that 90% of Alfa sales are in Europe and 50% of those sales are in the home market of Italy. That has not been a good place to be for auto sales for the past few years.
Brand Strategy.
Marchionne's emphasis on brand strategy has been an undoubted success over the past few years. The first half of this year has continued the trend. Jeep sales rose 17% in the US and 24.5% in Europe. Sales in China were up 17%. With manufacturing coming on stream in China of the Jeep "Cherokee," anticipation is high for further strong growth in that market. The Jeep "Renegade" was launched there in March.
At the earnings release Marchionne was very bullish about China:
"The Jeep brand has phenomenal traction in that country... Our ambition to sell 500,000 Jeeps in China by 2018 remains unchanged."
The Jeep "Renegade" is now being produced in the company's state-of-the-art factory in Brazil along with the Fiat "Toro" pick-up. Latin America in general remains quite depressed for auto sales. FCA has modern factories in Brazil and Argentina and good brand equity there. It stands to reap the rewards in Latin America when the economies there improve.
Fiat sales rose 18% in Europe as the company increased its lead in the small car category. It is the best-seller in the small car segment with its Fiat "Panda" and Fiat 500 models. The new Fiat "Tipo" has been very well received.
Conclusion.
FCAU slightly raised its guidance upon release of Q2 results. Full-year revenue was increased from Euros 110 billion to Euros 112 billion. Adjusted net profit was raised from Euros 1.9 billion to Euros 2 billion. The forward PE ratio at 3.62 is startlingly low. As cash reserves increase, increased dividend payments are expected. The annual dividend yield is currently at 1.42%.
If the rumored sale of Magneti Marelli to Samsung were to go ahead, FCA's debt position would of course improve. Goldman Sachs in a Buy recommendation put its value at 2.3 billion euros. This could go toward the company's net debt of 5.5 billion euros. FCA has a market capitalization of only 7 billion euros but Goldman calculates an enterprise value of 42.4 billion euros.
The continued success of the Jeep, Ram and Fiat brands and increased penetration in China represent strongly bullish factors for the company. Better sales of the luxury brands would however give a substantial boost to profitability and complete the product range for the company.
Disclosure: I am/we are long FCAU.
I wrote this article myself, and it expresses my own opinions. I am not receiving compensation for it (other than from Seeking Alpha). I have no business relationship with any company whose stock is mentioned in this article.