Welcome to the Gilded issue of M&A Daily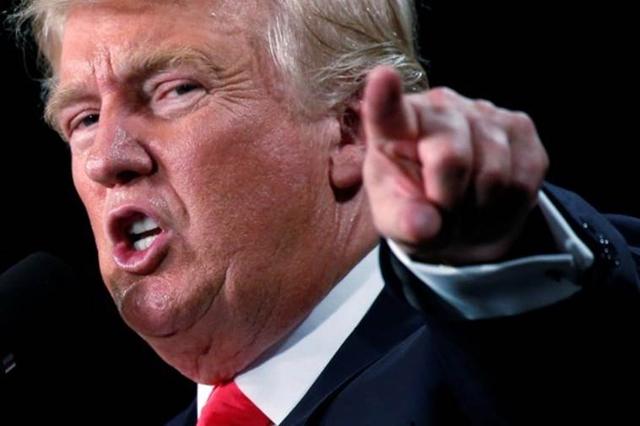 I'm fired?
According to the prediction markets, Donald Trump has around a 28% chance of winning the 2016 U.S. presidential election this fall. That is substantially better than the odds of making money investing in any one of his public ventures through the years. Trump Entertainment Resorts (OTC:TRMYQ) has hit a rough patch.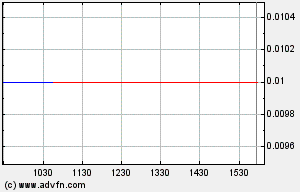 The Trump Taj Mahal will close next month. Management blames its workers, 3,000 of whom are losing their jobs, for its failure. Many of these workers face hardship due to complicated immigration statuses.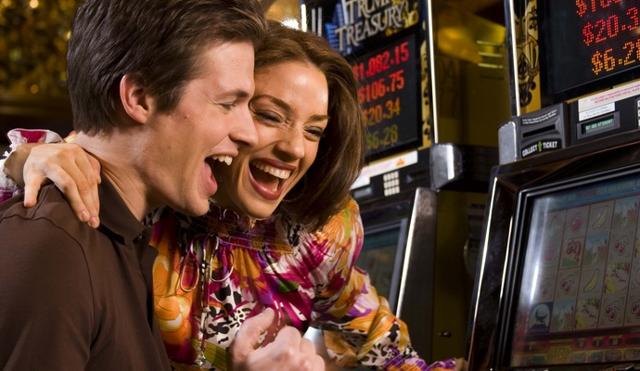 Not what people playing slots in Atlantic City actually look like
Following the shuttering of the casino, it will probably be demolished. It is unclear what the collateral damage will be to the surrounding economy. In summary, fall plans for Trump include:
Abject failure
Economic collapse
Blaming others in defeat
Smoking hole in the ground
Thomas Pippett built the Trump Taj Mahal specifically for the tastes of Donald Trump. At the opening, he credited Trump saying:
It is the Eighth Wonder of the World because we have rolled a classical building into a gaming hall. There's no other like it in the world. He's as great a man in our time as the builder of the original Taj, or the pyramids - like him or not.

No one else could have done this but Donald Trump.
Trump added that:
This building is a winner, and it's going to be a shot in the arm for Atlantic City.
Depomed
Depomed (NASDAQ:DEPO) CEO James Schoeneck briefly mentioned his battle with his shareholders on his earnings call:
As most of you are aware, during the quarter Starboard Value filed a 13D with the SEC indicating their position as a large holder of our common stock and disclosing their intent to gain control of the company.

We welcome open communication with Starboard as we do with all of our shareholders and we appreciate constructive input towards the goal of enhancing shareholder value.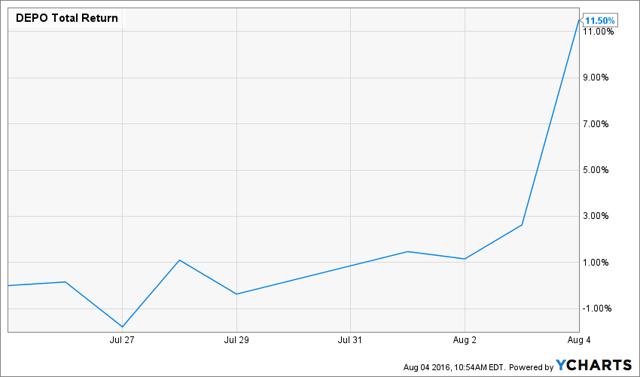 Relypsa
Galenica (OTC:GNHAY) launched its tender offer for Relypsa (NASDAQ:RLYP). It expires on August 31.
Cigna
The New York Department of Financial Services will hold a hearing on the Anthem (NYSE:ANTM) acquisition of Cigna (NYSE:CI). The arb spread is $43.67.
SABMiller
AB InBev (NYSE:BUD) announced the corporate structure after it closed its acquisition of SABMiller (OTCPK:SBMRY).
Envision
The preliminary S-4 has been filed for the AMSURG (NASDAQ:AMSG) acquisition of Envision (NYSE:EVHC).
Higher One
The Blackboard tender offer for Higher One (NYSE:ONE) expires today.
Fairchild
The ON (NASDAQ:ON) tender offer for Fairchild (FCS) expires today.
Small Accounts
One opportunity worth considering in the current low interest rate environment is harvesting sign-up bonuses at banks and brokerages. Especially if you have someone willing to redirect your direct deposit every few months, you can harvest far more in such bonuses that you would otherwise get in interest. For small accounts such as kids' accounts, my favorite bonus is putting $1,000 into a new Motif brokerage account in order to collect their $100 bonus. This is a great IRR and is less inconvenient than most bonuses (they can often be a bit of bother, typically requiring direct deposit or multiple transactions whereas Motif demands only a single trade). That is my favorite account bonus; what's yours? Suggestions welcome in the comment section below.
So, harvesting bonuses can be lucrative at a small scale, but what should one buy with a new Motif account? Ideas worth considering include Morgans (NASDAQ:MHGC) from Andrew Walker and Skullcandy (NASDAQ:SKUL) from Ravi Mulani. Morgans has performed will since that position was disclosed earlier this year.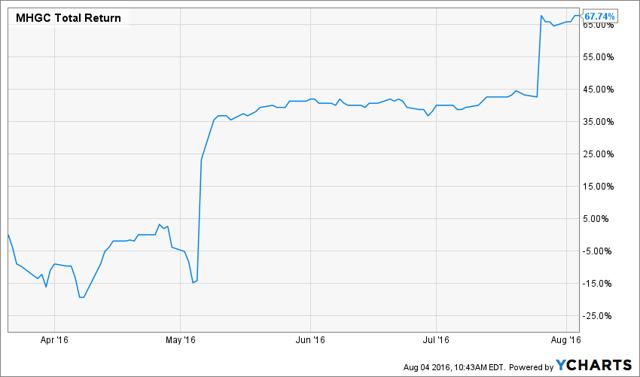 However, Skullcandy is still available for a price only slightly higher than when it was disclosed; it might be worth taking a look.
Morgans
While we are on the topic, the definitive proxy has been filed for the SBE acquisition of Morgans. More to come in future editions of M&A Daily...
Elsewhere on Seeking Alpha
Disclosure: I am/we are long DEPO, MHGC, SKUL.
I wrote this article myself, and it expresses my own opinions. I am not receiving compensation for it (other than from Seeking Alpha). I have no business relationship with any company whose stock is mentioned in this article.
Additional disclosure: Chris DeMuth Jr and Andrew Walker are portfolio managers at Rangeley Capital. We invest with a margin of safety by buying securities at discounts to their intrinsic value and unlocking that value through corporate events. To maximize returns for our investors, we reserve the right to make investment decisions regarding any security without notification except where notification is required by law. We manage diversified portfolios with a multi-year time horizon. Positions disclosed in articles may vary in sizing, hedges, and place within the capital structure. Disclosed ideas are related to a specific price, value, and time. If any of these attributes change, then the position might change (and probably will).
Editor's Note: This article discusses one or more securities that do not trade on a major U.S. exchange. Please be aware of the risks associated with these stocks.