We are on a mission to build the ultimate yield portfolio, follow us for regular updates on classic yield names like Macy's M, IBM (NYSE:IBM), and Microsoft MSFT as well as consistent high yield equities you've likely never heard of. This is a one-stop shop for income investors looking to protect their dividend income streams from dreaded yield reductions, and discover new gems for their income portfolios.
Use of Cash: the use of cash test provides a visual overview of the various cash uses that a company has been allocating cash towards. It shows the relative size of the cash uses versus the outstanding cash balance available to the company. It is a quick and simple way to view how the company has used its cash over the past 10 years, and is indicative of what the company may do in the next 10 years with its cash reserves. We examine dividend payments to all shareholders (including payments to preferred dividend holders) as well as net repurchases which includes equity issued via stock option plans etc… as well as interest payments on debt, this offers a more wholesome view of how the company allocates capital.

Source: Company Reports
Despite a challenging retail environment, Macy's has been able to maintain a cash hoard greater than $4B, while paying a dividend and completing significant share buybacks, the reasonable interest payments are not a concern to us
Given the price action of the equity, the buybacks seem ill-timed being completed at a time when the share price was substantially higher, that same price action is what makes the company appealing today as it has created an opportunity to pick up a stock with a 4.5% yield, well above its historical yield
Current levels of cash use are unlikely to be sustainable; however, it is buybacks that will disappear rather than dividends, it is clear that dividends make up a very minimal amount of the existing cash.
10-Year Dividend Yield and Payout Ratios: Higher dividends are great but not if they come at the expense of dividend sustainability. Assessing the payout ratio is a key metric in determining the sustainability of a dividend, and is calculated as dividend per share dividend by earnings per share (DPS/EPS).
Like most companies, particularly in the retail industry, Macy's suffered a severe pullback in sales and profitability as a result of the global financial crisis in the mid 2000's, the result was a substantial dividend cut as the company saved money, bunkering down for tough times. In the event of another material recession in the U.S. economy, it is likely that a dividend cut would be on the way. Of course, this is not our base case, and we think the warning signs will present themselves well ahead of an actual dividend reduction by Macy's.
For now, we expect the dividend is safe at a minimum and could increase from $1.39/sh in the last fiscal year (about $1.5/sh on an NTM basis) towards $1.75/sh (a 16% increase) as earnings improve over the next two to three years. In the event that EBITDA forecasts do not play out we expect the dividend will be maintained with a payout ratio at a very comfortable 35%.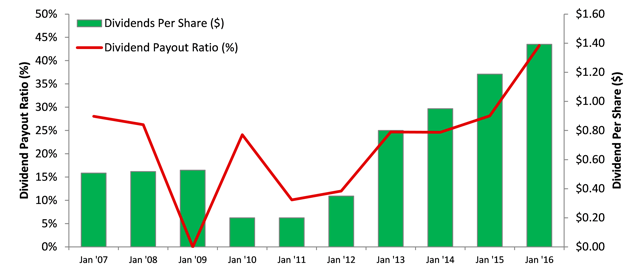 Source: Company Reports
Long-term Dividend Growth: It is important to view dividend sustainability across market cycles, following the prolonged bull market we have seen in recent years it is necessary to look a bit further out to get a more balanced view of dividend sustainability.
Unlike some companies, such as IBM, who has a track record of paying a divvy for more than a hundred years, Macy's is relatively new on the scene, with its first dividend payouts beginning in its 2004 FY. The company has steadily increased its dividend every year except two since initiating payment, and the years it cut were the worst years for retail in recent history. In fact, despite having a pretty rough first quarter with lower sales and reduced guidance, but Macy's still managed to increase its dividend. The hike was not sufficient to satiate investors growing concerns over a sales slowdown and the stock got pummeled anyway, leading to a near 5% yield.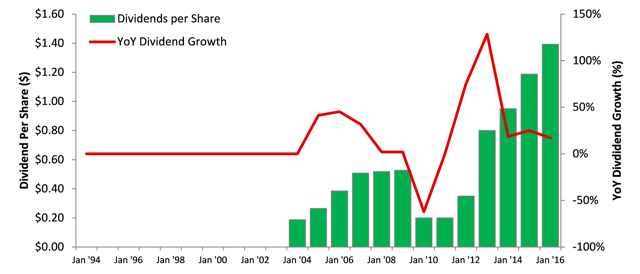 Source: Company reports
Credit risks: One of the largest risks to dividend sustainability is a leveraged company facing large debt payments and/or putting its credit ratings at risk, which would lead to higher interest charges.
Macy's has about $7.6B in debt outstanding; however, the maturity profile is very strong as there is minimal debt coming due in the next five years. In fact, most of the debt is long-dated and not due until beyond 2026. We see no immediate concerns with Macy's debt profile.
Macy's has a Net Debt/EBITDA ratio of 3.5x which is well above its targeted leverage ratio of 2.5x to 2.8x. Macy's intention is to increase its EBITDA rather than reduce its debt, of course that is often easier said than done. So long as 2016 truly is a trough earnings year for Macy's then their plan should play out, but we think risk does remain on longer term analyst EBITDA estimates. Already we expect to see Macy's reduce its buybacks given higher than desired leverage; however, we do not anticipate the dividend will be cut, especially given the conservative debt maturity profile.

Source: Company reports.
The analyst community expects free cash flow to drop this year before seeing a modest rise in 2017 and 2018. Current levels of FCF are sufficient to support existing capital allocation and are also adequate to support yield increases, although we recognize the risk is on the estimates not playing out, which would result in no increase to the divvy.

Source: Company reports
Summary: Macy's offers a great 4.5% yield but its position in a difficult industry, activist investors, CEO churn and various headlines have kept investors out of this income play. While its payout time horizon has been relatively short, at only 12 years, we think the company has plenty of firepower to continue paying current dividends, and a small recovery in FCF should lead to higher payouts in the future. The timing is great to purchase Macy's when investor sentiment is at a low and yield is at a high.
Disclosure: I/we have no positions in any stocks mentioned, and no plans to initiate any positions within the next 72 hours.
I wrote this article myself, and it expresses my own opinions. I am not receiving compensation for it (other than from Seeking Alpha). I have no business relationship with any company whose stock is mentioned in this article.